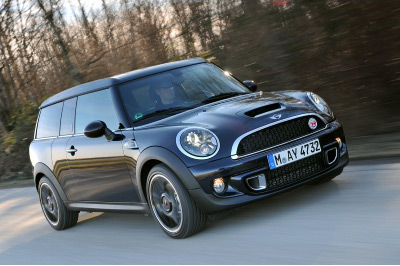 Mini Clubman Adds Room, Doesn't Subtract Fun
By Jim Bray
January 7, 2012
It's cute as a bug's ear and a lot of fun to drive – even though its base version isn't that powerful. Yet somehow, BMW has managed to make its Mini Clubman not only engaging, but also reasonably practical.
That's quite a balancing act!
The Mini Clubman is a little longer than the garden variety Mini Cooper, with a clamshell-type rear door that opens to both sides, rather than the conventional upward-opening panel you see more often on hatchbacks and wagons. It also features a rear-hinged "suicide door" on the passenger side to help facilitate entry and exit to the surprisingly roomy and comfortable rear seat.
So is it the perfect little car? Hardly, but after spending a week with it I came away surprisingly entertained by the little "Clubperson," despite the rather anemic-appearing output from its 1.6 liter four cylinder engine.
The horsepower in question on the base model Clubman is rated at 121 @ 6,000 rpm, with the torque listed at 114 ft.-lb. at 4250. This is the stuff of entry level cars, and it could be argued that this Mini is, indeed, of that ilk (though it's pricey for such a beast). Want more oomph?  Try the Cooper S Clubman or, even better, the John Cooper Works Clubman which, respectively, crank out 181 horses @ 5,500 rpm or 208 @ 6,000.
Still, as someone who's on record as liking gobs of power on tap beneath my right foot, I figured this "mini-Mini" would be about as entertaining as hives. But keep the revs up and use the slickly-shifting six speed Getrag manual transmission judiciously and a smile is likely to appear on your face in spite of yourself.
If you want, there's a six speed Aisin automatic transmission available. The stick seems so well suited to the Mini, however, that the automatic would have to be a real peach to compete with it. It does have a sport mode/manual shift feature, however, so that may help.
It doesn't hurt that the Mini Clubman handles like it's on the proverbial rails, thanks to nice and tight rack and pinion steering (power assisted, of course) and a nicely tuned McPherson strut type suspension up front, with a multilink rear.  You might think a little car like this, with such a short wheelbase, would tend to be a tad shocking or jarring when you cross potholes, frost heaves and the like – and you'd be correct to a certain extent. But while the short wheelbase does contribute to a little rocking over such obstacles, the overall feel is nice and sporty, which helps contribute to the car's overall fun to drive factor. You don't expect a sporty suspension to rock you to sleep…
Brakes are discs all around (vented up front, solid in the rear), with ABS and the other contemporary aids such as brake assist and something they call "cornering brake control," and you also get traction and stability control to help keep you on the straight and narrow – or curvy and wide, if that's where you're driving.
Abetting your enjoyment is a "Sport" button that tweaks the little critter for more a entertaining experience via better acceleration and steering.
The suicide door opens via a controller handle inside the vehicle – in fact, if you don't look for it you might not even notice the door is there. It's a big help when getting into the back seat, however, because I tried getting in that way and by moving the driver's seat up and out of the way so I could get in from that side, where there's no rear door. Not surprisingly, the passenger side ingress and egress is much more rewarding, even if you have to slide across to park your butt on the driver's side of the rear seat.
The little cabin offers a surprising amount of room – never forgetting of course that this is a very small car. Otherwise they'd have to call it the Maxi. I don't usually have a problem with headroom anyway (my legs barely reach the ground when I'm standing up), but the Mini seems almost cavernous. The manually-adjustable front seats are comfortable and supportive, and hold you in nicely when the twisty bits beckon. The rear seat amazed me with its room and comfort; I've sat in worse rear seats in much bigger cars, so kudos to the Clubman's designers for knocking this aspect out of the park.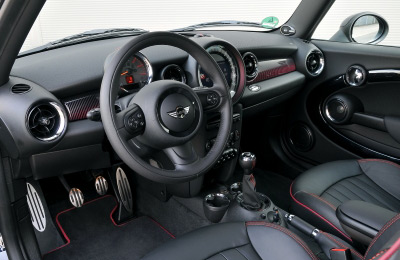 The rear seat splits 50/50 and folds down to add more storage space.
Circles abound inside the Mini, from the big, central LCD display surrounded by a speedometer to the tach/digital speedometer display behind the steering wheel and right to the air vents. The LCD isn't a touchscreen, and at first glance the central console-mounted control system looks a tad challenging, but in practice it's designed well and is actually quite easy to operate.
Not as easy initially are the toggle switches on the center stack, which operate the power windows, doorlocks, etc. And what's with the ignition? You get keyless entry via buttons on the key fob and there's the now-common start/stop button on the dashboard to fire up and shut down the engine – but for some reason you have to stick the key fob into a receptacle next to the button before it'll work. So what's the point of the button?
I also got rubbed the wrong way by the door handles, as cute as their roundness may be. Maybe I could have changed this in the vehicle settings – or maybe it's something the dealer will do for you – but it was annoying having to pull on the handle twice when I or my passengers wanted to get out. The first pull unlocks the door, with the second actually allowing your escape. Why the extra step?
My sample came with the comfort package, that adds such stuff as a glass sunroof, heated front seats and Bluetooth/USB integration you can control from the central "joystick" thingy or via voice commands. There are also controls on the tilt/telescoping steering wheel. When connected, you can supposedly watch videos on the LCD screen (when you're parked) or see the album cover artwork from your music. It'll also display your cell phone contacts and the like.
The stereo in my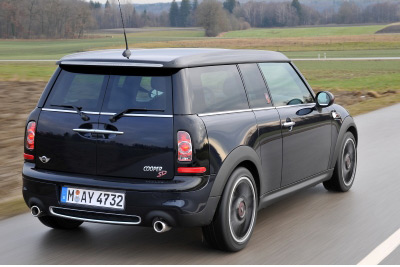 test Mini was reasonable, with pretty good power output and decent speakers.
The Clubman's extra 10 or so inches in length over the garden variety Mini not only translates into more room for rear seat passengers, it also ups the carrying quotient in the Mini's not-so-cavernous butt. Not only that, but the gate-like side swinging doors (as opposed to a hatch that opens upward) may actually help some owners avoid slamming their foreheads into the hatch's lower edge.
And even though it's longer than the regular Mini, the Clubman still looks like a Mini, albeit perhaps a Mini crossed with a Ford Flex, since its profile is definitely longer than the other Mini's. It works, though.
The Mini Clubman starts at $21,900 U.S./$24,950 Canadian. That isn't cheap, but you get a lot of driving fun for that price, though of course you give up some valuable space for people or stuff. It depends on your priorities.
Copyright 2012 Jim Bray
TechnoFile.com