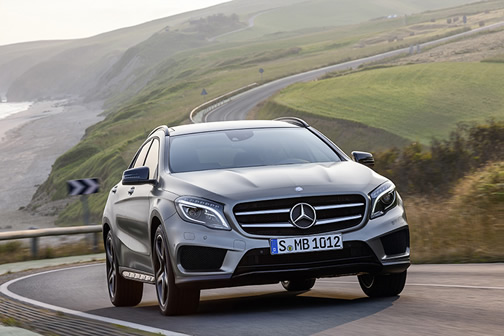 Mercedes-Benz creates a nice new 'cute ute'  
By Jim Bray
January 29, 2015
The small SUV niche is a crowded and popular market these days, with entries from just about every major automotive brand. So if a new kid on the block wants a piece of this luxuriant landscape of lucre, they'd better offer something pretty compelling.
And that's exactly what Mercedes-Benz has done with its new GLA 250 4MATIC, a handsome and capable vehicle that's not only a nice entry into this niche but is also a way for new customers to discover the joys of owning a Mercedes-Benz.
(Click here or on the image to open a slideshow)
It's funny to think of one of the world's oldest surviving automaker as being a new kid on the block, but the closest the company has come to making an "entry level" (for a premium car company, anyway) SUV before was the GLK – which is also a very nice vehicle but a tad bigger and more up market than the new GLA.
The closest analogy to the GLA is the CLA sedan, a front driver (with optional awd) sedan introduced about a year ago. I reviewed that car here, and as you'll see I liked it a lot. In fact, before the GLA the CLA had become my favorite Mercedes (well, I could probably be talked into an SLK or something like that…) and I named it as one of TechnoFile's most interesting vehicles of 2014. Now, that banner as "my favorite new Benz" has been taken over by the GLA, which is really just kind of an all wheel drive, taller and more practical CLA. Not that I've driven all Mercedes models, but of the ones I have (which include such monster entries as the S-Class coupe), the GLA is the one I like the most – in part because it doesn't offer all the intrusive nannies of the highest end Benz products.
And it starts at a pretty reasonable $37,300 – not exactly the premium you might expect for a vehicle from a premium marque like Mercedes-Benz.
The CLA and GLA are both handsome vehicles inside and out and just because they're basically entry level (which means different things if you're comparing a Benz and, well, most non-premium marques) it doesn't mean you have to accept a dumbed down version of the legendary carmaker's stuff. In fact, the GLA provided by Mercedes-Benz Canada didn't really lack anything important, yet it looked, felt and acted pretty much like an honest to goodness Mercedes.
Powering the GLA 250 is a two liter turbocharged four cylinder engine – the same one that's in the CLA 250 – and it puts out a reasonably competitive 208 horses coupled with a reasonably healthy 258 lb.-ft. of torque. There's some turbo lag, but on the whole this power plant moves the GLA along well. Of course you aren't going to blow the doors off Porsches with it, but I doubt many GLA customers have that on their list of priorities. So as it sits, the power here is more than adequate.
And if it isn't, you can opt for the GLA45 AMG, an outrageous upgrade that makes this handsome but relatively ordinary SUV into something that looks like it came out of Hollywood and pumps out 355/332 horsepower/torque.
Power gets to the asphalt via a quite nice, seven speed dual clutch automatic transmission with paddles and "Economy," "Sport" and "Manual" modes. Economy is kind of boring – and the "car" defaults to this setting so you'll have to change it each time you fire it up if you want to rape Parent Nature a tad while you drive. There's also an "eco" button on the center stack that defaults to the on setting. This isn't unique to the GLA, and in fact such "default to eco" settings are common in the marketplace – but that doesn't mean I have to like them.
The garden variety GLA is recognizable as a Mercedes-Benz immediately, thanks to the big three pointed star in its grille and a general family resemblance all around. I've heard some complaints about how it looks, but in my never humble opinion I think it looks great. Inside, too, where the seats, instrument panel, center stack and big LCD screen with Mercedes' COMAND knobby controller thing are pure Benz.
That controller takes a bit to get used to, but overall it works well; heck, I'd rather have it that BMW's awful iDrive system, with which I have yet to get comfortable after several years of reviewing "the Ultimate Driving Machines."
The seats are comfortable (with 12 way power up front, and heating of course) – and it seems there's a bit more room in the rear seat than in sibling CLA – though three people will still get to know each other better than they should if you cram 'em back there.
The tilt/telescoping steering wheel is typical Mercedes as well, with function keys and redundant audio controls and the shift paddles mounted behind it fall to hand nicely and, especially in manual mode, work pretty well. It's no PDK, but not much is.
Mercedes-Benz says the GLA's Harman/Kardon "infotainment system" features a 10 gig hard disk, plays DVD Audio and video discs (I imagine this is for those times you really get bored in traffic and want to fire up "The Fast and the Furious" for some motivation while commuting) as well as the usual CD's, USB, Bluetooth and SD. The audio quality is very good, as one would expect from a German vehicle.  
You also get some very thoughtful touches, such as a windshield washer system up front that uses three nozzles to spray the glass clean very well. Even the rear wiper has a nice spray and, unlike many other vehicles, you can actually lift the wiper blade up high enough to clear snow from around it easily and efficiently. I wish all cars with rear wipers had ones that are this good.
Mercedes says there's up to 1,235 litres of cargo space in the rear and you can open the wide hatch up nice and tall to facilitate getting stuff in and out.
Competition, as mentioned, is fierce, including the BMW X1, Audi's new Q3 and the new Lexus NT 200 (watch for my review of that terrific SUV very soon). I haven't driven the Q3, but the GLA competes well with the BMW and Lexus.  
The GLA isn't meant as a serious off roader, which makes it pretty much like most of its competition, but for those looking for a classy, premium SUV that won't break the bank, the GLA deserves to be on your list of test drives.
Copyright 2015 Jim Bray
TechnoFile.com