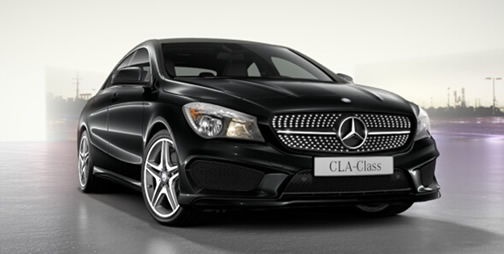 Mercedes-Benz CLA 250 4Matic a fine sedan
By Jim Bray
September 25, 2014
It isn't the smallest car Mercedes-Benz sells in North America, but the CLA-class "four door coupe" is a very nice vehicle that, despite big time turbo lag, moves its passengers along smartly and in great comfort. (click here or on the picture to open a slideshow)
Designed to compete with such worthy cars as the Audi A3, Acura TLX, Lexus IS and the like, the CLA wears the "four door coupe" look the company pioneered with its original CLS a few years back. And while I think the four door coupe concept is silly - why not just call it a sedan and be done with it, since there's nothing wrong with having four doors? - it's a handsome car inside and out. And it starts at a reasonable (for a Benz, anyway) $34,300.
Mercedes-Benz Canada sent the CLA 250 4Matic for me to play with, the all wheel drive version of what otherwise is a front drive "sedoupe," and that's really the best version to get unless you want to go whole hog and get the AMG - which among other things ups the two liter turbocharged four banger's output from an adequate-but-leisurely-to-accelerate 208 horsepower to what I imagine is a far more interesting and exciting 355 horses. That one will set you back  just shy of 50 grand to start with, however - but I bet it's fun!
Whatever version of CLA you choose comes with a seven speed dual clutch automatic transmission (the AMG's is tweaked, of course); Mercedes-Benz's sample had paddle shifters that work pretty well, though shifts weren't as crisp as Porsche's PDK (few are!). The main shift lever is steering column-mounted and is one of those weird, electronic things that are unfortunately becoming so popular. It works well and its column-mounting makes room on the center console for storage, cup holders and the like.
The two liter four cylinder engine works well once the turbo spools up. The lag is quite noticeable, but once the engine deigns to pay attention to your right foot's command the performance is just fine - remembering that this is more a luxury car than a twisty bit screamer. Three drive modes help control your drive; the car defaults to "eco," but there's also a "sport" and a "manual" mode. If you want to get out of "eco" mode completely you have to shut it off twice, once via a center stack-mounted button, and again by cycling through the driving modes via another button mounted nearby.
Sport mode is obviously the most interesting and it wakes the car up very nicely, making it quite a fun drive. Eco mode is pretty sloppy, and really runs up through the gears quickly, but most eco modes are like this.
The CLA's chassis features McPherson struts up front with an independent multilink rear suspension, and it's very good; even in sport mode you won't find it particularly jarring, though that setting does tighten the car's responses nicely. The electromechanical power steering also works well and offers good feel. Ditto for the brakes, which of course are discs all around, with the usual bevy of aids.
When driving the car, you won't forget you're in a Mercedes-Benz, which means it tips the luxury/sport scale on the luxury side, but it still does a nice job and it corners well, especially (of course) in sport mode. It also means you'll be seated very comfortably and coddled nicely, which is as it should be if you're driving a Mercedes-Benz.
The CLA's body style looks better to these eyes than its inspiration, the CLS. Maybe the smaller size just works better, but whatever the reason may be I really like how this car looks. It's swoopy and kind of sexy in a way that seems to belie Mercedes' traditionally rather boxy mien. The sample was in an outrageous red color, with black and chrome trim and a lovely panoramic sunroof, and that didn't hurt - though if you're trying to drive unnoticed you might want a less flamboyant color.
The cabin is very Mercedes-Benz, but it seems less busy than some of the company's cars I've driven. Controls are generally straightforward and located well, especially since Mercedes moved the cruise control stalk down below the signal light one, a move that makes using those controls a lot less confusing than before. Not that it isn't a situation owners wouldn't get used to with much difficulty, but as a casual Mercedes driver I found the reversed stalks quite distracting.
The displays work fine - with large analog ones for speedo and tacho meters with a multifunction LCD in the middle. Mercedes insists on putting a numbered keypad on the center stack, but the Bluetooth and voice recognition work just fine.
The COMAND interface uses a console-mounted knob to operate the center stack's big LCD, which is perched atop the stack almost like an afterthought. It's all pretty straightforward, though it might take a bit of using the system to get up to speed with it. Once you've done that, however, you'll undoubtedly find it logical and easy.
The front seats adjust by power and the driver's has memory settings, and the seats are comfortable for all day driving. We found the rear seat fine for two relatively short people, though I've read other reviews where they complained about its small size (they must have been bigger folk than us because they didn't like being "couped" up back there).
Perhaps the most remarkable thing about this very nice car is its entry level price. According to Mercedes-Benz' Canadian website, the CLA 250 starts at just $34,300.00, which is pretty affordable for a premium car such as this. Add the 4MATIC full time all wheel drive option (which can apparently send up to half the torque to the rear wheels)and the price goes up by only a couple of grand, to $36,500.00. Mercedes' sample car also had a certain amount of AMG-themed stuff added, as well as a few options packages (including "premium" and "sport"), and you can also add stuff like a very good harman kardon LOGIC7 sound system with excellent amplification and speakers designed to play stereo and 5.1 recordings ($1000), Bi-Xenon headlights ($850) and active parking assist ($900).
Toss in other stuff like satellite radio, a media interface and integrated garage door opener and you can raise the bill to about $47,500, which is starting to get up there but which is also pretty reasonable considering the car you're getting for that amount of cash.
Copyright 2014 Jim Bray
TechnoFile.com