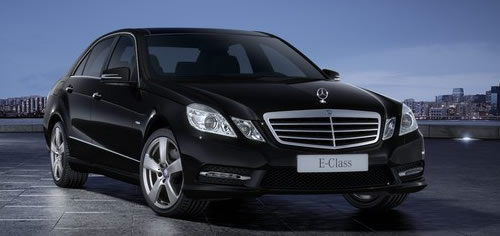 Mercedes E 300: new entry in the E class
By Jim Bray
TechnoFile.com
The words "entry level" and "Mercedes-Benz" may sound a lot like an oxymoron, but in the case of the E 300 4MATIC sedan, it's very nearly appropriate.
That's because the E 300 is the low sedan on the E-Class totem pole, one that extends right up to such heights as represented by the company's awesome E63 AMG sport sedan that is apparently quite the tire shredder.
Naturally, you sacrifice some stuff to be the entry level, chief of which in this particular case is that you get a less powerful V6 engine than you'll find in other gas-fired E's. In this case, you get a 3.5 liter power plant (despite the car's "300" designation that could make you think it's only three liters) that puts out 248 horsepower @ 6500 rpm and 251 lb.-ft. of torque (from 3400-4500 rpm) – but it's adequate to get this fairly big car moving along nicely. It isn't as nice as the 3.5 liter engine you can get in the E 350, however, which the Benz folks rate at 302 horses and 273 lb.-ft. – an engine I got to sample in an E 350 last year.
So if you like additional oomph you may want to look there instead, or to the mighty E63 AMG's 518/516 hp/torque, if you're really power hungry. Naturally, the price rises with the performance. Unlike the gas mileage…
But other than the power and torque, you don't sacrifice a lot of other important stuff going with the E300, and the base price is nearly ten grand cheaper than the E 350 4MATIC – not a bad incentive to go "cheap".
The current generation of E class is a handsome sedan (or wagon), large enough to hold five quite comfortably and loaded enough to be a, well, Mercedes-Benz. I don't think it's the most attractive E class ever, but its chiseled metal is classy and imposing and every bit Mercedes – right down to the three pointed star perched on its prow in a way that prompted my wife to jokingly say she found it easier to aim the car with it there, like a gun sight.
The E 300 puts its power to the ground courtesy of Mercedes' 7G-TRONIC PLUS automatic seven speed automatic transmission and the company's 4MATIC permanent all wheel drive system.  It isn't a real "fun to drive" combo, but it's no slouch, either as long as you remember that this is a luxury sedan, not a high performance one. Not that there's anything wrong with that…
If you want to up the performance ante, you can press a button mounted beside the media controller thingy on the centre console and switch from the default E (Economy) to S (Sport). Not surprisingly, I preferred the sport mode because it tightens the car up tad and makes it a bit more interesting to drive. It may cost you at the pump, but such is the price for enjoying life.
The E 300 is pretty loaded, though I was surprised to find that leather is an option. Other than that, however, the base model comes with nearly everything you could want. The audio system is typically German, which means it offers very nice sound. In this instance, it's a harmon/kardon surround sound system whose display on the car's LCD screen looks like an old fashioned analog tuner.
The front seats are very comfortable, heated of course, and offer 14 way power adjustment. It definitely takes some getting used to the way the car tightens the seat/shoulder belts around you when you get in, but it's also kind of a neat illustration of Mercedes-Benz' commitment to safety.
That commitment also means you get a plethora of other safety features, including a warning for times the car senses you might be getting sleepy. It shows up on the instrument panel as a coffee cup icon and though it never became active while I had the car I figure it must work something like a hand coming out of the steering wheel hub and slapping you in the face with a dead fish. Or perhaps Mercedes has come up with something more elegant.
There are also blind spot warnings and a lane departure warning that's quite obtrusive because it sends a vibration through the steering wheel – but at least it doesn't fight you like the Infiniti M does.
And of course you get disc brakes all around, with ABS and the other nannies, and there's electronic stability and traction control.
Besides the good audio, the E 300 also comes with automatic climate control and a power sunroof.  The test car provided by Mercedes-Benz Canada also had a rear view camera and navigation system.
And two clocks! There's a typical digital clock on the LCD screen, and for some bizarre reason M-B has chosen to put a big analog one on the instrument panel, where it seems kind of out of place since it's really only visible to the driver. My wife tried craning her neck to see it and accused me of driving too fast: 12:35 in a 60 zone!
 One thing that takes a bit of getting used to, but which would become natural to owners of the car before long, is the way Mercedes-Benz mounts the signal light and cruise control stalks. Most cars just put one stalk on the left side of the steering column – usually for lights, wipers, etc. – and it usually sticks out from the center of the column. Here, however, that stalk is down at about eight o'clock and a cruise control stalk sticks out at about 10 o'clock.
I found myself hitting the cruise instead of the turn signal repeatedly, though by the time I took the car back this was becoming less of an issue.
And really, if that's about the extent of my complaints it shows just how good a car this is.
And it is a good car, an excellent car, I daresay. It may come across as a tad bland compared to some of its competitors, such as those from BMW and Audi, but that shouldn't detract from its overall appeal. And while I think I'd rather opt for the E 350's extra power (a nice compromise since I'd probably go broke from the speeding tickets I'd get with the AMG!), the E 300 is still a decent performer and a luxurious place to travel.
The Mercedes-Benz E 300 starts at $57,900 Canadian.
Copyright 2012 Jim Bray
TechnoFile.com