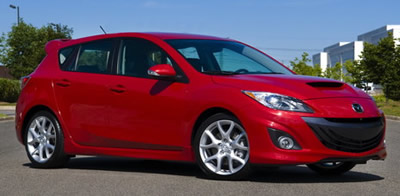 MAZDASPEED3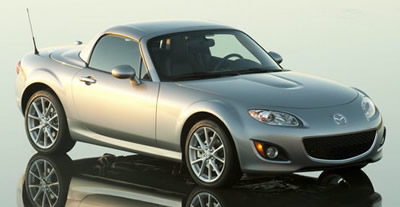 Mazda MX-5
Mazda's Fun Fours – SPEED3 and MX-5
By Jim Bray
July 8, 2011
Mazda's MAZDASPEED3and MX-5 are definitely a couple of "Zoom-Zoom" treats for fine, summer driving. And what could be more fun than that after a seemingly endless winter and wet spring?
The nice thing is that, thanks to the SPEED3's "conventional" four door wagon configuration, and the MX-5's snug retractable hardtop, they'll also provide entertaining drives in the winter.
Mazda has made its "Zoom-Zoom" catchphrase famous and, rather than just being advertising hype (well, okay, it's advertising hype, too) it really does apply. Drive any current Mazda car or SUV/Crossover and you'll discover not only a vehicle that's competitive in its niche, but that also ups the driver's enjoyment ante by including a healthy "fun to drive" component. In other words, "Zoom-Zoom."
I always look forward to any new Mazda review and when I got to spend a week in the new MAZDASPEED3, followed immediately by another week in the MX-5, I was very nearly in heaven.
SPEED Thrills….
The MAZDASPEED3is the "hot" (performance, not purloined) version of the extremely popular (and deservedly so) Mazda3. The "non-SPEED" 3 is the company's bread and butter car, a terrific four door sedan in the Corolla/Elantra/Jetta/Civic etc. class. It also has a wagon version, which is what the SPEED is based on. Both incarnations are as much fun to drive as they are to look at.
Well, other than that silly, goofy-looking grin marring the front. But the SPEED3 eschews the "Tow-Mater" look for the most part, filling in much of that vacant gape with a still happy-looking grille that's attractive without looking goofy. Heck, on my black colored test car, it looked very subtle, indeed, though it doesn't work quite as well with other colors.
But if that's the biggest problem with the 3, the rest of the car must be pretty darn good – and it is. And the SPEED3 is even better.
Mazda has improved the current MAZDASPEED3 over its predecessor – not only via the upgraded and updated basic car itself, but in the way they've tamed the old car's torque steer, which made you hang on for dear life when you tromped the gas pedal.
Needless to say, Mazda having fixed the one thing I didn't like about the old SPEED3 meant I spent my week with a silly grin on my face that Mazda could use for the next 3's grille.
Available only on the five door wagon version of the 3, the MAZDASPEED3 is equipped with a 2.3-liter direct-injection spark ignition (DISI) turbocharged engine with a close-ratio six speed manual transmission. The car cranks out 263 horsepower @ 5500 rpm and 280 lb-ft of torque @ 3000 rpm.
Mazda says a torque-sensing conical limited-slip differential minimizes wheelspin, and maybe that's also what minimizes the torque steer. It works well.
I did find the clutch in the SPEED3 a touch sensitive, almost like an on/off switch as you let it out. This caused me some rather rough shifts and once, much to my chagrin, I actually stalled the darn thing at an intersection, causing even more chagrin on the part of the folks behind me.
Exclusive to the MAZDASPEED3 is a four-wheel independent MAZDASPEED sport-tuned MacPherson strut front suspension and E-type multi-link rear suspension, MAZDASPEED stabilizer bars fore and aft, specially tuned Electro-Hydraulic Power Assist Steering (EPAS) for low speed maneuverability, and oversized MAZDASPEED-tuned power-assisted front and rear disc brakes for those times when you just have to stop driving quickly, quickly.
The SPEED3's wheels are 18 inch alloys wearing 225/40R18 performance tires. The Hot3 also gets unique body-colored sporty bumpers, side sill extensions, a large floating rear spoiler (to let the rescue teams know where the car is if you drive it into the drink), bi-Xenon (HID) headlamps, round fog lamps, LED tail lamps, and large dual exhaust tips.
In other words, as far as performance goes, you move from "Zoom-Zoom" to "ZOOM-ZOOM." I wonder if that's why Mazda calls it the MAZDASPEED3 instead of the Mazdaspeed3.
The car looks great. Heck, the 3 looks great anyway, except for that grille, and the changes take it from being a cute and pleasant-looking wagon to a wagon that not only looks cute, but which also looks like it means business.
As, of course, it does.
Inside, Mazda has upgraded the 3's cockpit to include half-leather sporty bucket seats with red stitching, special MAZDASPEED floor mats and scuff plates, along with aluminum-alloy foot pedals and foot rest, a black leather-wrapped shift knob and three spoke steering wheel with red stitching. There are also unique, tri-mode electroluminescent gauges with a turbo boost gauge in the middle.
It's a comfortable car, and the seats hold you in nicely for spirited driving. I was surprised that there was no backup camera in my test car, though maybe the philosophy was that you're going to be tooling along so fast you won't need to see what's behind you.
On the other hand, you still get rear view mirrors…
Standard equipment also includes LED turn signal indicators on the exterior mirrors (maybe that's why the mirrors are still there!), traction and stability control, automatic headlights, rain sensing, intermittent windshield wipers, dual illuminated vanity mirrors, dual-zone climate control, and an anti-theft alarm.
My test car had the optional technology package, which includes power adjustment for the driver's seat, smart key/push button start/stop, adaptive front lighting, BOSE audio with 10 speakers, a six disc CD changer and SIRIUS satellite radio.
If you love the Mazda3 but want it with a little more – well, a lot more – oomph, the MAZDASPEED3 may be your cup of tea. It's a wonderful little performance sedan.
The MAZDASPEED3 starts at about $23,700 U.S./$29,700 Canadian. Talk about cheap thrills.
Going for the MX…
The MX-5, on the other hand, is anything but a wonderful little performance sedan. Mazda's little bundle of joy, as I like to call it, is a true two seat roadster that gives about as pure a sports car experience as you can get for the price these days, a marvelous little car that's fun and sophisticated, without being pretentious.
Currently in its third generation, the Miata, er, MX-5 has gained some weight over the years, as well as power (fortunately!) and creature comforts. But at heart it's still the little happy puppy of motordom, a tossable sports car that hearkens back to the great roadsters of decades past, classics and infamous vehicles such as the MGB, Triumph Spitfire, Alfa Romeo Spider, and so many more.
When it was introduced some 20 years ago, it pretty well reinvented a dead genre, leading to a host of followers and a plethora of interesting choices for those who appreciate a fine ride on a sunny day.
One thing I love about the current generation is the available retractable hard top, which buttons the car up nicely for all season driving. It's engineered well, too, so it doesn't take up any of the MX-5's limited (though pretty good, all things considered) trunk space. You open it by pressing a release button atop the windshield, opening the latch, and pressing another button on the center stack. It isn't the most elegant system, but it works fine.
The car has to be in neutral for it to work, however, which bit me in the butt when I was driving my wife home from work and a sudden rain shower hit. We were stopped in traffic, in the left lane, so I started raising the roof – and then, as per Murphy's Law, traffic started moving, so I had to either leave the job half done (the roof was up, but the "tonneau cover" panel was still raised) and finish it at the next stoppage or hold up traffic behind me.
It made me pine for the roofs that can be operated while the car's in motion – a feature whose value I never really understood until this brought it home.
My sample MX-5 was called a "special version," an adaptation of the top line GT trim level. As such, it includes heated leather seats, chrome trim surrounding the grille, instruments and air vent bezels, alloy pedals, MX-5 scuff plates and a little spoiler on its cute little bum. It also included floor mats with the "Jinba Itai" logo (which means "Rider and horse as one," a darn fine description of what it's like to drive the MX-5).
None of this stuff actually affects the driving experience, which is still fantastic. I think the car's evolution over the past two decades has left it not quite as pure as it used to be, but if I had my druthers I'd still opt for this newest version anyway, though it would be tough choosing between it and the previous generation's turbocharged SPEED version.
What does affect the driving experience is the car's marvelous hardware, which starts with a tight chassis suspended by double wishbones up front – the stuff of race cars – with coil springs and a stabilizer bar. The rear is multi-link with coil springs and a stabilizer bar. Add to that engine rpm sensing, variable power assist rack-and-pinion type steering that feels hard-wired into your brain and you have handling that's the stuff of dreams – a handy thing in a car small enough that even a Toyota Yaris towers over it like a semi trailer does to an SUV.
The MX-5 is anything but over powered, though. Its two liter inline four cylinder engine (DOHC, 16 valve with variable valve timing) puts out 167 horses @ 7000 rpm (158 @ 6700 rpm on models with the automatic transmission) and 140 lb.-ft. of torque @ 5000 rpm – while burning premium fuel. I hope they bring a MAZDASPEED version out; the current car could use a bit more oomph. It's hardly a slug, mind you, but an extra 50 horses or so would make the car even more scrumptious.
Transmission choices include the base model's standard five speed manual and the slick six speed stick of my test unit, whose clutch (like the MAZDASPEED3's) seems like an on/off switch. You can also opt for a six speed electronically controlled automatic with overdrive or a version with a lockup torque converter and paddle shifters.
A car such as this really cries out for a manual, but I imagine the paddle shift version of the automatic is still plenty of fun.
Braking is accomplished via power-assisted disc brakes with ABS and Electronic Brake Force distribution. Pedal feel is great, as is the brakes' performance.
The upgraded Bose audio system is good, though it's kind of a waste of time when you're tooling along at highway speeds with the roof down – unless you really CRANK IT! It handles AM/FM/CD/SIRIUS with MP3 and WMA functionality, has steering wheel-mounted controls (cruise control, too), and an auxiliary audio jack.
You also get tilt (but not telescoping) steering, smart keyless entry and start/stop, Bluetooth and fog lamps. My test car also had air conditioning which, believe it or not, came in handy when driving top-down on really hot days – the cold air stays low so your feet and bum are cooled while your brain bakes.
As someone who has owned three MGB's in the past (a real glutton for punishment, considering their dependability!), I'm predisposed to like the MX-5. And I love this car; it takes the spirit of those cars of old and adds today's technology and Japanese reliability.
Add that retractable hard top (though you can still get it with a soft top) and you make a great car even nicer.
The Mazda MX-5 soft top starts at about $23,000 U.S./$29,000 Canadian.
Copyright 2011 Jim Bray
TechnoFile.com