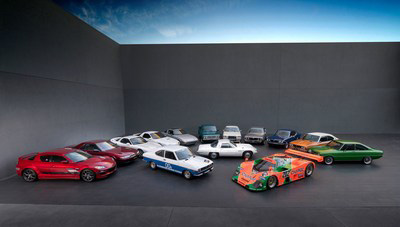 Mazda celebrates a half century of Wankels
By Jim Bray
June 8, 2017
It turns out that the phrase "Wankel rotary engine," unlike how it's described in an old Monty Python sketch, is no reason for embarrassment. Especially for Mazda, the only carmaker with the pluck to realize - and do its best to prove - that Wankels weren't just for wankers.
Sure, it hasn't worked out as Mazda may have liked - the last rotary Mazda was the now-defunct RX-8, a terrific sports car - but it isn't as if the technology doesn't work. It just may not work as well as the conventional internal (a.k.a, to greenies, as infernal) combustion engine, especially in this day and age of increasingly mandated fuel economy.
But 50 years ago as of May 30th, the Hiroshima-headquartered carmaker began its legacy of, as Mazda's press release celebrating the anniversary said, "doing what was said couldn't be done." Mazda wasn't unique, if my aging memory is still working. General Motors was also looking at rotary engines at one time, but I don't believe they ever followed through. That would make Mazda the only major carmaker to wish the Wankel onto the world, and the company did it not only via its sports cars (though never the Miata) but also via some very nice sedans and coupes. A coupe de grace, perhaps?
Back then, Mazda was known as the Toyo Kogyo Corporation, and the folks there wanted to create something unique, a technology that would separate it from the herd of other Japanese carmakers. Mazda today says it was a way to stay independent, though I guess that didn't work out exactly as planned, either, because the company also entered into a now-ended relationship with Ford. That marriage of convenience didn't see any Wankels appearing in Fords, but it did see Ford money and technology in Mazdas (and vice versa, if I remember correctly) until perhaps a decade ago.  
Anyway, in 1961 Mazda bought the rights to NSU Motorenwerke AG and Wankel GmbH's rotary engine technology, which kicked off a real learning curve for making these specialized engines work in mainstream vehicles.
Mazda brought the prototype rotary engine to Hiroshima for testing, only to have it seize up within the first hour of operation! That must have been frustrating for a company that, it says today, "had wagered its entire existence on this one engine technology." Gutsy move from a company that still sallies forth bravely in its own direction, with guts and gusto!
There was obviously something there, however, despite the Wankel's wayward ways, so Mazda's Chief Engineer at the time (Kenichi Yamamoto) put together the "47 Samurai," a team of the company's best engineers, to figure out how they could make the rotary engine viable. It was an uphill battle: "they knew other automakers from the around the world had tried or were trying to do so as well; none had succeeded, though," the company says.
Eventually, the first rotary-powered Mazda appeared, though it took until 1967 (hence the anniversary). The Mazda Cosmo Sport 110S had debuted to much hoopla at the 1964 Tokyo Motor Show, but it wasn't until May 30, 1967, that the rotary-engined car finally went on sale in Japan. The Cosmo Sport 110S was Mazda's first sports car, a  major departure for a company known until then for work trucks and little passenger cars.
It wasn't a real success, though, spawning a mere 1,176 production Cosmo Sports into the market. But the seed was planted and the concept proven, at least to a point. The rotary would go on to compete in races such as the 84-hour Marathon de la Route in 1968.
Mazda stuck with the Wankel, its engineers and designers improving it over the years. "Eventually, those efforts would spawn championship-winning motorsports programs all over the world," Mazda says today,  "as well as leading the way for subsequent sports cars that focused on lightweight performance over brute strength."
Mazda says the pinnacle of its rotary engine development came in 1991, when the quad-rotor-powered Mazda 787B took the checked flag at the 24 Hours of Le Mans.
I always wondered if exploiting rotary engines got you automatic membership in the Rotary Club…
As an aside, the company's Skyactiv technology of today continues that tradition of lightweight performance over brute strength. For example, the current Mazda sports car, the MX-5, uses a two litre non-rotary Skyactiv engine that puts out what might seem an anemic (for a sports car) 155 horsepower, but as you can see in my review here, it's plenty.
The rotary no longer powers Mazdas, but by the time the company put the Wankel to sleep they'd sold just shy of two million vehicles that used the technology, everything from sports cars to buses.
I remember some of the digs against the rotary: it guzzled gas, it guzzled oil, for example, and perhaps that's part of the reason the other manufacturers were scared off. But to their credit, Mazda soldiered on solo, and if you've ever driven an RX-7 or RX-8 you'll know that the engine's small size and comparatively light weight worked well in those situations. Who knows, maybe it was the rotary that inspired Mazda's famous "Zoom-Zoom" marketing slogan - a catchphrase that isn't just hype, because nearly every Mazda I've ever driven has been a rewarding experience.
I have a friend who had a first generation RX-7 back in the day and who has now had an RX-8 for about a decade and still speaks lovingly about it. I only drove the middle generation RX-7 (which looked like a little Porsche 924) but I loved it and I loved driving the RX-8 when I got to review  it so, while I don't really have a dog in the Wankel hunt, I recall fondly their innate "Zoom-Zoom."
Mazda is still "the little car company that could," independent and innovative and with a consistent fun to drive component across their entire line - and while everyone else seems to be pursuing turbocharging as a way to up fuel economy without penalizing the, well, "Zoom-Zoom" factor, Mazda for the most part is sticking with "normally aspirated" (non-turbo or supercharged) engines: their only turbo currently is the big CX-9 SUV/crossover and I have to admit the turbo four works really well in that largish vehicle, so who knows where Mazda's turbos might show up next - if anywhere.
You've probably noticed this piece is a bit of a hagiography, but I don't care: I love Mazdas and no other Japanese carmaker's stuff gets my blood flowing like a trip to the store in a "Zoom-Zoom." It baffles me why the company isn't bigger than it is, such is the joy that driving them brings.
Maybe not enough people care about that part of car ownership. If so, that's a shame.
Copyright 2017 Jim Bray
TechnoFile.com