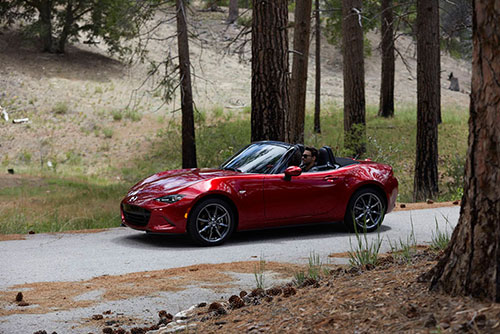 Mazda's little bundle of joy powers up for 2019
By Jim Bray
September 27, 2018
It's amazing how the simple shot of oomph Mazda has added to its wonderful little MX-5 gives its driver an even bigger shot of adrenaline.
Yet there it is:  a car that has always been a joy to drive, yet has never been accused of being over powered, still isn't overpowered - but it's powered enough, and for this reviewer that's the best news since the demise of the turbocharged Mazdaspeed Miata of years gone by.
Click on the image to open a slide show.
I loved it! In fact, this new soft top MX-5 (why, oh why, can't they keep calling it the Miata?) is my favourite MX-5/Miata to date. And that surprised me.
The surprise came from the fact that my favourite MX-5 previously, besides that old turbo model, was the last generation MX-5 with the retractable hard top. I'd loved it for that retractable top which, for an increasingly follically-challenged dude like me who prefers not to have the sun beating down on the cranium too much, offered the best of convertible and hard top worlds. The extra weight undoubtedly affected its acceleration, but not enough to make the car suck in any way.
Alas, the current generation's retractable hard top, which I reviewed last year, is more like a retractable Targa top than a full drop top, so it leaves you with a big roll bar-like protrusion up top and the opening created is more like a huge sunroof than a real convertible, with the attendant blind spot issues you don't get with a truly stowed roof. Oh, I still loved the car –  it's very hard for someone who loves to drive not to fall under the little critter's spell – but it pushed me back toward the soft top version as my "Miata of choice."
Coincidentally or not, the soft top version is the one Mazda sent to Alberta for review, so I not only got to try the lighter version, I got to try the soft top of this generation for the first time, and it reinforced my opinion that it's the "Miata of choice," at least for this dude.
One of the potential flies in the soft top ointment was the actual raising and lowering of the roof, but Mazda has done a marvelous job here, with a roof that opens and drops and snaps into place behind you easily, with one hand. The snapping into place requires a bit of practice, or a couple of attempts at times, but once you get onto it, it's child's play - and putting it up again is even easier, thanks to a little control thingy on the bulkhead between the seats that pops the roof up from its perch far enough that you can grab it easily and swing it up and into place.
Which leaves the engine power issue as the only potential, and traditional, shortcoming of the MX-5. As Mazda notes in its press release trumpeting the new oomph factor: "The Mazda MX-5 has never been about power; it's a car whose sole purpose is to help the driver and passenger fall in love with driving. But, a little extra power never hurts, which comes as one aspect of numerous updates for the 2019 model year."
It ain't just corporate PR hype, either! For 2019, Mazda has tweaked the little two litre inline four cylinder SKYACTIV-G engine (which is not turbocharged) so it now puts out 181 horsepower @ 7,000 rpm – which the company says is a 17-percent improvement – and 151 lb.-f.t of torque @ 4,000 rpm, "with a richer torque curve throughout MX-5's entire rev range," Mazda notes.
It shows. Seventeen per cent more poop may not appear particularly prodigious, but (while I'll probably never complain about "too much power") in this application it's nigh on perfect. The MX-5 has gone from being a competent accelerator to an accomplished one. Oh, it's no 911 Turbo, but what is?
Mazda has also increased the rev range, and upped the redline from 6,800 to 7,500 rpm. The six-speed manual transmission (you can also get a six-speed automatic, but the ghosts of hooners past will haunt you forever) and light clutch are as practically perfect in every way as Mary Poppins – though I did stall the little bugger a couple of times before I got the feel for it. Since it's a six speed, you'll spend a lot of time with your hand on the stick, flipping through the gears, but that's a feature, not a bug.
Mazda's engineers were also able to increase the MX-5's performance by reducing internal mass and friction: each piston is lighter by 27g, the connecting rods are 41g lighter, and the more muscular mill also features an increased valve opening angle and valve lift height. Reconfigured intake ports and new high-diffusion, higher-pressure fuel injectors are claimed to improve "the tumble and swirl of fuel in the cylinder" and to atomize the fuel better. Sounds like something from an erotic novel.
There's a lot more, too, including a new exhaust system that sounds nice and juicy.
I've said for years that the MX-5/Miata is basically the classic British sports car done properly and, as someone for whom it took three MG's B beating him over the head with their unreliability before he gave up and (like everyone else, it seems) went Japanese, I stand by that opinion today.
Yet the MX-5 is more. It's not only fun and retro (in its mien, anyway), it's completely modern as well, with today's nannies and aids, a back up camera - pretty well all the stuff you can get practically anywhere these days. There's blind spot monitoring (though there aren't many blind spots when the MX-5 is in its natural element, with the roof down), Traffic Sign Recognition, Smart City Brake Support (for those who live in a smart city), and Mazda's i-ACTIVSENSE safety technologies (at least on the higher trims).
Its performance also far exceeds those old Brit roadsters, though that shouldn't be surprising. I remember my B's (well, two of them…) being a lot of fun to flick around, whereas the Mazda feels as if it's hardwired into the driver's brain, with responses that are almost psychic. Double wishbones up front and a multi-link bum – coupled with scarily responsive steering – don't hurt.
Dare I say "poor man's Porsche?" Well, at $40,600, it's more a "less well-heeled man's Porsche," but the point is valid, and to find a 718 Boxster in your garage will set you back a minimum of $66,100 CAD and you'll probably pay a lot more than that before you're finished, Porsche options being what they are.
The Mazda is a lot tighter inside than the Porsche, and a tad less luxurious, but its fun factor is a lot closer than the price might suggest.  
The MX-5's steering column telescopes as well as tilts, finally, which makes finding a perfect driving position easier (not that there's really a bad one). The shoulder belt was a bit binding, but I find this with most coupes and convertibles so it's more of a "Jim" thing than a "Mazda" thing. The cockpit layout is perfect, the tightness of the cabin brings everything close to hand for easy use, and the interior is typical Mazda, which means it's clean and modern and usable, though the control knob on the centre console is beginning to wear thin with me (Another "not necessarily Mazda" thing. Touch screens, dammit!) and here it's so close you're tempted to use your left hand from the driver's seat. Well, nearly…
The oomph upgrade is more than enough reason to visit a Mazda dealer as soon as you finish reading this, but beyond that, the 2019 model year MX-5 also introduces an optional brown canvas soft top, new black metallic 16 and 17-inch wheels and easier-to-open doors – though it's still a challenge getting in and out that I don't remember my MG's being 50 years ago (it must be the cars, not the years and mileage on the driver…). Mazda also revised the door stops, the cupholders and seat control levers.
Mazda Canada's MX-5 GT tester came with $700 worth of options, the Dark Cherry convertible roof ($400) and Machine Grey Metallic paint ($300). Hell, it's only $700 and they're very cool.
Standard on the GT trim level is a long list of stuff, including 17 inch alloy wheels, sport suspension with Bilstein shocks, limited slip differential, strut tower bar, Advanced Blind Spot Monitoring, Rear Cross Traffic Alert, High Beam Control System, Lane Departure Warning System, Smart City Brake Support, Traffic Sign Recognition, rear view camera, LED headlights with LED signature lighting, LED rear combination lights, auto headlight levelling, LED daytime running lights, auto on/off headlights, seven inch colour touchscreen display with Mazda Connect, HMI Commander, navigation, Bose premium audio system with nine speakers (including driver and passenger headrest speakers and a subwoofer), telescopic steering wheel, push button start, advanced keyless entry system, air conditioning with automatic controls, rain-sensing wipers. Whew!
And that's why it's just shy of 40 grand! To be fair, the base GS starts at $32,900 and it's probably just as much fun to drive. But it's "grand" to have the other stuff, too, if you can afford it, especially the nicer wheels, Brembo brakes and the like.
However you slice it, the 2019 Mazda MX-5 takes a really nice sports car and elevates it to the level of a great sports car. As you may have noticed, I love it and I would drive it happily for the rest of my life.
So of course they made me give it back. Sometimes, life sucks.
Copyright 2018 Jim Bray
TechnoFile.com
Jim Bray is a member of the Automobile Journalists Association of Canada. His columns are available through the TechnoFile Syndicate.