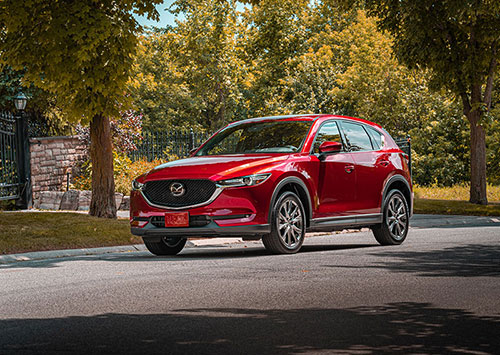 Mazda CX-5 adds diesel power to its lineup
By Jim Bray
February 13, 2020
How do you make a great SUV even more stimulating? Well, you could give it more oomph, or better fuel mileage – or, better still, both.
And that's what Mazda has done with the CX-5 Diesel, a new model in the company's SUV line, and it's a pretty compelling piece of automotive stuff.
Mazda's famous "Zoom-Zoom" slogan isn't just advertising hype; it's actually true. In fact, over the past decade or so I've gotten more speeding tickets while behind the wheel of a Mazda than I have any other brand, including supposedly higher end sports vehicles. Can't blame Mazda for self-inflicted wounds, but such is the effect Mazda vehicles have on me. It isn't horsepower or torque, it's just an overall feel – and I love it!
Click on the image to open a slideshow.
I've always liked the CX-5, though its initial offering from several years ago was a tad underpowered. Since then, Mazda has upped the engine offerings to include a 2.4 litre Skyactiv four-cylinder engine rated at 187 hp and 186 lb.-ft. of torque (which is slightly more than adequate), as well as a delicious turbo four (227 hp, 310 lb.-ft. of torque, with regular gasoline) the same engine that's available in the excellent, and larger, CX-9 and the Mazda6 sedan).
Now comes the diesel, arriving in the marketplace on the heels of the Volkswagen group having abandoned this niche due to some supposed corporate chicanery that caused the company a world of hurt and a tsunami of payouts. I loved VW's diesels and were I in the market would seek one out despite the "powers that are's" assault on them. Why? Torque and fuel mileage.
It's undoubtedly that torque and fuel mileage argument that has brought Mazda to the diesel marketplace, and having spent a week (not counting eating and sleeping…) behind the wheel of one, I've kind of fallen under its spell, too. This SKYACTIV-D 2.2 Diesel engine with sequential dual turbochargers, Mazda says, is rated at 168 hp & 290 lb.-ft. torque, which is a nice splitting of the difference between the gas-powered turbo and the base SKYACTIV engine.
It isn't perfect, of course. For one thing, a sporty vehicle such as any Mazda is really does deserve paddle shifters for its automatic transmission, but none are available for the CX-5. That wouldn't be a deal breaker were I shopping, but it's definitely an oversight for a company that prides itself on driveability.
And, unlike other Mazda vehicles, there's no "Sport mode" button on the centre console. So, you're stuck with Mazda's regular "Zoom-Zoom," which fortunately is still pretty darn zoomy.
The lower end CX-5's come in a front-wheel drive configuration, with all wheel drive optional, but the diesel comes out of the box with all-wheel drive and an entry price of $48,025 CAD, which I have to admit is getting up there for a mainstream SUV/Crossover at this level in the marketplace – especially when you consider the base model's $29,925 starting price. On the other hand, you're getting a LOT of extra vehicle with the top line Signature trim level, even if you don't opt for the diesel version.
Is the diesel worth the premium required over the Signature version's other engine choice?  Well, the turbo four that's the standard engine for the Signature level boasts a $43,025 CAD price, so it'll cost you about five grand to get the diesel, and that premium means you'll want to save a lot of gas – er, diesel – to cover that extra cash outlay. And I'm not sure it's worth it.
After all, Mazda rates the turbo four non-diesel at "up to" 8.7 litres per 100 km. (highway) while the diesel is rated on their Canadian website at "up to" 7.9 litres (highway). That difference, at least right now in this neck of the woods, is tough to justify when diesel fuel is more expensive than premium gasoline, especially since you can burn regular fuel in the gas turbo (though to be fair, the horses and torque are slightly less when you do that).
So, the best choice for a loaded CX-5 Signature may just be the turbo gas engine, though the diesel does offer about 1,500 more pounds of towing capability, so if that's important to you it may be worth the extra money.
However you slice it, the Mazda's is a nice diesel, and its diesel clatter isn't obtrusive at all, except when the engine is cold (I had it during a particularly chilly week). And it is in a CX-5, which is a lovely vehicle to drive and (with the Signature trim) is more luxurious than a vehicle in this market niche has any right to be.
The Signature trim is so nice it's probably fair to compare the top line CX-5 to upmarket vehicles such as the Lexus NX, though the Mazda is a more interesting vehicle to drive - and even with its aging, knob-based LCD screen interface, it's less annoying than the Lexus' "remote touch" trackpad-like thingy.
And you do get a lot of luxurious touches in the Mazda, including (according to its Canuck website):
Heated rear seats (outboard seats only)
19-inch alloy wheels (silver metallic finish)
Bose sound system with 10 speakers
Wrapped cloth A pillar with premium Bose speaker ring
10-way power-adjustable driver's seat, including power lumbar support
Ventilated front seats with three settings
Driver's seat memory position (two settings)
Six-way power-adjustable front passenger's seat
Navigation system
LED front and rear signature lights
LED fog lights
Adaptive headlights
Windshield-projected head's up display
Traffic Sign Recognition System (TSR)
SiriusXM Satellite Radio (complimentary three-month subscription)
SiriusXM Traffic Plus and Travel Link services (complimentary five-year subscription)
HomeLink wireless control system
Power folding exterior door mirrors
Nappa leather-trimmed upholstery
Abachi wood-trimmed decorative dash panel
Abachi wood-trimmed front and rear door panels
Frameless auto-dimming rear view mirror
LED illuminated glovebox
Premium cross-stitching detail on steering wheel
Black interior roof lining
Satin chrome-plated power seat switches
LED front and rear room lamps
LED cargo area light
That's a lot of nice stuff!
One weird thing about my experience with the CX-5 diesel was my inability to pair my Android cell phone. I don't usually have any trouble doing this with Mazdas but, despite trying it numerous times during my week with the CX-5 diesel, I never did get it paired.
Granted, my phone is a cheap piece of junk, but it usually pairs with any vehicle with no issues. So this was definitely strange.
Bottom line with the CX-5 diesel? As great as it may be, and it is, it may not be the best investment considering the availability of the gas turbo four. But it's still a wonderful drive!
Copyright 2020 Jim Bray
TechnoFile.com
Jim Bray is a member of the Automobile Journalists Association of Canada. His columns are available through the TechnoFile Syndicate.