Mazda CX-9 "Crossover" SUV – Big and Comfy, with "Zoom"
By Jim Bray
June 11, 2010
They've upgraded its looks and features a bit for 2010, but at heart the Mazda CX-9 is the same big SUV it has been since its introduction. And that's a good thing.
Not a lot needed to be changed. Heck, my chief complaint is that they still use red illumination on the instruments, and that is not only about as minor a beef as you can have, but whether or not it's even a beef at all is something clearly in the eye of the beholder.
So what we're left with is a 2010 CX-9 that's still big, still roomy, still comfy, and still fun to drive. Okay, it doesn't give the driving joy of a Porsche Cayenne, but it's definitely a Mazda and that means it has their famous "Zoom-Zoom" in its DNA, even if the vehicle is the size of a guest house.
You could also look at the vehicle as a CX-7 on steroids – bigger and with a third row of seats and a V6 engine instead of an inline four.
That V6 displaces 3.7 liters (of beer, with luck!) and is rated at 273 horses @ 6,250 rpm and 270 lb.-ft. of torque @ 4,250 rpm. That may seem a bit low in this era of V6's that put out well over 300 horsepower, but on the road the CX-9 does not lack power, with get up and go that gets you up and going to highway speeds and beyond effortlessly. Sure, more power is nice, but it isn't always necessary to get the job done (and may I not get struck by lightning for writing that!).
You can choose from either front or all wheel drive, with all wheel drive being preferred if you live in areas that are treated to stuff like snow. My test unit was all wheel drive and tricked out with most of the toys Mazda offers to sweeten the experience.
The front of the 2010 CX-9 has a grille that reminds me of the new Mazda3's, and that's a shame. Fortunately, on the CX-9 it has much less of a "goofy grin" appearance than on the 3; maybe it's the extra bulk of the vehicle that contributes to the more serious demeanor or maybe it's just me – but whatever the reason it looks better here than on the 3.
The Xenon high intensity display headlights of my test vehicle (halogens are standard on the lower trim levels) feature an automatic setting – as all vehicles should, but don't yet – and do a good job of illuminating the road ahead.
The rear end is highlighted by LED taillights that are attractive, bright and efficient.  
The vehicle looks long, which it is, but its appearance is still very sporty. I think it's the best looking vehicle in this class, better looking even than some higher end and sportier models such as the Cayenne and BMW X5.  
Once you're inside, you're treated to what Mazda refers to as a "refreshed interior", a very nice place to be – one that's comfortable and efficient.
That ruddy instrumentation is clear and laid out well, as are the various controls. The steering wheel is comfortable in the hands and the steering effort light, with good feedback. I liked how, when you fire up the cruise control, "cruise" lights up in yellow on the instrument panel and when you actually engage the cruise control it turns green. It's a small point, but it's neat.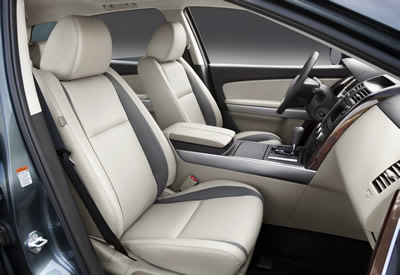 The driving position is nigh on perfect, thanks to an abundance of adjustments (power adjustments in my test unit), and the four wheel disc brakes with ABS and EBD offer good stopping power, with a confident pedal feel.
I missed having paddle shifters – the six speed automatic's sport mode is accessible only from the gear selector lever itself – but this isn't a deal breaker.
The rain-sensing windshield wipers work well and do a good job of cleaning that huge expanse of glass in front of you.  
The seats are comfortable, especially up front of course, where my tester's leather buckets came with bun warmers – which for 2010 have "warm" and "grill" settings. The large central console separates driver from shotgun passenger (making fisticuffs difficult), though not to the point where you have to shout to be heard over the distance. Middle row passengers can recline a bit and their seat also slides, either for legroom or to create easier entry for the 50/50 split/fold third row.
The third row is actually pretty good, one of the roomiest and most comfortable I've tried. There isn't a lot of legroom, and I still wouldn't want to spend more time there than necessary back there, but I had plenty of foot room and head room – though I rarely have a problem with head room anyway. The CX-9's big back doors make getting in and out of third row pretty easy and the back two rows fold down almost flat for hauling.
New and/or upgraded features for  2010 include (depending on the trim level you choose) active front head restraints, bright finish on interior door handles, a tire pressure monitoring system (TPMS), rear A/C display,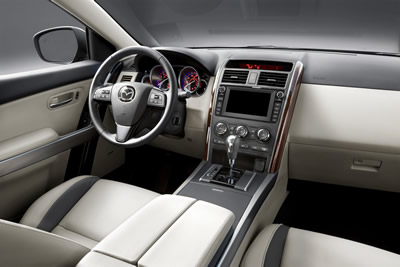 a 10 speaker premium BOSE Audio Sound System with Centerpoint and Audio Pilot, 6 CD/MP3 Changer, SIRIUS satellite radio, blind spot monitoring (BSM), a rearview camera and Bluetooth with AudioProfile.
Speaking of the blind spot monitoring, Mazda's system doesn't just use little, illuminating icons on the outside mirrors, it also complains audibly (via beeps) if you activate the signal lights when it senses a vehicle in your "danger zone". This rubbed me the wrong way because we sometimes didn't agree on whether or not it was safe to change lanes – it was clearly safe, in my never humble opinion – and besides, I like giving lots of notice to other drivers when I'm about to make a move, more notice than the vehicle thought was necessary, and I didn't like being whined at.
The front windows feature auto up/down, which is nice, but the window controls are mounted up near the dashboard I found them hard to reach.
The audio system is pretty good. The sound quality is fine but it could use a little more oomph from a more robust amplifier.
CX-9's independent suspension contributes to the vehicle's good handling; it's tweaked a bit more toward fun than comfort, which suits me fine, and displays a rewarding lack of dive or roll for such a big vehicle.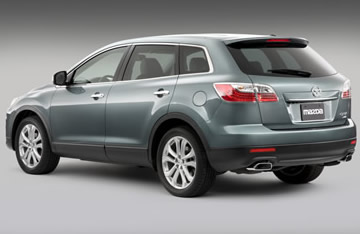 Safety equipment includes the normal complement of bags, belts etc.  And of course the nannies (which include roll stability control, traction control, dynamic stability control, etc.) will help keep you on the straight and narrow – or even the wide and curvy.
The 2010 Mazda CX-9 GS 2WD starts at $28,805 U.S./$37,995 Canadian. The up market GT starts at $32,815/ $47.450 Canadian (note that, as usual, trim levels and option packages can be somewhat different in each country).
Copyright 2010 Jim Bray
TechnoFile.com