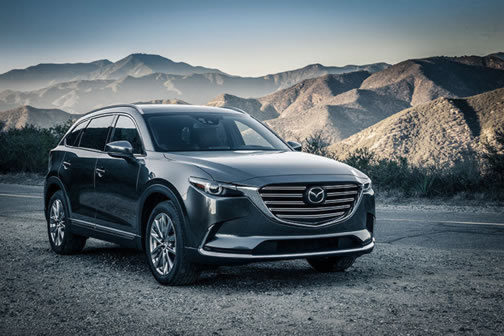 Mazda's new CX-9 downsizes the engine but keeps the 'Zoom-Zoom' intact
By Jim Bray
September 8, 2016
The bad news is that you can no longer get a V6 engine in Mazda's biggest SUV. The good news is that you may not care.
I must admit that I was worried when I heard that Mazda was dumping the V6. I liked the old CX-9 a lot - I have yet to drive a Mazda I didn't like - and I was concerned that trimming it down to a turbocharged four cylinder engine would lead to a vehicle that wouldn't be as much fun to drive. But I needed have worried! After spending a week in the new CX-9, I commend Mazda for their choice because the new CX-9 loses nothing important in the way of performance, yet it shed weight and undoubtedly upped its fuel mileage in the process.
Click on the image to open a slideshow.
Therefore, we have a new turbo four, the first turbocharged SKYACTIV engine from Mazda, and while its horsepower rating of 227 may not set the world on fire considering the size of the CX-9, its 310 lb.-ft. of torque, available at a nice and low 2,000 rpm, makes up for it very nicely.
It's been a few years since I drove the last CX-9, so I enlisted the help of a friend who owns one, dragging him along to give his impressions. Intelligent gent that he is, he agreed with my assessment, saying he preferred the new  CX-9 to his. He loved the low end torque, and said was better than his V6 model's (which when I reviewed it last in 2013 was rated at 273 horses and 270 torquey-like things) produced.
It isn't just the great engine that makes the all-wheel drive CX-9 so nice to live with, though. It's handsome, equipped very well (Mazda Canada's sample was a top of the line Signature version) and as a three row SUV/Crossover it's roomy and flexible.
It also drives like a smaller vehicle than it is, which is great. After my week with it, I came away from the experience thinking the CX-9 reminded me of the now-defunct CX-7, the smaller SUV replaced a few years ago by the popular CX-5. The CX-7 also had a turbo four, but this new SKYACTIV engine seems better - and it didn't seem to guzzle the petrol like the CX-7 did.
The CX-9's handling also contributes to the feeling that you're driving a smaller vehicle, though of course Newton's Laws of Motion shouldn't be ignored and they do raise their heads at times, like when you're apexing a tight curve or angle parking - though to be fair the CX-9 also has a nice, tight suspension and decent turning circle that helps minimize any boat-like tendencies.
My friend and I were both taken with the CX-9's tight steering - he said it was better than on his CX-9 - and we also agreed that the independent suspension was nice and tight as well, especially in sport mode, helping the vehicle corner better than his previous generation does. We disagreed on the lack of paddle shifters that come standard with the six speed automatic. I think they should have been included but he didn't care. He's wrong, of course.
The new look is that of current Mazda, with a flat nose and typical Mazda grille. The rear end treatment reminds me a bit of the Jaguar F-Pace, which is high praise, and the vehicle (even on the sample's 20 inch wheels) is easy to get into and out of, though as is fairly typical in this niche it's a bit of a challenge getting into the third row if you're a short and fat oaf like someone I see in the mirror when I screw up the courage to look there. Smaller kids, who'll probably be the third row's customers most of the time (if you don't just fold 'em down and leave the relatively cavernous storage space intact) and they won't have the same difficulty getting back there that I had when I took one for the team in the name of science.
My CX-9-owning friend was also impressed by new interior, which in Mazda's sample "Signature" trim level was very nice, indeed - a classy two toned look with leather and wood. I thought the seats needed to go a bit lower (since my legs barely reach the ground when I'm standing), but it wasn't a big deal.
Dave also liked the big LCD that perches atop the centre stack, especially when it was displaying the navigation system.
The CX-9 comes with Bluetooth and all the other connectivity stuff you want these days, including stuff like Stitcher and Aha music services. The Bose stereo system is good, but runs out of  steam when you crank it.
One thing I noticed when driving the CX-9 fairly aggressively is that, in sport mode, it seems to get stuck in lower gears. Of course I realize that a sport mode should keep the lower gears longer than if you're in "wallow" or "eco" (but I repeat myself) modes, but the Mazda at times just wouldn't upshift even if I eased off on the gas; a couple of times I had to put it in manual mode (sans paddles, alas, so I had to take my hand off the steering wheel) and up shift that way. Weird.
Mazda has included a handy head's up display that gives you a digital speedometer you can raise or lower to be as close to eye level as you want, within reason, and it works well unless you're wearing polarized sunglasses, at which point it becomes nearly invisible. 
Here's a partial list of the goodies the Signature edition of the CX-9 gives you:
Rearview Camera (wide angle),
Power lift gate,
Power glass moon roof,
Navigation system,
LED headlights,
Bose premium audio system (and it sounds good, though needs more oomph),
Eight inch colour touchscreen display with Mazda Connect,
LED front and rear signature lighting,
LED fog lights,
LED rear combination lights,
Adaptive and automatically levelling headlights,
Heated steering wheel,
Retractable rear door sunshades
Rosewood trimmed centre console panel, door switch panel
Eight-way power driver's seat,
Nappa leather upholstery with premium stitching detail,
Nannies galore: Dynamic Stability Control (DSC), Traction Control System (TCS), Roll Stability Control (RSC), Hill Launch Assist (HLA), Advanced Blind Spot Monitoring (ABSM), Rear Cross Traffic Alert (RCTA), Smart City Brake Support (SCBS), Mazda Radar Cruise Control (MRCC), Smart Brake Support (SBS), Forward Obstruction Warning (FOW), Lane Departure Warning System (LDWS), Lane-keep Assist System (LAS), Rear parking sensor (corner and center)
My biggest issue was with the lack of paddle shifters, which in the grand scheme of things are pretty minor quibbles - though I really, really missed them. On the upside, the most annoying nannies can be shut off and they stay off, and therefore they don't get in the way of the typical Mazda driving experience.
I liked the CX-9 enough that I came away from my time with it figuring that, if I were looking to buy in this class of vehicle, I'd choose the Mazda even over some vehicles that purport to be higher end, such as Acura's MDX or the (two row only) Lexus RX 350. In that way, it reminded me of the Kia Sorento I drove several months ago.
Sorento or Mazda? Tough decision. The Mazda, as tested, came in at about 50 grand Canadian, which is about three grand less than a loaded Sorento. The Sorento has paddles and a V6, but the Mazda's a bit more refined and fun to drive. I'd have to drive them back to back before I could make up my mind.
But compare their prices to that of a loaded MDX (about $68K CAD) or RX 350 (69K CAD loaded) and you get the idea of just what a great relative value the CX-9 and Sorento are compared to the purported "luxury" brands. Sure, the Acura and Lexus may have a bit more refinement and stuff, but they aren't worth the premium.
The closest match I could find from Asia is Infiniti's QX60, which starts at about $47K, but when I tried to configure one comparably to the CX-9 their website tried to force me to pick an Infiniti dealer first, so I bailed.
Copyright 2016 Jim Bray
TechnoFile.com