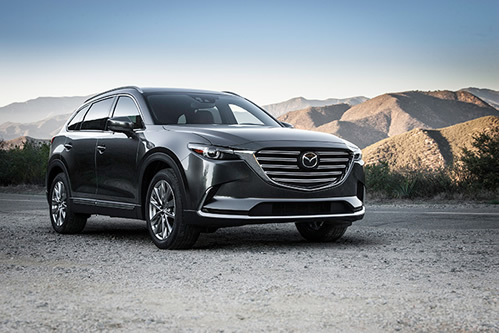 CX-9 brings Mazda's fun driving experience to the three row crossover
By Jim Bray
May 18, 2017
It's big and it only sports a four banger engine, but the Mazda CX-9 SUV/crossover is one of the best driving vehicles in the class.
In other words, it's a typical Mazda.
Mazda is a relatively small car company, and for the last few years the Hiroshima-headquartered Japanese carmaker has had to forge its own path without another carmaker having its back (Ford used to be a partner). Yet it consistently comes up with vehicles - sedans, SUV/crossovers and, of course, sports coupes - that are just plain fun, yet are also featured fully and exude an air of quality that makes them seem more expensive than they are.  
The CX-9 is Mazda's biggest vehicle, but slip this baby into sport mode via the little rocker switch on the centre console and the vehicle seems to shrink a tad, just enough to make it sit up and take notice that you're looking to play. It still feels big, of course - even Mazda can't change the laws of physics - but it goes from feeling like a nice, big SUV to a nice, big Mazda SUV, and all the "Zoom-Zoom" that brings.
When the current CX-9 came out last year, I was worried that the sudden lack of a V6 engine - replaced by a "dynamic turbo" four - might cut that "Zoom-Zoom" thing to a single Zoom, or less. That worry proved to be warrantless, however, because while the horsepower might be down compared to the old engine, the torque is way up, and it's the torque that pushes you back into your seat when you drive. Mazda also cut the vehicle's weight, which also helps maintain the double Zoom.
The engine was Mazda's first turbocharged SKYACTIV unit, and its 227 horses and wonderful 310 lb.-ft. of torque (which is available from only 2,000 rpm), are very smooth and quiet - and it goes like heck! And if those 227 horses aren't enough, you can burn premium fuel in the CX-9 and Mazda says you'll get 250 horses instead. Good thing there's lots of storage space in the big SUV so you can keep all those extra nags somewhere!
To see how the power plant change affected the CX-9, I enlisted an acquaintance for last year's review, a guy who owned the previous, V6 version. And he told me he preferred the new  CX-9 to the one he'd purchased. It was mostly because of that low end torque, which he noted was better than his V6 model's 270 torquey-like things. Just goes to show that horsepower isn't everything. He also liked the more upscale interior in the new model, by the way.
Torque is all well and good, but if you put it in a wallowing vehicle it's not going to create a wonderful driving experience; the vehicle also needs to handle well. Fortunately, the CX-9 does this. So what you're getting is a large, comfortable and efficient vehicle that's also an interesting experience from behind the steering wheel.
Speaking of steering, the CX-9 feels better than a vehicle of this heft should when it comes to the times when your hands are on that steering wheel. The feel is light and tight and the turning circle is darn good for a vehicle that seems as long as a school bus.
Helping the efficient and entertaining drive is a good independent suspension (MacPherson struts with coil springs and stabilizer bar up front and multi-link with coil springs and stabilizer bar "out back" (no Subaru pun intended). It tips the sport/comfort scale on the sporty side, but not enough to ensure that bladders need to be emptied before sallying forth on your daily mission. That's in sport mode; in regular mode it loosens up somewhat, though not enough to make it wallow.
The "SKYACTIV-Drive" six speed automatic transmission also operates very well, though I thought that it held gears a little too long in sport mode when you weren't really pressing the vehicle. And though you can shift manually via Mazda's "backwards compared to the rest of the industry" gear selector lever, there are no paddle shifters and I think this is a real oversight. I don't think it would be a deal breaker for me were I shopping in this segment, however. 'Twould be close, though. I love paddles because they can give you better control over the vehicle without requiring one hand to leave the steering wheel.
The CX-9 is a handsome vehicle, too. It has the company's current styling theme, with its flat nose and typical Mazda grille up front. The engine compartment seems quite long, too, especially considering the smaller engine underneath, but that actually gives it a kind of aggressive "shark-like" look that - at least in my case - made me want to keep the vehicle moving lest it drown. Fortunately, the CX-9 appears to like moving…
Mazda's sample GT trim level's butt featured slim taillights with a broad expanse of handsome metal and glass surrounding them, and I think it looks great. It also featured a handy "height adjustable" powered tailgate you can't get on the base model, as well as LED lights front and rear.
If you want front wheel drive, you'll have to stick with the base model, but you're better off with all-wheel drive anyway, and though the road conditions during my test week weren't particularly challenging I can't imagine the CX-9 not handling everything short of serious off-roading just fine. 
Mazda has done a reasonable job of facilitating access to the third row bench seat (the second seat is a bench as well), though I can remember a couple of competitors that were easier for fat and old people. If you're sticking kids back there, however, there should be no issue.
If it were my CX-9, I'd leave the third row folded flat and use the otherwise "trunk-ated" storage space thus revealed, the third row being for emergency seating only.
The interior looks like the CX-9 should actually be a part of a Mazda up market brand (think Lexus/Toyota, Honda/Acura, Volkswagen/Audi). There isn't such a "Lexda," though, so that makes the quality of the materials and how they were put together even more noteworthy.
The instrument panel is mostly analog, augmented by the currently-typical LCD screen you can configure to display stuff like a compass, trip computer info, etc. You can't display a digital speedometer on it, which is a shame, but Mazda's sample had a head's up display that took care of that. The downside was that it's hard to read the HUD when you're wearing polarized sunglasses.
The centre stack has a big LCD mounted atop of it and you can control its functions via a knob-and-button thingy mounted on the console next to the volume control knob. It's also a touch screen, but pretty far way for my little arms. The system works well but could be a tad more intuitive. Naturally, there are steering wheel-mounted controls as well. You also get abundant power and USB ports, though the power port beside the front passenger seat is a tough reach from the driver's seat.

Mazda's sample came with the Bose audio system and as usual with Bose it's very good for the most part, though I noticed in this application it sounded a tad bassy with some local FM radio stations (which, to be fair, seem to crank the bass anyway - perhaps so the deejays sound like they're more than the 15 years old their prattling makes them appear to be). It's easy to crank the bass down a tad to correct this.
The sample also came with navigation and voice control and of course you get such stuff as automatic headlights and HVAC, Bluetooth and a rear view camera. There are even second row blinds for the side windows and a powered moon roof.
Mazda has also stuffed a bunch of the new passive and active safety features into the CX-9, depending on the trim level. The sample had blind spot monitoring and rear cross traffic alert (a very handy feature) and if you opt for the Technology Package ($1,600 and only available on the GT version; the higher end Signature has this stuff included already) you also get stuff like lane departure warning, radar cruise control, etc. As is becoming more common now, you can choose to keep these obtrusive nannies asleep rather than having them jiggle your elbow all the time.
The 2017 CX-9, according to Mazda's Canadian website, starts at a quite reasonable $37,630 for the base, FWD model. From there you can go to the GS-L ($43,530), GT ($47,530) and the top line Signature version, which starts at $52,130 (all prices in Canadian dollars).
Mazda has done a really nice job with the CX-9. In fact, I think I'd consider it before some higher end vehicles in this class, thanks to its fun to drive quotient coupled with its luxury and features. Mazda has toed the line between sportiness and utility beautifully, as well as blurring the lines between great technology and annoying crap, and between luxury and "mainstream."
Copyright 2017 Jim Bray
TechnoFile.com