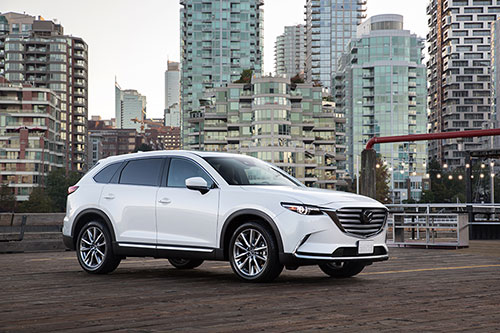 Mazda enhances its big CX-9 for 2019
By Jim Bray
November 1, 2018
Mazda's largest bundle of joy goes into the 2019 model year with some new tweaks the company thinks will make this three row SUV/Crossover even more compelling than before.
Tough to do that with a minor upgrade, especially since the CX-9 was such a terrific beast already, but the purveyor of Japanese "Zoom-Zoom" pulled a few rabbits out of their design hats for the new model year and they combine to make this big, three row SUV even nicer.
Click on the image to open a slideshow.
It still needs paddle shifters, though. Zoom-zoom without paddles for the automatic transmission? Give me a break!
That said, driving the CX-9 is like driving any other Mazda: it's more fun than you might imagine for such a vehicle. It's also plenty comfortable and luxurious, and even more tech-equipped than ever. This vehicle is put together so nicely that if I were shopping in this niche it would be top my short list – even before some other, supposedly more luxurious (but with more annoying interfaces) Japanese brands that cost thousands more.
One thing you don't get with the CX-9 that you do with those unnamed competitors is a V6 engine. Mazda dumped that with this current generation, and as much as I love the smoothness of a nice V6, the CX-9's turbo four – which is now shared with the Mazda6 sedan – is a lovely performer.
The engine puts out 250 horses @ 5,000 rpm, using 93 octane fuel. With "regular gas," that figure drops to 227 @ 5,000 rpm, but the torque remains the same heady 310 lb.-ft. @ 2,000 rpm, and that's the magic number to note because it's the torque that pushes you back into your seat – and with this engine there's plenty of back pushing to be found. And since the maximum torque number comes at a low 2,000 rpm, it's available nearly as soon as you tromp the gas pedal.
Power gets to all the wheels via a six-speed automatic transmission that shifts very nicely. There's also a sport mode (accessed from a switch on the centre console) than ups the smile ante appreciably, though you really are encouraged to drive the vehicle spiritedly when you choose that mode because the upshifts are tall and if you aren't being aggressive it can seem like the vehicle is stuck in a lower gear.
The solution? Shift manually, drive harder, go back to "default" mode, or buy something boring.
As sporty as this vehicle can be, you'll never mistake it for a sports car – yet it's surprisingly spry for a vehicle big enough to haul seven people and (at least some of) their stuff. It's a pleasure to drive, with handling that feels better than the mainstream competitors that I've driven in this niche. Something tells me that these driving dynamics may not be as important to the CX-9's ultimate customer base than it is to me, but those people will undoubtedly find plenty of other things to love because Mazda has built a lot of goodness into it.
And this year, as mentioned, there's more than ever that's good.
Mazda Canada's sample CX-9 was the top end Signature model and it carried a price of $51,500, plus another $300 thanks to its optional Machine Grey Metallic paint. But the CX-9 starts at a much more reasonable $36,700 for the base GS trim level. There are also GS-L and GT trim levels rounding out the lineup.
I sure like that signature trim, however, which ups the luxury ante to nearly Lexus and Acura levels, but with a lower price and a better driving experience. And with the Mazda, you don't have to mess with silly track pads or multiple weird LCD screens.
Upping the CX-9's 2019 ante is nothing particularly earth shattering, but it takes a really nice vehicle and make it even nicer. According to Mazda, you get stuff like:
Refinements to the suspension and steering systems to achieve more linear vehicle behavior and a higher-quality ride feel.
Enhanced noise insulation and sound absorption for an even quieter cabin interior.
A new, frameless rear-view mirror that gives the Signature model a cleaner look inside.
A newly designed overhead console that features a room lamp control switch and an LED down light with refined quality.
A 360-degree View Monitor that uses four cameras to show the area around the vehicle on the center display (available on GT and Signature models).
GT and Signature models get an available seven-inch TFT LCD screen display in the middle of the meter cluster.
Second- and third-row seats now feature seatbelt reminders (there's a display on the centre stack)
Front-seat ventilation (available on GT and Signature models).
Door mirrors on GT and Signature models that retract automatically when the doors are locked.
The CX-9 now supports the Apple CarPlay and Android Auto in-car systems.
The CX-9 now supports SiriusXM Traffic Plus and Travel Link data services.
In other words, it's basically a sweetening of an already sweet deal. Hard to argue that as a bad thing!
The CX-9 isn't only a good vehicle to drive; it's also a great place to "passenge." I even pried my posterior into the third row on a jaunt my wife and I took with our son and his family (which included two young boys who are required by law to use child car seats lest they burn in Hell). Entry to the back row was better than I expected and, while I wouldn't want to spend a whole day back there, I was comfortable and had enough leg and knee room as long as the folks in the second row didn't recline their seatbacks too much.
Here's a partial list of the other goodies you get on the 2019 CX-9 Signature:
G-Vectoring Control (GVC), i-ACTIV AWD
20-inch alloy wheels
Smart City Brake Support
Advanced Blind Spot Monitoring
Rear Cross Traffic Alert
Mazda Radar Cruise Control with stop-and-go
High Beam Control
Lane Keep Assist
Lane Departure Warning System
windshield-projected colour Active Driving Display (head's up display)
360-degree view Monitor
Eight-inch colour touchscreen display with Mazda Connect, HMI Commander, Apple CarPlay/Android Auto, SiriusXM Travel Link data services
heated steering wheel
heated and ventilated front seats
heated rear seats (outboard only)
LED headlights with signature lighting
signature grille illumination
power liftgate
front wiper de-icer
navigation system
Nappa leather upholstery with premium stitching detail
wood-trimmed centre console panel and door switch panel
LED interior lighting
frameless rear-view mirror
Another bonus to the Mazda is that its nannies are configurable so if you don't like 'em you can shut 'em off. This is something I do usually with stuff like lane departure warning. I set the adaptive cruise control to its shortest setting as well, not so much to freak out the person in front of me (though that's a bonus!) but because otherwise the vehicle starts slowing down so far behind the vehicle ahead that it become pointless to use it.
This latter point isn't a Mazda thing, by the way; it's generally a feature of this particular technology.
Obviously, the 2019 Mazda CX-9 isn't a huge step forward for this vehicle, but such a leap wasn't necessary anyway. This is a vehicle that isn't yet close to feeling long in the tooth and the 2019 tweaks will help ensure it stays on point for the next couple of years at least – an eternity in an automotive market whose pace of evolution seems to be measured in dog years rather than human ones.
For its price, and considering what you get for those dollars, the CX-9 is definitely worth checking out if you're shopping in this niche – even if you're looking for something "higher end."
Copyright 2018 Jim Bray
TechnoFile.com
Jim Bray is a member of the Automobile Journalists Association of Canada. His columns are available through the TechnoFile Syndicate.