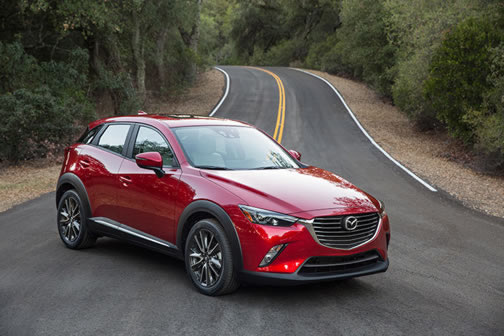 Mazda CX-3 manual - a low end SUV that's plenty of fun
By Jim Bray
December 4, 2017
The entry level version of Mazda's smallest SUV is not only a great vehicle that's a blast to drive, it also shows clearly that there are plenty of common features on today's vehicles that aren't really necessary.
I mean, for 20 grand Canadian, you can have a great-looking "crossover" that's also a great driving one (it feels kind of like a tall Mazda 3). It's almost enough to make me want to think about owning an SUV, without simultaneously ducking to avoid a lightning strike from Heaven.
Click on the image to open a slideshow.
Sure, for that $19,995 entry price you don't get adaptive cruise control, lane departure warnings, blind spot monitoring, and that type of thing. But you do get manual cruise control, and vehicle that handles so nicely that you should have no trouble keeping inside your lane (as long as you pay attention - and if you don't, why are you there?). You also get outside rear view mirrors you can adjust to virtually eliminate blind spots - and plenty more standard features, like airbags, belts and the like. Just like every car today, pretty well.
You even get a rear view camera, something - like automatic headlights - I think should be standard equipment on every vehicle today. I'm not pushing for legislation; I just think carmakers should offer this stuff as standard equipment, like nearly every car has some kind of variable intermittent windshield wipers these days - without it being legislated so far as I know.
Alas, this base CX-3 doesn't offer automatic headlights so you'll have to remember to light up its bum when you head out at night and you notice that only the daytime running lights are on. And if you forget to turn them off when you get home, the Mazda will shut them off for you after a few seconds.
It also doesn't offer automatic HVAC and the manual controls are something out of Anaheim's original Magic Kingdom, but it works fine.
One other thing you won't get on this delightful Mazda is all wheel drive (it's only available with front wheel drive). On an SUV? Yep. For that - and all the other stuff including the nannies and the amenities (of which plenty are available) - you have to go upmarket at least one notch. And that means you'll lose the thing that makes driving this little SUV such a wonderful experience (other than the native Mazda goodness that's built into its dna): a six speed manual transmission.
Oh, that manual! I've driven the CX-3 before and look on it as a typical Mazda, which means it's a real driver's vehicle that imparts maximum smiles per gallon for reasonable dollars. Even the big CX-9 drives better and smaller than it has any right to and the fun factor of Mazda's various cars is legendary.
To that end, this basic 2018 CX-3 sports - pun intended - a lovely six speed manual transmission that works through a delightful, light clutch. Shifts are slick and easy and the clutch doesn't become onerous - well, too onerous - in stop and go traffic. I've often had issues with shifting Mazda six speeds smoothly, but this one seemed designed with uncoordinated oafs in mind because I had no problems at all.
Add the "old fashioned" manual hand brake to the mix and you have the stuff of wonderful winter parking lot exercises. Wouldn't you know, winter arrived temporarily during my time with the CX-3 and the winter tires that had been installed were more than ready to mambo. Whether on snowy or bare and dry roads, or on the occasional beckoning open space, this Mazda SUV proved to be just about the most fun I've had in an SUV that doesn't have a Porsche badge on it.
To be fair to the other carmakers, it's the only manual I can remember, too, and that had a huge influence on my opinion.
CX-3's get their power from a two litre inline four cylinder SKYACTIV engine that puts out what might seem a miniscule 146 horses @ 6,000 rpm, with an identical torque figure @ 2,800 rpm. Yet that relatively low torque peak helps move the CX-3 along quite nicely, surprisingly so. I'm sure the manual helped here, too.
The disc brakes bring the CX-3's speed down very well, with good brake pedal feel.
The CX-3 gets Mazda's G-Vectoring Control (GVC) this year, a new technological piece of wizardry whose workings make my eyes glaze over when I try reading about them but whose results make the traditional Mazda-induced smile a bit wider. Handling is lovely, the suspension is nice and tight - not jarringly so, however - and the feel from the newly-redesigned steering wheel is just as it should be. It's no Miata, er, MX-5, but it's not meant to be; for a cheap (well, "affordable") SUV, this is a terrific ride.
2018 CX-3's also get Mazda's Smart City Brake Support (SCBS), a nanny that's meant to help you avoid slamming into the car in front of you. That's even on this base model, but I didn't have any issues with it nagging me - unlike another Japanese carmaker that seems to feel it's its civic duty to hound.
Inside, the CX-3 features Mazda's current design themes, which means it looks and feels higher end than one might expect at this end of the market. Most things are located just where they should be, a possible exception being the centre console-mounted volume control (you can use the one on the steering wheel instead if you prefer) and maybe the controller knob that's nearby. I can't think of a more convenient place for those knobs, but they make you feel around for them (or take your eyes off the road) and they also force the cup holders farther back, to a location where I kept forgetting the sunglasses case I'd stick there.The greenhouse is mostly good. Small windows behind the rear doors don't let a lot of light in but the outside mirrors and even the rear view camera make them mostly irrelevant anyway. If you're opting for this base model you'll be living without rear cross traffic monitoring (which is another nanny I've grown to appreciate depending on how loudly they yell at you) but we've lived without that for over 100 years and most of us have managed to live through it without mowing down too many pedestrians.
Gauges and such are laid out well and are plain to see. I missed a digital speedometer (heated seats would have been nice during my week with the CX-3, too), but since that's the gauge I probably use the least it wasn't a huge deal except in playground zones and near photo radar sites.
The audio system tended to run out of steam before I wanted it to, which is common at this end of the marketplace, but it does offer USB and Bluetooth (the latter works for phone, too, of course).
Seats are comfortable and there's plenty of manual adjustment. Between the handles and the tilt/telescope steering wheel I was very happy with my perch.
As one might expect from such a small SUV, the storage space is a tad, well, trunk-ated in the CX-3, even with the rear seat folded down. I daresay it'd be enough for most uses, though - groceries, luggage, hockey bags, cases of beer, etc.
Okay, I missed a few features - some of which I think should have been there, like auto headlights - but for the 20 grand Mazda wants for this base unit I doubt you could find a better, more fun and interesting, value anywhere. According to their various websites, a base Toyota C-HR will set you back $24,690 CAD, Honda's H-RV is $21,350. On the other hand, you can get into Kia's Soul or Nissan's Qashqai with starting prices of $19,999 - but will you get "Zoom-Zoom?"
One feature I found kind of silly was the push button start. Well, not the start itself; it's more the setup: you can lock/unlock the vehicle via the fob, but on this trim level you can't do it from the door handle itself, via Mazda's normal "push button on the handle" system. So you have to take the fob in your hand, unlock the door with it, then put the fob back in your pocket or purse (so you don't forget it in the vehicle) and start the vehicle keylessly once you're in the driver's seat. It's hardly a deal breaker, but it's a real pain in the bum, especially since it's hard to make out the buttons on the key fob because they feature icons on the same colour of background.
If you don't care about a manual transmission, you can option the CX-3 up quite nicely. The base GX version, but with the automatic tranny. starts at $21,295 and all-wheel drive brings the total to $23,295. The GS trim level starts at $22,695 (FWD) and $24,695 (AWD) and you can add the Luxury package on its own or coupled with the i-ACTIVSENSE package for $26,195 or $27,795 respectively. The GT trim level starts at $27,995 (FWD) and $29,995 (AWD) and you can add the Technology package for a total of $30,995.
The Luxury package includes leatherette upholstery, power glass moon roof with interior sunshade, tilt-up ventilation and one-touch open feature. The i-ACTIVESENSE package gives you Mazda Radar Cruise Control (MRCC), Smart Brake Support (SBS), Forward Obstruction Warning (FOW), Lane Departure Warning System (LDWS), High Beam Control System (HBC), LED headlights with auto-levelling, Adaptive Front-lighting System (AFS), LED rear combination lights with signature lighting, colour Active Driving Display (ADD).
The Technology package adds Mazda Radar Cruise Control (MRCC), Smart Brake Support (SBS), Forward Obstruction Warning (FOW), Lane Departure Warning System (LDWS), High Beam Control System (HBC), Traffic Sign Recognition System (TSR), SiriusXM satellite radio to the mix.
I would gladly live without all that stuff to drive the manual CX-3. Even better would be if Mazda would offer this transmission on the other CX-3 models and trim levels. A loaded CX-3 with a stick would be heaven!
But NOOOOO!
Copyright 2017 Jim Bray
TechnoFile.com