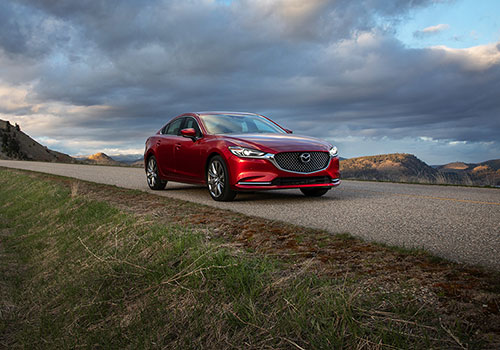 Up-engined Mazda 6 sports even more 'Zoom-Zoom'
By Jim Bray
June 8, 2018
Truth in advertising gets even more truthful for Mazda with the release of the 2018 6 sedan and its optional choice of a turbocharged engine.
The engine, which comes from the company's big SUV/Crossover CX-9, ups the 6's entertainment/engagement ante substantially, which I imagine is the entire point behind Mazda's move.
Click on the image to open a slideshow.
I've never driven a Mazda that didn't put a smile on my face (well, their old pickup truck was pretty ordinary, but that was quite a while ago), and even though I'd have preferred a bit more oomph from the current generation 6 when I first reviewed it back in 2013 I still liked the car and found it to be a rewarding driving experience.
That 6 (and the current base model) uses the same Skyactiv 2.5 litre four cylinder engine that's found in the 3 sedan and the CX-5 SUV. And it's fine in both of them (though I'd love to see this more interesting turbo offered on them, too!), but the larger 6 has more girth to pull around via its front wheels and that can affect the final "Zoom-Zoom" quotient. Hence the new turbo offering.
The 6 is a lovely car and for the life of me I don't understand why Mazda doesn't sell as many 6's as Toyota and Honda do with the Camry and Accord; it's in the same market niche, but the 6 is better looking and more fun to drive than either of those other Japanese competitors.
Could it be not enough people care about the fun to drive aspect? If so, I might as well hang up my word processor now!
Not just the offering of the CX-9 engine is new in the 2018 Mazda 6. There's also a new front grille design that Mazda says "accentuates the look of depth, a strong framework, a low centre of gravity and a wide stance." There are also sleek new headlights, a new design for the rear-facing section of the trunk lid (Come on, I know that's what you look for in a car!) and the body paint now covers the lower rear bumper section "to present a tauter look of higher quality."
There are also new wheel designs and the very lovely Soul Red Crystal of Mazda Canada's sample replaces Soul Red in the body colour lineup.
As with other Mazdas, the 6 looks and feels more luxurious than its spot in the marketplace might suggest. It's very, very nice.
Inside, Mazda says, "further refinement" of the instrument panel and door trims supposedly do a better job of expressing "breadth, a sense of speed and the enhanced quality" of the 6. An all-new seat design (no, the back hasn't been moved to the front – which would be an affront) joins what the company says is its "highest-quality interior package, Signature, which features the brand's finest materials and unique colour coordination." It's nice, too: that's what Mazda's sample wore. It includes Nappa leather seats, real Sen wood trim and Ultrasuede.  
I'm kind of losing the love for Mazda's console-mounted centre stack LCD screen navigation system – though it's far from the worst you can find – and the stack-topping screen seems to take forever to fire up. But, especially when combined with the steering wheel-mounted controls, it still works well.
What also works really well is that new engine choice. While the standard 2.5 litre Skyactiv unit (which features cylinder deactivation this year, for better fuel mileage) puts out 187 horses @ 6,000 rpm, with 186 torquey-like thingies @ 4,000 rpm, the blown engine (in this case, a blown engine is a good thing!) ups the ante substantially: 250 hp @ 5,000 rpm (with 93 octane fuel)/227 @ 5,000 rpm (with regular fuel) and 310 lb.-ft. of torque @ 2,000 rpm.
That horsepower difference was nearly enough to make me seek out premium fuel, except that I happened to have the 6 during a gasoline price spike, so I lived with the 227 ponies (it's the torque that pushes you back into your seat so nicely, anyway). And I liked it enough that I probably wouldn't bother paying the extra pound of flesh that premium fuel requires.
You feel the oomph difference between the two engines as soon as you tromp the gas pedal, upon which time the 6 leaps forward with the kind of abandon you'd expect from the V6 version Mazda no longer makes available.
So, while I mourned the loss of the six for the 6, the turbo four has shut my mouth. And, as I'm sure many including my wife will agree, that's a good thing.
The lovely propulsion energy gets to the road (through the front wheels only) via a six-speed automatic transmission that's also set up to put a smile on your face. Usually. In normal mode and when you aren't really pressing the car, it shifts just fine. Alas, I prefer sport mode for how it tightens up the car's responses (not just via the tranny, but also suspension and steering) even for normal driving, and if you don't shift yourself (via paddles or the shift lever) it tends to stick too long in one gear before upshifting.
I think it's the Mazda's way of saying "Come on, is that all you've got? I have Zoom-Zoom for goodness sake!". And if you do press the car, or shift manually, it works just fine. In fact, this is a terrific manual mode, which shifts when you want it to (I suspect some manual modes are more or less placebos).
Lesson? If you're going to use sport mode, use manual mode as well. Life is hard!
Mazda's sample's Bose audio system is very good, and I also liked using the head's up display (HUD) that's projected before the driver's eyes without having to use a silly flip up plastic thingy like I've seen in the 3. The HUD can be set bright enough to be perfectly usable while you're wearing polarized sunglasses and you can set what info it displays besides your speed, including blind spot monitor (which looks like a little Wi-Fi logo) and the current speed limit.
That speed limit display can be pretty amusing; it usually works fine, but on more than one occasion it told me the speed limit was 10 km/h and at least one of those times the speed was actually 100 km/h or more. Good thing I ignored it lest folks behind me start honking (or rear ending!) as I plodded along at 10 km/h.
Another cool feature is a 360-degree camera that not only shows what's behind you when you back up, it can also show what's ahead, which I found quite helpful in parking lots.
The 6 also features a big trunk, lots of storage space inside the cabin, and all the usual comfort and safety amenities. I wish Mazda's keyless entry system would let you unlock the doors merely by putting your hand near the door handle, like many higher end vehicles do but, instead, Mazda makes you press a little black button on the handle and that's just too much work for a spoiled, middle aged fart.
This isn't limited to Mazda, either, so if you're terminally lazy you'd better take a cab.
I see very few Mazda 6's in my neck of the woods, and that's a shame. It's an exquisite mid-sized sedan that's also – like most Mazdas - a blast to drive.
The 2018 Mazda6 starts at $27,000 Canadian for the base GS model. The GS-L starts at $31,600, the GT starts at $35,800 and the top line Signature tops the till at $38,800.  That seems reasonable to me, considering all the goodness you're getting.
For comparison, the top line Camry XLE (V6!) starts at $40,890 CAD while the high end Accord Touring 2.0 (turbo four) begins at $40,671.25. These may not be complete apples-to-apples comparison due to differing standard and optional equipment, but it should be pretty close.
All three are excellent cars, but if I were shopping today, I'd definitely be heading in the direction of "Zoom-Zoom."
Copyright 2018 Jim Bray
TechnoFile.com
Jim Bray is a member of the Automobile Journalists Association of Canada. His columns are available through the TechnoFile Syndicate.