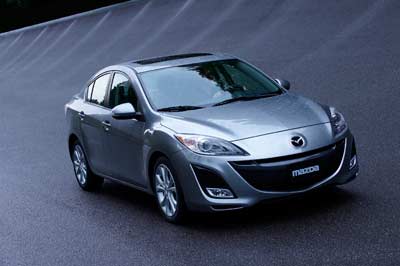 Mazda 3 and MX–5 A little – and a lot of – Driving Fun
By Jim Bray
September 16, 2009
Mazdas are a blast, even if you don't go beyond their most basic entries. And if you do go beyond –  to the fabulous MX-5 roadster, for example – it's a blast heard around the world.
The most basic entry is the Mazda 3, the Sport version of which I reviewed a few months ago and fell madly in lust with. It combined extreme driving pleasure with an amazing selection of features for a reasonable starting price of $22,000 U.S./$26,000 Canadian. And for that price, or not much more, you get stuff like Bluetooth, Self leveling Bi-Xenon headlights, handsfree keyless entry and start, adaptive front lighting, rain-sensing windshield wipers, dual-zone automatic climate control with pollen filter and plenty more.
You can get a reasonable dose of "Zoom-Zoom" for even less money, too, as I discovered when I spent a few days with the most basic of 3's.
Starting at just under 16 grand, the base 3's two liter four banger still manages to crank out a pretty healthy 148 horses (and 135 lb-ft of torque), not that horsepower is the be-all and end-all, of course.
On the other hand, it's been a long, long time since I drove a new car that actually forced me to put the key into the door lock rather than offering a remote control. Yet my base 3 did that and I hated it. Modern conveniences certainly spoil you; I don't think I could buy a car without power windows either, yet when I first bought a car that was so equipped I thought they were an unnecessary extravagance.
I was also disappointed that my 3 came with a an automatic transmission, the best way to suck the "Zoom-Zoom" from any vehicle. And suck it it did, though the five speed electronically-controlled transmission, with adaptive shift logic and manual-shift mode, acquitted itself well enough that I found myself enjoying the car quite a bit anyway, as long as I used the manual shift mode whenever possible.  
Part of the 3's fun quotient comes from a basic design that's well thought out and which uses good materials. The four wheel independent suspension, for example, balances comfort with sportiness very well – leaning toward sportiness but never at the expense of becoming jarring.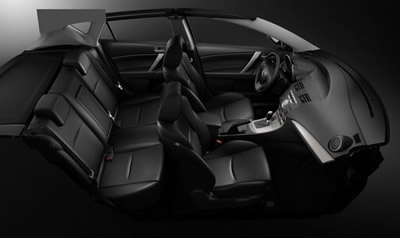 And the 3 is a handsome little sedan, once you get past the happy "Tow Mater" grin up front. The headlights on the entry level version are merely halogen, but they work fine, and such amenities as a sunroof and rain sensing wipers aren't available until you head a couple of trim levels up market. But what do you expect from an entry level car?
Fortunately, the 3 has it where it counts, in driving feel, economy and efficiency.
The seats are comfortable and hold you in place well, the instrumentation is clear and very readable and the glove compartment is deep and spacious.  Two people can sit comfortably in the split/fold rear seat and you can put three back there in a pinch. 
I still quibble with where Mazda has mounted the handles on the insides of the doors; they're in your way when you want to reach the window and mirror controls, but in the grand scheme of things that's pretty minor.
The audio system is merely adequate so far as sound quality is concerned, but you do get steering wheel-mounted controls and an auxiliary input for your MP3 player.
Safety equipment includes advanced front air bags with seat belt-use, passenger-weight and driver's seat-position sensors, front side-impact air bags and side air curtains and the disc brakes include ABS, electronic brake force distribution (EBD) and brake assist (though you still have to put your own foot on the pedal…).
In all, a lovely little car, a bit of wolf in cheap clothing.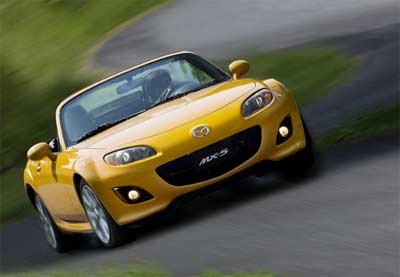 Smiles per Mile…
Then there's the MX-5, the little roadster that set the car world on its ear when Mazda introduced it so many years ago it seems as if the car has been around forever.
I've always had a soft sport for the Miata (now called just the MX-5), which took my love for the classic British roadsters of the 1960's and added Japanese efficiency so that they actually run when it's raining. Over the years, Mazda's little bundle of joy has been improved constantly, to the point where it's now about three quarters of the fun you get in a Porsche Boxster for about two thirds of the price.
Well, to be fair, there's no way you can confuse an MX-5 with a Boxster, either from its looks or from the feel you get driving it – let alone the fact that the Mazda is a lot more cramped than the Porsche. But if you're looking for a car that handles as if it's hard-wired into your brain (like the Boxster), and is just about the most fun you can have with a car, this is a good choice.
And you can get it with a power-operated retractable hard top, a wonderful feature that closes the car up as tight as a bull's butt in fly season, while still offering that wonderful open top feeling when you want it – without sacrificing what is actually pretty decent trunk space, all things considered.
The retractable hard top is what my test unit had and that's how I would want my Miata configured. It's tighter than a ragtop and when it's closed the car is all set for winter driving. And snowy parking lot donuts!
My test car came in an outrageously bright shade that should be called "Mid Life Crisis Yellow" and was a little audacious for my tastes. But it certainly made the car stand out!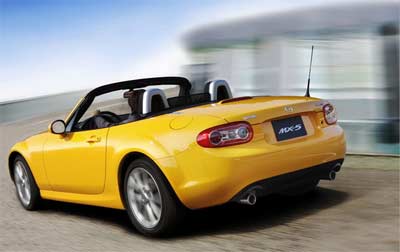 The redundant audio controls on the steering wheel are nearly redundant in this case, other than offering the benefit of keeping your hands on the steering wheel – but the car's so tiny inside that absolutely everything is in easy reach of the sweep of an arm.
Driving the MX-5 is an absolute thrill. Though it only has 167 horses @ 7000 rpm and 140 lb-ft of torque @ 5000 rpm, that's nearly as much as the previous generation Mazdaspeed Miata's turbo four cranked out. And since the car only weighs a smidgen over 2524 pounds, each horse has less to power.
Add into the mix, er, MX, a slickly shifting six speed manual transmission (you can get a six speed automatic, too, but if you do I'll find you and slap you), double wishbone suspension up front (with a multilink bum) and you have about as much handling, shifting and overall driving joy as you can imagine.
Alas, it's getting a little dear. My test unit, which was loaded with everything from smart keyless entry/start to Bluetooth, power door locks/windows/mirrors, adjustable heated leather seats, tilt steering, steering wheel mounted audio controls, fog lights, seven speaker Bose audio system with CD/MP3 & WMA functionality, Xenon headlights, 17 inch alloy wheels, climate control, and dual front and side airbags, stickered at about $32,000 U.S./$40,000 Canadian. That's a chunk of change.
Still, for that price you're getting a heckuva set of wheels!
About the only things I could complain about were the pedal placement and the lack of an automatic headlight function (what's up with that?). The clutch is farther back than the brake and gas, which meant my left leg had to stretch out while my right leg had to scrunch up a bit. I could easily live with this to have the other benefits of an MX-5, but I'd rather Mazda would change that configuration.
Oh, yeah. You'll also need to burn premium gas – but the little roadster will reward that filet mignon diet with more smiles per gallon than just about any other car in this price range.
Copyright 2009 Jim Bray
TechnoFile.com