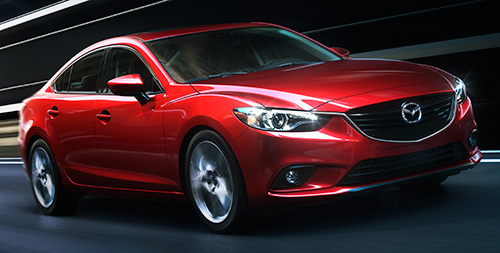 Mazda crafts a new Skyactiv 6
By Jim Bray
May 2, 2013
The Mazda6 is back, wearing a brand new set of clothes and with a new heart as well. And it's a great new version, even in its four cylinder Skyactiv livery.
It's a good thing the four cylinder's such a delight, too, because Mazda no longer offers a six cylinder option. I think that's a mistake, but at least the configuration is entertaining enough not to water down the "Zoom-Zoom" quotient excessively.
You may have seen this new 6 on TV, in commercials showing a bright red Mazda six zipping around behind a couple of cellists – yet another example of excessive violins on TV! – and Mazda Canada sent one exactly like that for my test. And I had a wonderful time living with it.
This brand-new 6 has a lot in common with the CX-5 SUV I drove a few weeks before I got my seat time in the 6. It's the same engine, a direct injected 2.5 liter four cylinder unit that puts out 184 hp and 185 lb.-ft. of torque. And it is adequate. But this is a car that competes with models such as the Toyota Camry, Volkswagen Passat and Honda Accord, all of which offer V6 versions, and other competitors who offer turbo fours, all of which crank out nearly 100 horses more than the Mazda.
Yeah, yeah, I know Mazda is trying to up its eco ante and all that, and I have no problem with this four cylinder Skyactiv package – unlike my oomph angst with the 2.0 liter Skyactiv I drove on an earlier CX-5 and Mazda 3 – but why not make a V6 available as an option, for people who want the extra performance and don't mind making some extra trips to the gas pump?
Apparently, it is not to be, at least for now.
Fortunately, the new 6 is a great enough car that one shouldn't be turned off completely by the limited choices offered. In fact, I love this car even as it sits, and it would be near the top of my list of vehicles in this niche. It's a wonderful ride!
That Skyactiv system also mates the engine to a six speed automatic transmission – with paddle shifters that add a modicum of control and enjoyment to the drive (not enough, in my never humble opinion, though I'd probably opt for it anyway). Shifts are smooth yet crisp. The suspension – independent all around – is nice and tight, but not jarring, and the aerodynamic body style helps keep outside noise tamed.
Add in variable assist rack and pinion steering that's nearly Porsche-like in its feel (well, not that near but darn good for this class), four wheel disc brakes with ABS and the usual nannies, and you have a compelling vehicle to drive.
And it's a handsome beast. I was a tad nervous about the exterior styling when I first saw pictures of the car – especially with its new-current Mazda grille – but in real life, it's a stunner.
Inside is a very nice cabin, comfortable, high tech, and efficient. The seats are comfortable (the driver's seat is powered as well, and both front buckets are heated). Instruments and controls are logical and clear and positioned well at hand. Between the touch screen, the steering-wheel mounted controls and the voice recognition, you can access everything you need easily.
One bit of a bizarre extra is a redundant little cursor control thingy on the center console, which basically mirrors the controls around the center stack's touch screen (which is also nicely at hand). It seems kind of redundant, making me wonder why Mazda had bothered mounting it there instead of just putting another cupholder or power outlet down there on the console.
Mazda says you can even send and receive SMS text messages while driving, using voice commands at your end and having the car read you the texts you receive. I hate texting and so didn't try this, but have no reason to think it won't work; it just shouldn't!
My test car was in the highest end GT trim (there are also GX and GS models), and so it was equipped very nicely. GT 6's come standard with such stuff as an intelligent key system with push button start/stop, Bluetooth for phone and audio (with a very easy pairing process), power moonroof, shut offable blind spot monitoring with rear cross traffic alert (how does it know the mood of the other driver?), fog lights, rain sensing wipers, a nice Bose audio system with 11 speakers, leather upholstery, dual zone automatic climate control, rear view camera, adaptive HID Xenon lights and more.
That's a lot of good stuff for the $32,195 starting price of the GT – and the automatic transmission doesn't cost extra. Put all that stuff into a car this good looking and this interesting to drive and you have a real winner. Mazda deserves to sell truckloads of the new 6!
My sample 6 rode on 19 inch alloy wheels and only had two options: the $2000 Technology package and the sparkling Soul Red Mica paint ($300). It tipped the fiscal scale at a reasonable $34,495. The Tech package adds stuff such as satellite radio capability, forward obstruction warning (as opposed to the traditional "thump" when you hit something, I suppose), radar cruise control, high beam control and lane departure warning systems.
The Tech package also adds "Smart City Brake Support," which is designed to find objects in front of you (cars, pedestrians, dogs) and, if you appear bound and determined to slam into them, slow the car automatically. Maybe the next Mazda ad campaign will advertise this feature by swapping the "Zoom-Zoom" for "Screech-Screech!"
The base price for the entry level 6 GX is $24,495 for the six speed manual; the automatic will set you back about $1200 more.
There may be a diesel alternative coming for the Mazda6, which might be an even more compelling choice since diesels' torque output can be quite awe inspiring, and I look forward to trying it if it does make these shores. I'd still like a V6, but the diesel might mollify me if it's interesting enough.
I've liked every version of the Mazda 6 so far, but this is easily the best, the nicest, and even the most fun to drive. And for the price, it's a very good value.
This car is so interesting to drive – and such a deal at 35 grand – that I reckon if I were trying to choose between it and, say, the Accord, Camry, Optima, Sonata, and most of the rest of this market segment, I'd probably opt for the Mazda. Heck, I even liked it more than the BMW 328i Xdrive I drove a couple of months back. It's nearly as compelling to drive, far more user friendly, and nearly 20 grand cheaper! Sure, it's front wheel drive as opposed to the BMW's rear (or in the case of my review car, all wheel) drive  configuration, but I could live with that.
Heresy? Maybe. But go ahead and get out the pitchforks and torches 'cause I stand behind that opinion.
So while Mazda's famous "Zoom-Zoom" may be a tad watered down from what it has been, it's definitely still there, and that makes me very happy.
Well done, Mazda!
Now, where's the next RX?
Copyright 2013 Jim Bray
TechnoFile.com