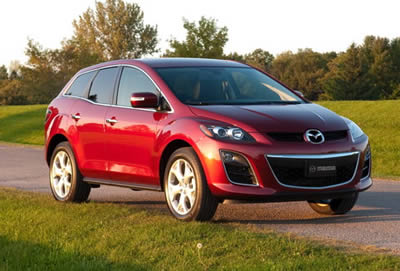 Mazda CX-7 and Mazda6 – Can Less Zoom-Zoom Be a Good Thing?
By Jim Bray
March 4, 2010
Can downsizing a vehicle's specs supersize its appeal? Mazda hopes so.
For a company that has prided itself on the concept of "Zoom-Zoom"  for many years, Mazda may seem to be doing a silly thing by "down-powering" its CX-7 SUV. Yet that's exactly what it has done for the 2010 model year.
The CX-7 has traditionally been sold with a turbocharged four cylinder engine and is a pretty great SUV/Crossover. In fact, Mazda's media website calls it "The Crossover SUV with the Soul of a Sportscar," and I agree with that claim. It's hard to find any Mazda that isn't fun to drive,  even the "microvan" 5 is a comparative blast.
But that turbo four did have a drawback: thirst. I drove one on a 600 mile road trip a couple of years back and thought I'd have to take out a second mortgage on my house to pay for the gas (it was a heckuva fun mountain drive, though!).
So, apparently throwing "Zoom-Zoom" to the wind for 2010, Mazda has introduced a new, more entry level GX model and powered it with an "all-new" naturally aspirated DOHC 16 valve 2.5 liter four-cylinder engine it rates at 161 horsepower @ 6000 rpm with a maximum torque of 161 lb.-ft. at 3500 rpm.
Mazda says the new engine includes chain-driven camshafts and four valves per cylinder,  with counter-rotating balance shafts in the oil pan to provide "A dramatic reduction in the vibration and harshness often found in large-displacement four-cylinder engines".
So the turbo is gone from the entry level CX-7 and you might think that would reduce it from "Zoom-Zoom" to "Zoom" at best. And you'd be right, though that doesn't tell the whole story.
In practice, the lack of that second "Zoom" does affect its performance and the baby CX-7 isn't as fast or as fun as the turbocharged models. And the new four banger is a bit buzzy. That said, the 161 horses prance nicely and I never had trouble keeping up with other traffic during my week with the Mazda. I did miss the turbo, but I didn't miss the gas bill.
And that's where the entry level CX-7 shines compared to its brothers: I averaged 23 miles per gallon with this version of the CX-7, which was actually a splash better than what I got in the Toyota Highlander Hybrid I drove the week previously, and I drove the hybrid gently, to see how good my mileage would be.
The Mazda is a lot nicer to drive, too and, despite it being a mite smaller than the Highlander and offering only two rows of seats (Mazda's CX-9 offers three, if you need them), I think it would be a more pleasant vehicle to own if you're the type who considers driving to be more than just getting from Point A to Point B.
The transmission is a tightly-shifting five speed automatic with sport mode. It works well, but perhaps a five or six speed manual could be offered to take best advantage of the single "Zoom" aspect of the entry level CX-7.
The "baby" CX-7 is available only with front-wheel drive, by the way.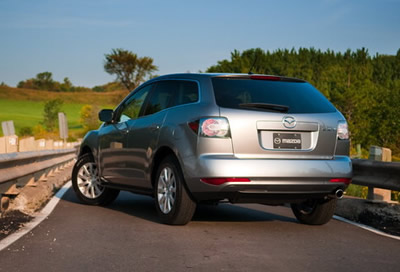 For 2010, the CX-7's exterior features a revised lower front grille similar to the RX-8, MX-5 and Mazda3's – except that it doesn't look nearly as goofy as the 3's "Tow Mater" smile. New front fog lamp bezels are parked beside the grille and the rear fascia has been revised as well. I always liked how the CX-7 looks, and the minor tweaks haven't hurt it.
Mazda says it has used higher quality materials and graining inside the CX-7, which they say cuts down on the dirt that lodges between the dimples. If they could figure out how to adapt this to human skin, I might never have to bathe again!
There are a few other tweaks as well, like new armrests on the doors, chrome-plated rings on the center and side air conditioner vent louvers and a new gauge design that includes blackout meters with three-dimensional dials ringed in blue illumination. There isn't as much red illumination as there has been in past Mazdas, which is a good thing: I find red displays hard to read.
A new steering wheel (with audio controls on it) debuts for 2010, and there's a Bluetooth interface for your telephone as well – and it works with portable audio devices now, though not, apparently, mine. Fortunately, there's also an auxiliary jack.
The instrument panel has been worked on, too, Mazda adding a new Multi Information Display (MID) in the middle. It not only offers typical trip computer functions, but you can also get a rear-view camera.
The vehicle drives very nicely, though I found the brakes quite grabby. The four wheel discs work fine but all you have to do is think about pushing on the pedal and the thing stands on its nose.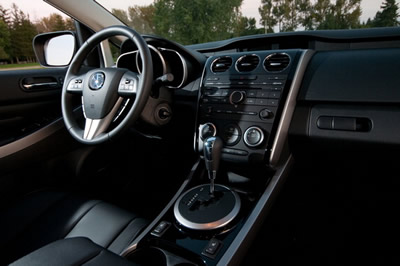 And the seats need a little more side bolstering because under spirited cornering they tend to toss you into the door or center console.
A nice touch is moisture sensing wipers, but the wipers themselves leave about two inches of uncleared area between the end of their sweep and the edge of the windshield on the driver's side.
Still, it's a very nice vehicle. If push came to shove, I'd probably get the turbo and rape the environment a little more, but if you don't mind losing that second "Zoom", this entry level CX-7 will probably serve you well.
The CX-7 starts at $22,300 U.S./$27,995 Canadian.
6 Appeal…
Likewise, Mazda's lovely 6 sedan is also available with engine choices – either a four banger or a V6. That isn't new; the 6 has always been available that way. What surprised me when I drove the current 6 upon its release a year or so ago was just how competent its four cylinder engine is; the V6 would really be a case of gilding the lily, not that I mind gilded lilies!
A test of the V6 still eludes me, but I got to spend a little quality time in the four banger again, this time equipped with the automatic transmission, and once again came away loving Mazda's "big" sedan.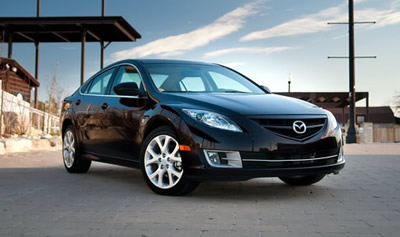 The Mazda6 is one of the most attractive mainstream sedans available in North America, and it's also good enough to have snagged the "Best New Family Car ($22k-$30k)" in the 2009 Automobile Journalists Association of Canada (AJAC) Canadian Car of the Year contest. It's comfortable, equipped well and, as a Mazda must, it has enough of that intangible "Zoom-Zoom" to make it an interesting and fun vehicle to drive.
Not a lot has changed for 2010, a model year that see it getting more of a refining than a re-defining, and that's fine. There isn't a lot to improve.
My test unit was the four cylinder in GT trim, which is slightly more upscale than the base GS. The GT trim level adds such stuff as larger wheels (18 inch), LED taillights, a leather interior, power adjustable heated front seats, automatically dimming mirrors, an upgraded audio system with a six disc CD changer.
All four cylinder 6's also come with tire pressure monitoring, four-wheel disc brakes with ABS and electronic brake force distribution, traction control, front and side airbags,  side air curtain air bags, and an anti-theft alarm system with engine-immobilizer. Also standard are power windows, a tilt/telescoping steering wheel with cruise control and audio switches built into it.
The base stereo is a reasonable AM/FM/CD with six speakers and MP3 capability (you also get an auxiliary audio input). Air conditioning with a micron air filter is standard, as is a 60/40 split fold down rear seat.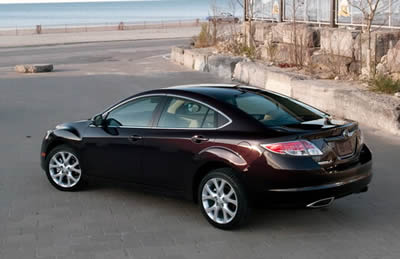 My test unit also had the luxury package, and that adds stuff like Xenon HID headlights, a smart keyless entry system with push button ignition (always a welcome feature), a Blind Spot Monitoring System, BOSE audio system with CenterPoint surround sound and 10 speakers (and it's pretty good, though by no means the best I've heard in a car), a Bluetooth interface that works with a phone or an MP3 player (but, alas, not with mine!). SIRIUS satellite radio compatibility is also included.
The 2.5 liter four cylinder features double overhead cams, 16 valves and variable valve timing. Mazda rates it at 170 horsepower @ 6000 rpm (with 167 lb.-ft. of torque @ 4000 rpm), which isn't bad for a normally-aspirated four banger. Obviously, this 6 isn't going to win you many drag races, but if you're interested in some gas savings coupled with very good performance (and the "Zoom-Zoom" bonus!), this engine should suit you well.
 A six speed manual transmission is standard on the four cylinder models, with a five speed automatic (with Sport mode) available as an option. My test unit had the automatic this time and it works fine. I wish Mazda would offer paddle shifters; maybe that's being saved for 2011.
 A six speed auto is optional on the V6 version and the extra gear probably makes a difference.
Visibility from the driver's seat is excellent, the trunk is huge, and the car is just all around nice.
As you may have noted, I love Mazdas and while the wonderful 3 is the company's bread and butter model, the 6 is better looking, more roomy and, if you opt for the V6, more powerful as well (not counting the hot Mazdaspeed3). It's ideal for people who want the Mazda driving experience in a bit bigger package that doesn't have a goofy-looking grin.
The base Mazda6 starts at $19200 U.S./ $23,195 Canadian.
Copyright 2010 Jim Bray
TechnoFile.com