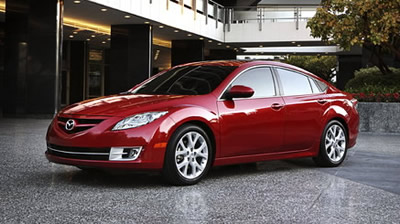 New Sedan Ups Mazda's "6 Appeal"
By Jim Bray
January 7, 2009
One of the best looking and most fun to drive Japanese sedans is even better for 2009.
It's the Mazda6 , which the company says is all new from stem to stern and top to bottom – and which surely looks and feels that way. In fact, so far as its looks are concerned, I think this is one of the best-looking sedans on the road today, sporty and modern and lovely to behold. And that's saying something; I thought the previous 6 was one of the nicest styling jobs around, yet park it next to the fresh 6 and the previous generation looks positively frumpy.
The new exterior is great. It's sleeker and more athletic than before – making it the sportiest among Japanese competitors such as Toyota Camry, Honda Accord and Nissan Altima. Even the front fenders scream "Zoom-Zoom", thanks to wheel arches that look inspired by (or ripped off from) the racy RX-8.
Mazda's Hiroshi Kajiyama could be called the father of the new 6 and, according to Mazda's PR materials, he went into the project treating the car as a work of art rather than
an inanimate machine. His goal, apparently, was for the 6 to be "widely recognized as the best vehicle available in the intermediate segment," a car built on a foundation of three fundamental pillars:
A sporty appearance integral with a highly dynamic character. "We sought an exterior design capable of stirring any observer's emotions and distinguishing the Mazda6 from the competition," Kajiyama said.
A unique experience. Notes Kajiyama: "By elevating the quality level with exquisite craftsmanship, each Mazda6 will form a strong bond and a powerful emotional connection with its owner."   
An insightful package. Kajiyama says "By building on our strengths and accomplishments, we're able to make the Mazda6 the most versatile, comfortable, and enjoyable automobile this company has ever produced."  
Hype, maybe, but after my week in the 6 I can't argue with him. To me, Kajiyama and Mazda have pulled off exactly what they say they wanted: "the evolution of Zoom-Zoom."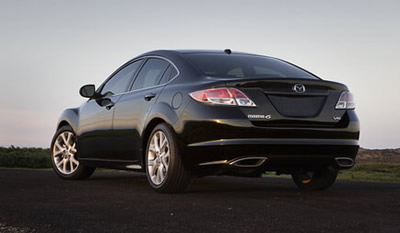 According to Mazda, the '09 Mazda6  is larger in every dimension, with a wheelbase lengthened by 4.5 inches, an overall length stretched by nearly eight inches, and a width is increased by nearly 2.5 inches. Occupants may discover more headroom, shoulder room, and legroom, and they can haul 10 per cent more stuff in this version.
That means more "Room-Room" comes with your "Zoom-Zoom," and my rear seat passengers found the new dimensions particularly rewarding; they were treated to plenty of foot, knee and headroom, and to a 60/40 split/folding seat that's comfortable and supportive.  
Motivating the 6 is either a new 170 horsepower (at 6000 rpm, with 167 lb-ft of torque at 4000 rpm), 2.5 liter four-cylinder or a 272 horsepower (at 6,250 rpm, with 269 lb-ft of torque at 4,250 rpm), 3.7 liter V6. Four-cylinder models come with a 6-speed manual transmission as standard equipment with an optional five speed automatic. V6 models only get a six speed automatic with manual mode.
My test unit was the four banger, which disappointed me initially because I was hoping to maximize the Zoom-Zoom. I was delighted to find, however, that the four cylinder engine is more than up to the task, and any fun that might have been trimmed thanks to missing oomph was made up (nearly, anyway) for by the lovely  six speed stick, which snicks from gear to gear almost intuitively. It's the first Mazda six speed manual I can remember where I didn't have trouble finding sixth gear.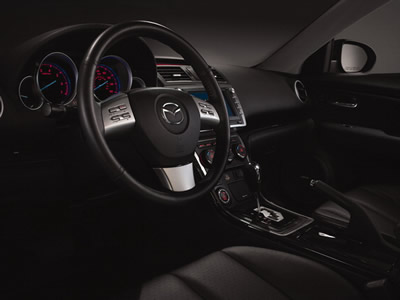 The power goes to the road through the front wheels, but – at least in the four banger I tested – I didn't notice a lot of torque steer. The car's independent suspension toes the line between comfort and "Whee!" very well, leaning a bit toward the "Whee!" side without forcing you to leave your kidneys back in the garage.
6's also come standard with four wheel disc brakes and ABS, with electronic brake force distribution and traction control. Pedal feel and brake performance are just fine, thank you.
The interior is contemporary, comfortable and attractive. My biggest complaint is that the hand brake is on the wrong side: it's mounted on the passenger side of the center console, where it's a bit of a reach and not particularly handy. I'm sure I'd get used to this if I owned a 6, but it felt weird during my week with the car.
I love the 6's user interfaces, which are simple and straightforward and right at hand for the most part. Unlike some of the increasingly-complex competition, the 6 has minimal buttons and knobs and yet everything you need is there, and it all works well. The only real gripe I had is that some of the buttons' labels are very small and hard for me to read without putting on my reading glasses.  
Ditto for the digital display in the middle of the instrument panel, which is small enough that I had trouble reading it.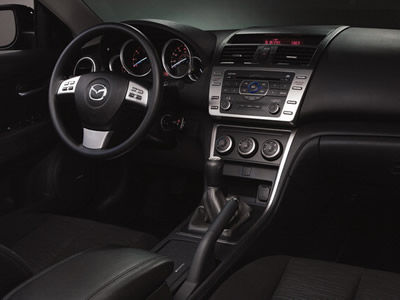 The driver's seat cradles the body nicely and the steering wheel, which also includes radio/cruise controls, feels great in the hands. Steering feel is also top notch, which is what one would expect from a car with pretensions of "Zoom-Zooming".
The window sill inside the doors is angled so you can't really rest your elbow on it, which seemed a little strange. It isn't necessarily a bad thing, though, since it may encourage drivers to keep both hands on the wheel. 
Another interesting Mazda-ism that I first noticed on the new 6, and have seen subsequently on a couple of other models, is that when you turn on the cruise control the icon comes up amber and then, when you actually set it for a particular speed, it turns to green.
The windshield wipers do a great job, sweeping right over to the driver's side A pillar.
Another little touch that pleased me was the new clock controls. Though you don't use it often, I found Mazda's old clock setting procedure to be very difficult – requiring a trip to the owner's manual. The new 6, however, gives you three clear buttons.
As you'd expect, the 6 comes with power just-about-everything, including driver and front passenger windows with one-touch up-and-down functionality. Power front seats are available on the base model and standard on the GT. The AM/FM/CD audio system has six speakers and MP3 capability (and an auxiliary-audio input) and sounds good.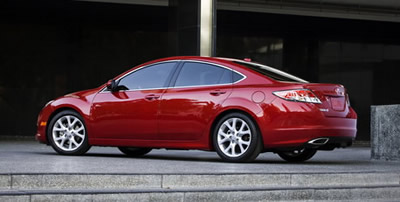 Safety stuff includes dual front and side air bags, dual side curtain air bags, and the usual assortment of belts, latches and the like. Mazda also throws in an anti-theft alarm and engine immobilizer theft deterrent system.
I really enjoyed my week the new Mazda6 . The car's a blast to drive, is comfortable and well-equipped, and is definitely a fine follow-up to the original version. I wish they still offered a wagon and/or hatchback version,  but I guess Mazda forgot to send me a wish list when they went into the design process.
No big deal. The sedan is a wonderful car and I hope Mazda sells truckloads of them.
The 2009 Mazda6  starts at $19,220 U.S./$22,495 Canadian.
Copyright 2009 Jim Bray
TechnoFile.com