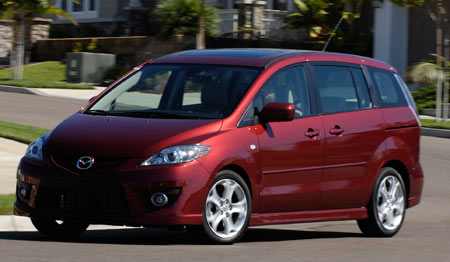 Mazda 5: A little Van with a little "Zoom-Zoom"
By Jim Bray
January 30, 2009
Other than some tweaking of options, Mazda's little six seater hasn't changed much for 2009 – and that may be 'cause this miniature minivan didn't need much changing anyway.
Although if I had my druthers (and obviously I don't), I'd like to see the 5 come with just a little more "zoom zoom."
I drove the '09 Mazda 5 for a week recently after having been a little reluctant to take it again. I haven't driven the 5 since it was brand new and I've spent time in so many great cars since then I couldn't remember much about the 5. Not a good sign; I tend to forget cars that didn't really appeal to me, so I figured if my memory of the 5 was spotty, there was a good reason.
Must be a middle age thing, because I really liked my week in the '09 5 and came away thinking it's a vehicle I'd own. It's small yet roomy, will hold six people (which is nice when company comes) and when not holding six people holds two or four comfortably with plenty of storage space left over.
The 5 is comfortable, the driving position is fine, it handles better than I expected, and on the whole it's a pretty zippy little four banger. But – especially if you expect to exploit its carrying capacity – it could really use a little more zip. Just a little. Say it has "Zoom-Zoo" instead of "Zoom-Zoom".
The 5 is propelled by a 2.3 liter inline four rated at 153 horsepower @ 6500 rpm, with 148 lb-ft of torque @ 4500 RPM. And there's nothing really wrong with that output despite my whining. Heck, I once owned a Toyota Supra whose inline six cranked out a measly 150 hp, yet that was a very fast car. And in real world driving, I never had trouble accelerating to speed on freeway onramps and the like in the 5. So maybe it's just me.
And my bit of "oomph angst" doesn't change my opinion that this would be a very nice vehicle to own. As I wrote when I first drove one: "the 5 is more than just a People-and-Stuff Hauler. It's a 'PASH' with a fun quotient sweetening what already seems like a pretty good deal." I stand by that description.
The 5 shares much of its drivetrain and suspension with the Mazda 3, and that's not a bad thing. You can choose from two transmissions: a standard 5-speed manual that might have helped add a little of that missing "Zoom-Zoom", though the optional 5 speed automatic of my test unit did have a pretty good manual mode.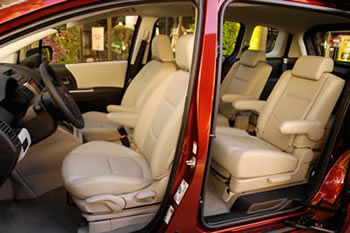 The independent front suspension features coil springs and a stabilizer bar; the rear is also independent, a multi-link type with coil springs and a stabilizer bar.  Brakes are power-assisted, ventilated discs up front, with solid discs in the rear. The system includes ABS with Electronic Brake Force Distribution (EBD). Braking was straight and firm and the pedal feel was just right.
Steering is rack and pinion with Electro Hydraulic Power Assist and it also feels just right.
The front wheel drive 5 may be the dumpiest-looking Mazda due to its utilitarian function, but the exterior still manages to be stylish and clean, and the dual sliding minivan-like side doors can be opened easily with one hand. I found myself appreciating the sliding doors because they give good access to the interior even when some jerk parks right next to you in the parking lot. 
The rear hatch opens up high to allow good access to the rear, and the third row of seats is easy to fold down from there.
Interior Design….
Fit and finish inside is excellent and there are well thought out storage bins placed strategically throughout the cabin, including two trays on the driver's side of the instrument panel. The glove compartment is of a decent size, there are pockets (with bottle holders) in the front doors, a center console with more cup holders and a big storage box.  
The first and second row seats are comfortable buckets; the third row is a 50/50-split folding bench. The manually adjustable driver's seat is height adjustable. The second row seats recline and slide. Each second row seat bottom can fold forward and the seatback can be tipped forward with the headrest still attached (a nice touch). The second and third row seats can fold forward to create a flat cargo surface and when you have all but the front seats folded, the cargo space is very good.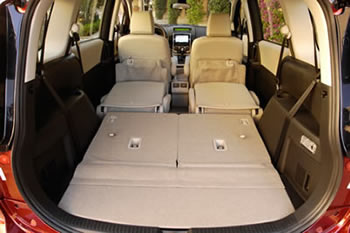 Passenger access to the third row is quite easy, thanks to how efficiently the second row of seats move out of the way.
The analog instrument panel is straightforward and quite attractive – and I liked its yellowish green illumination much better than Mazda's usual red.
The audio system is pretty good, though as with other Mazda sound systems I've tried it runs out of gas before it should. The ergonomics are good, though; switches and knobs are quite large and located within good reach of the driver. And there's an auxiliary audio input and power supply as well; Bluetooth is available.
I loved the 5's greenhouse. There's plenty of window and that means you don't have to worry as much about having blind spots. There are even little corner windows between the A pillar and the main side windows that can help make pedestrians easy to aim at. The outside mirrors are large and provide good rearward visibility without blocking the view forward.
The sunroof is smaller than it looks because it retracts back over the roof and doesn't open up all the way any way. I was very disappointed in this.
I also noticed the brake pedal is too close to the gas pedal, making the right foot a tad cramped when it's on the accelerator.
Only the driver's window has an "auto open" feature and it doesn't "one touch" back up again. On the other hand, the 5 has "auto on" headlights that provide more illumination than most schools these days and windshield wipers that have a rain sensing intermittent setting.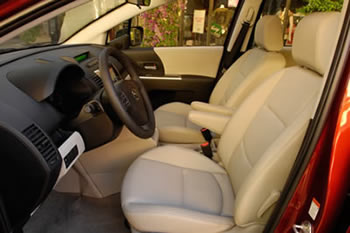 Safety equipment includes standard stuff such as front row seatbelts with pretensioners and load limiters, and air bags all over the place. 
The 5 has a difficult job to do: tread the fine line between utility and fun. And it manages to pull it off quite well. It's very flexible, nice and comfortable, and imparts a more interesting driving experience than one might suspect is possible from such a utilitarian vehicle.
It's affordable, too: the manual transmission version starts at $18,665 U.S./$19,995 Canadian.
Now, bring on the Mazdaspeed version!
Copyright 2009 Jim Bray
TechnoFile.com