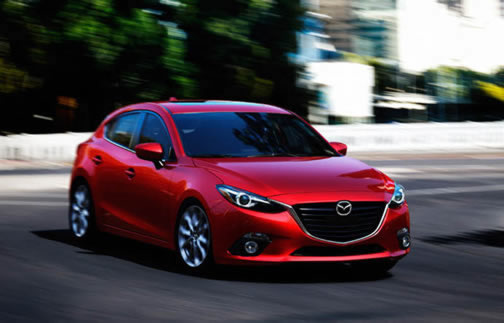 Mazda3 Sport continues its winning ways
By Jim Bray
December 4, 2014
Last year's award-winning Mazda3 enters 2015 mostly unchanged, and that's just as well because the 2014 version was an outstanding car that needed little work. Heck, I named that car my "TechnoFile Car of the Year" last year.
(Click here or on the image to open a slideshow)
This rant recounts my rematch with the Mazda, a report on how my second week-long experience with this great little hatchback/wagon worked out. Naturally, it worked out fine. Heck, I didn't even run afoul of the law this time!
Mazda Canada sent the Mazda3 Sport GT version, the top trim level, and it starts at $26,995. That's a very good price considering what you're getting: a great driving car that's also economical and efficient and equipped excellently. Mazda's sample also came with $1800 worth of options in the form of "Soul Red Mica paint" ($300) and the $1500 Luxury package, which adds stuff like leather seats, "leather-like" door trim, integrated garage door opener, six-way power driver's, an auto dimming rear view mirror and "leather-like" rear console lid.
In all, that makes for a very nice car for a reasonable $28,795, taxes and the other usual kilos of flesh not included.
The front wheel drive 3 Sport GT comes with the larger of Mazda's Skyactiv engines, a 2.5 liter inline four rated at 184/185 horses/torque with regular gas. Helping the 3's frisky performance is the car's light weight, which helps it get all the performance it can out of that otherwise not particularly poopy power plant. It doesn't make the 3 as nifty a performer as the GTI (which has about 25 more horses and 70-some "torques"), but it's pretty close - and it's several grand cheaper than the Volkswagen if you were to equip them similarly.
The base Skyactiv engine is a two liter model that puts out 155/150 hp/torque. It's adequate here, unlike in the heavier CX-5, but the larger engine doesn't make me embarrassed to write "Zoom-Zoom" when talking about it (there are other reasons for that…).
3's are slung via an independent suspension fore and aft, with MacPherson struts up front and a multi-link rear. There are also coil springs and stabilizer bars at both ends. It's nice and tight, with a good, sporty feel. The rack and pinion steering (with hydraulic variable power assist) feels great.
Mazda's test came with the terrific six speed manual transmission (a six speed automatic is available as well, though the manual is standard equipment) and I really liked it. I sometimes have trouble shifting manual Mazdas smoothly - especially their little bundle of joy, the MX-5 - but I had no issues with this transmission. Shifts are nice and light - as is the clutch pedal feel - and smooth shifts are child's play to accomplish.
Standard equipment on this particular 3 included such stuff as bi-xenon headlights with LED signature lights and taillights, 18 inch alloy wheels, smart key with push button start/stop, voice-activated navigation, a nice Bose premium audio system (with nine speakers), a head's up display, dual zone automatic climate control, a rear view camera, seven inch touch screen (which can also be operated - more easily, in fact, if your arms are short - from the console-mounted knob thingy) and seat heaters. Naturally, you also get all the usual connection options, including Bluetooth and USB/Aux inputs.
The interior is attractive and laid out well. I could live without the head's up display, which uses a clear plastic tab that flips up from the top of the dashboard (most cars' HUD's appear to project the display right onto or in front of the windshield), but that - and the fact that the LCD's mounting atop the center stack looks a tad like an afterthought - is really my only complaint about this modern, clean and efficient interior.
I was surprised that the Mazda3 didn't win Canadian Car of the Year last year - that honor went to its big brother, the Mazda6 - but on the other hand, when I make a call like that it's usually the kiss of death for a car's chances. And, to be fair, it did at least take its category's top honors. But kudos or not, the Mazda3 Sport is a great car and a great value, an island of fun and practicality in a niche of more staid cars.
If you're looking for a small hatchback/wagon like this, you can also check out - besides the VW Golf and GTI - the Hyundai Elantra GT, Kia Forte 5, Ford Focus, all of which are also very good cars. As you've undoubtedly figured out by now, my favorite in this niche is the Mazda.
The base Mazda3, which is a sedan with the small engine and less equipment, starts at $16,995, which seems like quite a bargain these days. But go for the gusto! "Zoom-Zoom," indeed.
Copyright 2014 Jim Bray
TechnoFile.com