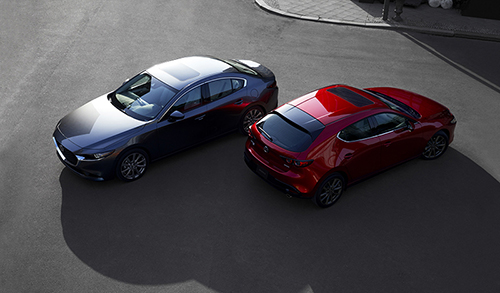 Mazda's new 3 offers all wheel drive for the first time
By Jim Bray
October 23, 2019
Mazda's 3 series not only has a new generation for 2019, it has also added a new, all-wheel drive option of its popular compact car. But no matter how you configure it, the new 3 is a wonderful car that offers fun, technology and refinement in a package that belies its mainstream market niche.
And it still offers plenty of Mazda's special "Zoom-Zoom."
Click on the image to open a slideshow.
That "Zoom-Zoom" tends to get me into trouble, though. Most of the speeding tickets I've earned over the years have come when I'm behind the wheel of a Mazda, whether it be one of their cars or one of their SUV's (even the big CX-9 hasn't left me immune from such "imperial entanglements"). Not even my most beloved nameplate, Porsche, has bitten me in the butt as badly as has Mazda. It's weird.
I love Mazdas for their wonderful driving feel and I loved the 3 even back when it was the Protégé. This fourth generation of the 3, however, is not only a terrific upgrade, it (obviously, in my never humble opinion) sits atop its market niche when compared with the other mainstream compacts I've driven. This includes other cars I love, such as the VW Jetta and the Hyundai Elantra, and cars I merely respect such as the Toyota Corolla and the egregiously styled Honda Civic.
And as with other recent Mazdas, the company has done such a great job of equipping it (in its higher trim levels, anyway), that I think it can compete head to head with more luxurious models such as the Acura ILX or Infiniti Q50.
On the other hand, while I've preferred the 3 hatchback (called "Sport" by the company) to its sedan counterpart over the years, this new version has a rear end that looks like the automotive equivalent of my own, in that it's, well, a tad robust. Not only that, but the rear and rear passenger windows seem to have been shrunk and the combination really focuses on the buttocks – and that isn't a good thing.
It also makes the view from inside the rear section a tad truncated.
It's too bad. That said, I still love the 3 – and, after all, styling beauty is in the eye of the "key holder."
The biggest difference between this hatchback and the 3 sedan I reviewed a while back (other than its paean to a Mr. Hugh Jass), is the optional all-wheel drive system that Mazda now offers as an option.
All-wheel drive offers a more secure experience when driving on roads that are less than optimal, but I never had that issue during my week with Mazda Canada's sample, because it was beautifully warm and dry. What the AWD feature does offer, however, is what Mazda calls "driving pleasure," which just may be their new way of saying "Zoom-Zoom." What they mean, according to their press info is that "in everyday situations – driving to work, to the mall, or taking a trip with the family – the car accelerates, turns and brakes in a way that feels natural and intuitive, like a tool you have been using for many years. The feeling of interaction is pleasurable and makes you want to keep on driving."
Can't argue that!  
The Sport AWD comes with the larger of the two engines Mazda offers for the 3, and (rats!) you can only get it paired with the six-speed automatic transmission with paddles. Don't get me wrong, the auto is a good one – and thank goodness it isn't a CVT! – though if you keep it in Sport mode (like I usually do) it expects you to drive in a spirited manner and it holds onto gears before upshifting longer than you might like if you prefer a more normal driving mode. The solution, of course, is to drive it spiritedly, though this is obviously not possible all the time – especially in winter when you're enjoying the new AWD security. Your other option is not to flip that Sport mode switch on the centre console.
The engine is the Skyactiv-G 2.5  four-cylinder (with cylinder deactivation to increase fuel mileage) power plant that Mazda says puts out 186 horses @ 6,000 rpm with identical torque arriving at 4,000 rpm. It's enough, though it should be more. The base engine found on the GX trim level is a two litre four with 155/150 horses/torque, but you can't get AWD with that version so that's a bonus reason for opting for the GS or GT.
I didn't really notice the i-Activ AWD during my time with the 3 Sport, which didn't really surprise me since the FWD version I drove a while back was as stable as could be and handled like, well, a Mazda. This made me wonder why you'd bother with the AWD if you don't live in snowy climes, but to each his/her/its own.  
The combination of the 3's driving enjoyment and a high-quality interior (other than the greenhouse) reminds me of the first-generation Acura TSX, which was an exquisite sedan based on the European Accord of its day. Except that the Mazda 3 is a mainstream car rather than one from a luxury marque. What this means, however, is that, while it drives great, it also spoils you.
Yet it's priced pretty competitively. The base 3 lists on Mazda's Canuck site at $21,300 – while a reasonably loaded GT AWD starts at $33,320 CAD. A Hyundai Elantra Sport starts at $25,549 and climbs to $27,375.85, which gives it an advantage over the 3 (as long as you only want front-wheel drive).  
Less "fun" competitors like the Corolla ($18,990 - $28,490, and the automatic is a CVT) and the Civic hatchback ($25,976 - $34,476, and again the auto is a CVT) reinforce the 3's competitive pricing – and none of these competitors feel as luxurious inside.  
Mazda's knob-based centre stack screen operating system was due for an overhaul – and they've complied. It still works pretty much like the old one (a knob on the centre console that operates a menu-driven interface) except now it has been rearranged a bit. The knob and the volume control next to it are placed where you might at first think is counterintuitive, but it's actually very handy (no pun intended) to your right hand – or the passenger's left hand.
You can also partake of a head's up display that even can show the blind spot sensor's info (it looks like a wi-fi symbol!) as well as the speed limit, and the usual nannies available these days – adaptive cruise, lane keeping, etc. You can shut them off if you so desire, and they'll stay that way until you turn them on again.
The seats are comfortable (the rear's tight, and the small windows don't help the experience), but the high-end trim level of Mazda's sample really should offer power for the front passenger seat (the driver's also has memory). This isn't a huge deal, though.
There's no manual handbrake any more, alas, just an electronic one. This may subtract a bit of "Zoom-Zoom" from those with a penchant for doing handbrake turns.
The windshield washers spew the water right from the blades themselves; at least, that's how it looks. This works well, though I noticed that the system tends to leave some water residue on passenger's side. Not a big deal, however.
I've never driven a Mazda that wasn't a blast (well, maybe the old B4000 compact pickup truck) and the new 3 builds on that history. It's a terrific car, though it's best approached from the front lest you need shield your eyes at the sight of those buttocks.
In short (now that I'm 1300 words in…), it's a typical Mazda, updated for the next decade. How can one not love that?
Copyright 2019 Jim Bray
TechnoFile.com
Jim Bray is a member of the Automobile Journalists Association of Canada. His columns are available through the TechnoFile Syndicate.