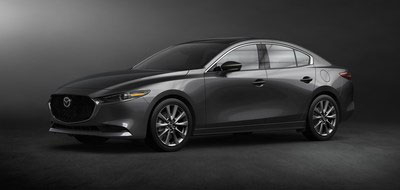 Mazda's new 3 sedan may be the nicest all-round mainstream car
By Jim Bray
April 25, 2019
Mazda's much-honoured and popular 3 series is back with a new generation for 2019 and it's a spectacular vehicle whose design, features and quality make it stand out in a particularly crowded marketplace.
Okay, I'm a fan of Mazdas and have always loved the 3. Heck, I loved the 3 when it was the Protégé, especially the hatchback Protégé 5. But this fourth generation of the 3 is not only a spectacular upgrade, it's so nice that I think it outclasses every other car in this niche that I have driven or wanted to drive.
Click the image to open a slideshow.
That would include the VW Jetta, which I love, the Hyundai Elantra, which I love, and the Kia Forte, which I haven't driven yet but figure I'd love if I had. As for other competitors such as the Honda Civic and Toyota Corolla, well, they're great cars but the Corolla's a tad bland and the Civic is so ugly and weird that it was the first to fall off my personal "best mainstream compact car" list.
It doesn't end there. The Mazda is so nice and is thought out and equipped so well I'd move it right out of that niche and into a higher one, where it could compete favourably with such luxury models as the Acura ILX (my current favourite Acura) or Audi A3 (which, alas, I haven't driven since the folks at Audi Canada apparently decided they didn't need writers from "flyover country").
The 2019 Mazda3 GT that turned my head so much came in at an even $29,000 CAD with options (tax, etc. not included), which means you can have a loaded, fun and reasonably luxurious drive for about the same price as an entry level ILX and a few grand less than the entry level A3. Naturally, there are no complete apples-to-apples comparisons between these very different cars; I make the comparisons only to illustrate just what an impressive and "high class" achievement this new Mazda 3 is.
And it comes equipped with Zoom-Zoom as standard equipment!
Not only that, but for 2019 Mazda is also making available an all-wheel-drive version. That isn't the subject of this review – though there's one coming – and if 30 grand is too rich for you can opt for a lesser equipment level: the base GS starts, according to Mazda's Canadian website, at just $18K!
That entry level model gets you a smaller and less "Zoom-Zoomy" engine (two litre versus 2.5) but mostly the same stuff otherwise, mechanically, so I'm willing to bet it's still a blast to drive as long as you're careful when planning your passes.
This review is about the GT trim level, of course, whose engine is Mazda's 2.5 L DOHC 16-valve 4-cylinder engine with Cylinder Deactivation (not available on the base GX and optional on the mid-line GS). Its output won't set the world on fire (186/186 hp/torque) but it's surprisingly competent, undoubtedly due to Mazda's SKYACTIV strategy and its quest for efficiency and lightness. Heck, as much as I'd love seven million horses, I had no issues with the 3's output and it never failed to put a smile on my face.
It drives really well, too. Despite it being a front wheel drive vehicle I never experienced torque steer and, in fact, the car drove more like an all-wheel-drive vehicle than it had any right to – which also makes me wonder why you'd bother with the awd version.
The "lesser" 3 trims levels are available with Mazda's slick six speed manual transmission but, alas, the GT trim only offers the six-speed automatic. Fortunately, it's a very good one and you get paddle shifters to help give you more control. It shifts well and in manual mode it holds on to the revs nicely, though if you're in sport mode and not driving aggressively it tends to stick in a lower gear too long (the opposite of what some other auto trannies do!).
The solution, of course, is to drive aggressively, at which point the 3 will smile as broadly as you do (and without that silly Tow Mater grille that was on the second generation 3).
The 3's new styling – inside and out – is terrific, not that that should be surprising: the 3, other than that unfortunately funny second gen grille, has always looked great, but this new one is simply beautiful. And as hinted at, the interior design and materials look as if Mazda actually has a luxury arm much like Toyota, Honda, Volkswagen and Nissan do.
Except Mazda doesn't. The 3 is a mainstream car that looks and feels special. And it drives that way, too. How many different ways can I say that? I guess we'll find out!
It's obvious that Mazda has sweated the details – which seems to be their current trend. Heck, the big, $53,521 CX-9 is nicer and better to drive (in my never humble opinion) than three row SUV's such as the Lexus RX-350 ($66K) and Acura MDX ($56.5K) – and the Mazda's human interfaces are such that I would find it easier to live with – thanks to it not being saddled with such stuff as trackpads or weird shifter systems.
That said, Mazda's knob-based centre stack screen operating system was due for an overhaul – and they've complied. The only problem is that it still works pretty much like the old one (a knob on the centre console that operates a menu-driven interface) except now it has been rearranged.
Still, I've seen a LOT worse. And that said, I also liked the optional 12 speaker Bose audio system that was in Mazda's sample.
Slip into the driver's seat and you might think you're in the wrong car. Materials are all luxurious and wonderful to the touch – the way Mazda's non-existent luxury division would undoubtedly do things – and while the car offers pretty much all the safety and convenience stuff you could want, it doesn't beat you over the head with it.
So, while you get lane keeping assist and all that stuff, you can shut them off if you want and they stay off until you forget how to drive and need to turn them on again.
Seats are comfortable (the rear's a tad tight, but this is a compact car), everything is at hand, and you can even get such things on the GT level (Mazda's sample also had the $2500 Premium Package) as a comprehensive head's up display that can not only give you your speed (very handy when you're experiencing Zoom-Zoom!), but blind spot info, speed limit info, etc.
I didn't like HUD's when I first started driving them but I've grown to really appreciate them because they help you keep your eyes on the road. The only downside is that some HUD's are hard to read with my polarized sunglasses, but the Mazda is one of the best I've tried for "seeing while sunglassed."
And unlike previous Mazda HUD's, this one doesn't fold up a little clear plastic thingy from the top of the dashboard, something I always thought would break off eventually.
The speed limit warning is a little icon of a speed limit road sign and you can activate a nanny that puts a little orange frame around it when you exceed the limit. And that isn't all: you can also have the car beep when you speed – and it'll keep up its damn beep until you're legal again. Thank goodness you can shut it off because I'd have gone deaf!
The instrument panel is laid out well, looks analogue except for the digital speedometer, and is very legible. The controls look and feel as if they were scooped, once again, from that non-existent luxury division, and they all work well.
Alas, there's no handbrake any more, just an electronic one, so if you like doing handbrake turns, you're out of luck.
There's also only a manually-operated front passenger seat (the GT's driver's seat is power, with memory) but at least it's heated.
One area in which Mazda really blew it is where they mounted the rear-view camera. It's down below the bumper where it still works fine, but where it gets really dirty really quickly when the roads are lousy. Hardly a deal breaker, though.
The windshield washers are really interesting; the water comes right out of the blades themselves, or so it appears, and this helps the wipers do a very nice job of clearing the glass. The only downside is that the passenger's side tends to have some water left on it when the wipers quit, but again, this is just a niggle.
Heck, you even get a big trunk, though the opening is a tad tight.
To wrap it up: for $30 grand Canadian you can buy a car that's a blast to drive, as luxurious as cars costing more, and which has all the technology you could want or need (and doesn't annoy you with it unless you specifically tell it to annoy you).
How can you not love that?
I really don't understand why Mazda isn't a much larger car company. Everything they make is attractive, drives beautifully, and features state of the art technology. So why do ugly Civics fly out of showroom doors while beautiful 3's aren't as popular.
Beats me. Life just isn't fair.
Copyright 2019 Jim Bray
TechnoFile.com
Jim Bray is a member of the Automobile Journalists Association of Canada. His columns are available through the TechnoFile Syndicate.