Mercedes-Benz' Slick new SLK
By Jim Bray
July 22, 2011
Mercedes-Benz sporty SLK is back with a new, third generation version that's attractive, luxurious, and fun to drive.
And the two seat, retractable hard top "vario-roof" car looks and works better than ever, with a new exterior that's reminiscent of the company's SLS AMG supercar, and with enough performance and technology to please the discerning driver.
While the first generation SLK's styling reminded me of the boxy, original generation Toyota MR2 without the mid-engine configuration, and the second version suffered from a Formula 1-inspired proboscis that ruined the view, this third generation is the one Goldilocks would like: it's just right. The SLS-inspired body suits the small SLK even more than it does the gullwing SLS, imparting a sporty and masculine look to a car that some have always considered a "chick car," whether that was fair or not.
I never got much seat time in the previous SLK's other than a short stint on a road course a couple of years ago, so I can't really comment on how the new version stacks up against the old ones as far as driving them is concerned – but taken strictly on its own, the new SLK is an awesome vehicle. With plenty of power and very good handling, it's the kind of personal luxury sports car you can live with easily and, thanks to the retractable hard top, you can drive it all year regardless of the weather.
The "350" in the 2012 SLK 350 refers to its 3.5 liter V6 engine, which uses its 302 hp and 273 ft.-lb. output to accelerate the car from zero to 62 mph in about 5.6 seconds. Mercedes-Benz says the engine is newly developed, and uses sophisticated third-generation direct injection, piezo injectors and multi-spark ignition.
And it sounds fantastic!
The power gets to the rear wheels via a silky smooth seven speed automatic transmission with a pretty good manual mode that includes paddles. There are actually three modes – the Eco mode (which is unfortunately the default and sucks some of the fun from the experience), Sport mode (which is a lot more rewarding except that the transmission thinks the paddles are only making suggestions as to when it should shift), and Manual mode, which is not fully manual but which is definitely the most rewarding.
There's also a Dynamic Handling package that includes continuously adjustable damping for the suspension and a Direct-Steer system with Torque Vectoring Brakes. The company says the Direct-Steer system offers "More handling and agility than the standard steering, whilst also reducing the amount of physical effort required when parking," which sounds a lot like variable assist power steering to me. However you describe it, it works.
The Torque Vectoring Brakes, all discs with ABS of course, are interesting in that they selectively brake the inside rear wheel on a curve, kind of reminiscent of Honda's Super Handling technology, though kind of in reverse (Honda's SH-AWD system can send torque to the outside rear wheel).
In practice, the SLK handles very well, as you'd expect such a beast to.  
Inside is a luxurious cabin that includes power everything, with very comfortable and well-bolstered seats in which you can sit all day without getting tired. The seats are power adjustable, naturally, and between that and the power tilt/telescope, flat bottomed steering wheel it's easy to find the perfect driving position – and then save it into memory for those times you let someone of different size sample the rolling fleshpot that's the SLK and need to get it back to normal easily afterward.
The interior is laid out well, though it takes a bit getting used to the signal light/windshield wiper stalk being mounted below cruise control stalk. This is a Mercedes-Benz thing, and it works very well once you're up to speed with it. I also liked the LCD screen on the center stack, which is operated by the COMAND knob on the center console and lets you adjust a lot of the vehicle's settings, operate the audio system, etc.
My sample SLK had the optional Harman/Kardon audio system, and it's very good. It also plays DVD-Audio discs, though it treats each track as a separate file and therefore puts a short pause between continuous cuts, which can be a tad annoying.
That marvelous "vario-roof", which on my test car basically consisted of a huge glass panel that lets light in when the roof is up, is also available with the optional "Magic Sky Control" that, at the push of a button, will make the transparent glass roof opaque in seconds. I'd love to try this because, while I really liked the glass, it got a bit warm in there on a couple of particularly hot days. Thank goodness for an excellent HVAC system!
The roof opens and closes with the touch of a lever thing hidden under a cover on the center console behind the COMAND knob. It's very slick, though you have to remember to put the rear side windows up by yourself (using another control that's mounted with the roof control) because they don't go up with the other side windows.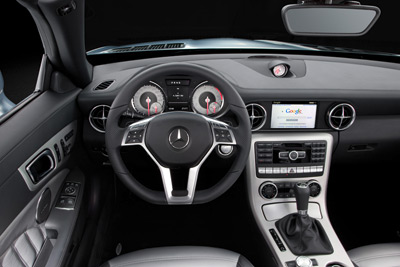 You have to be stopped to operate the roof, which is a bit of a pain when it starts raining unexpectedly and you're in the middle of traffic.
One might think a retractable hard top would intrude on trunk space, and one would be right. In this case, Mercedes-Benz has a cover-like thing in the trunk that shows you the limits of your storing ability. It swings up and back for when you want to haul more and are planning to leave the roof up. It works fine, but it makes for a small trunk opening. 
Funny, the retractable hardtop on Mazda's MX-5 doesn't take up any trunk space – though to be fair, there isn't a lot of trunk space to start with in the Mazda.
Driving with the top down is great, and you can still carry on a conversation at highway speeds. Helping that are pivoting plastic panels mounted to the rear of the roll bars that take up most of the space between them and help keep the wind from getting too heavy duty. Between that and driving with the windows up when things get really blustery, it becomes a very nice experience.
Alas, I lost my favorite hat when a particularly vicious gust of wind came along while I was driving with all the windows down – and at city driving speeds! I think it may land in Siberia someday.
 Mercedes-Benz has even figured out how to make open top motoring pleasant when the temperature drops. Its AirScarf is a vent on each seat back that blows warm air onto your neck and shoulders. You might think it really blows, but it works well.
Firing up the SLK 350 is done via a push button start/stop – the way every car should be these days. That also means you can leave the key fob in your pocket and the doors will sense your arrival and unlock appropriately, though getting them locked again that way required some cussing on more than one occasion. 
My sample SLK wore  handsome 18 inch AMG wheels, perhaps an omen of the performance model to come.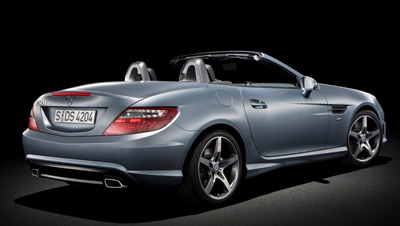 There's also a lower end SLK on the horizon, the SLK 250, which will feature a 1.8 liter turbo four putting out something like 201 horsepower.
I've always liked the SLK, though seeing one never really quickened my pulse before. This one does.
It's priced well, too, all things considered. The 2012 SLK 350 starts at $54,800 U.S./$66,500 Canadian. You can option it up from there, but you may not need to – unless you want that fancy "Magic Sky Control" roof, which I would definitely opt for assuming it works as advertised – and it undoubtedly does.
You can also up the ante with the premium package my sample wore, which includes such niceties as the AIRSCARF, heated seats and the upgraded stereo. The multimedia package adds the COMAND system with hard drive, navigation and more, and you can get lighting and trim packages as well.
The 2012 SLK 350 is a wonderful car. It balances luxury, convenience and sport very well and I think the folk behind the three pointed star have a real winner on its hands.
Copyright 2011 Jim Bray
TechnoFile.com