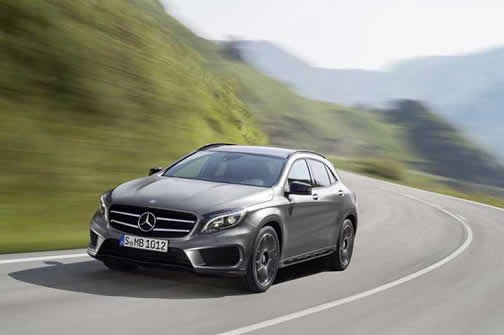 Mercedes little ute an affordable way to class up your garage
By Jim Bray
December 17, 2015
What can a consumer get in an all wheel drive utility vehicle for about $40,000 these days? Quite a bit, actually, and you may be surprised to find that an honest to goodness Mercedes-Benz fits into that niche.
It's the GLA 250 4MATIC, which Mercedes-Benz was kind enough to lend me during my week and a bit in Ontario attending the Canadian Car of the Year TestFest. I'd also spent a week with a GLA last January, and really liked it, so I was looking forward to its return engagement. I got to give it a good workout, too, on everything from execrable multi-lane freeway to enjoyably winding back roads, and once again I wasn't disappointed. Mostly. (click here or on the image to open a slideshow).
GLA-d to drive it…
The GLA 250 is basically a tall version of the CLA sedan, which I also liked a lot when I reviewed it - though its exterior styling hasn't worn as well with me as my memories of driving it have. The GLA, however, looks like a million bucks outside and, like the CLA, is a typical Mercedes-Benz inside, which means it's luxurious as well as featuring design and execution that's efficient and classy.
The Benz gets its oomph from a turbo four, in this case a two litre engine that puts out 208/258 hp/torque. It isn't oodles of oomph but it's enough for most situations, from having to merge onto freeways during monsoon season to carving a few corners on deserted back roads that insisted on being exploited. Turbo lag is noticeable but not off-putting.
Power gets to the asphalt via a quite nice, seven speed dual clutch automatic transmission with paddles and "Economy," "Sport" and "Manual" modes. Economy is a tad, well, uninteresting - and since the vehicle defaults to this setting you have to change it each time you fire it up if you want to add a bit of fun to the equation.
As a tall car, or low SUV/Crossover, the GLA doesn't handle like a sports car (you'll need the AMG for that!), but the sport mode helps a lot. There can be a bit of extra roll in some quick cornering instances, but I experienced nothing that came even close to being freakoutable. Well, once; but that wasn't the GLA's fault. 
The seats are comfortable for driving all day in the GLA (which I did a couple of times, with no issues other than the lack of a built in biffy). There's 12 way power adjustment, and heating up front (of course) and the rear seat is lovely for two, though perhaps a tad tight for three.
The tilt/telescoping steering wheel, as is common, includes function keys and redundant audio controls and the shift paddles behind it fall to hand nicely and work pretty well, especially in manual mode. It's no PDK transmission, but not much that I've experienced to date is.
The sound quality of the audio system is very good, as one would expect from a German vehicle (Germans really seem to understand the value of a good amplifier - not that they're the only ones), and the interior also comes with thoughtful touches such as a windshield washer system with three nozzles to spray the glass clean very well. Even the rear wiper has a good spray and, unlike many other vehicles these days, you can actually lift the wiper blade up high enough to clear snow from around it easily (fortunately, I didn't have to do this during this particular session!)
Mercedes claims up to 1,235 litres of cargo space in the rear and the wide tailgate opens up nice and tall to facilitate getting stuff in and out. It opens up so high I nearly needed to bring along a step stool so I could close it again…
Even though this is basically Mercedes' entry level SUV/Crossover, it feels more expensive than it is - though for 43 grand you really should get a backup camera and I missed it every time I shifted into reverse. I was also not a fan of the keyless entry system. The sample GLA had keyless, push button start, which is great - but I still needed to take the fob out of my pocket to unlock the doors, then put it back again lest I forget and leave it in the vehicle (though the GLA would undoubtedly have reminded me if it had come to that). But it seems as if both features - proximity (or with buttons on the door handle) unlocking and push button start/stop - should be together. Otherwise, what's the point besides annoying your customers or making them feel as if they should have ordered one more option?
I must point out that Mercedes-Benz isn't alone in this oversight. Nor is the lack of a rear view camera unique to this vehicle or Mercedes-Benz. Perhaps I should start a crusade - assuming we're still able to say that word in today's politically correct environment.
I quite like the COMAND feature control system, whose console-mounted knob and buttons interface is logical and easy to use once you get onto it (and that doesn't take long). The radio tuner looks like an old fashioned analog one, and there's a pile of other vehicle settings (and stuff like the navigation system) that you can control with COMAND.
The sample GLA also came with the Sport and Premium packages, which added about $5700 to the $37,200 base price as listed on the vehicle's documentation, bringing the final list price of the sample to $43,000. That seems to me like a pretty good deal. 
The GLA isn't meant as a serious off roader, which makes it like most of its competition, but for those looking for a classy, premium SUV that drives great on the roads and won't break the bank, the GLA deserves to be on your list of test drives.
Competition is fierce in this niche, including the BMW X1, Audi's new Q3 and the Lexus NT 200. I haven't driven the Q3, but the GLA competes well with the BMW and Lexus. As it should!
Copyright 2015 Jim Bray
TechnoFile.com