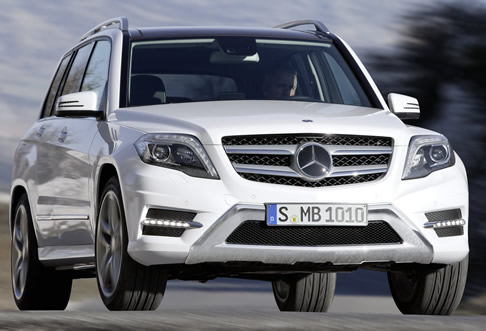 Mercedes-Benz GLK 350 – smooth and luxurious small SUV
By Jim Bray
March 21, 2013
It's German, it's luxurious, it's built well and it's nice to drive. And perhaps best of all, it's entry level – at least as entry level as one can expect from a marque such as Mercedes-Benz.
There's a lot that's new about the GLK 350, including exterior and interior tweaks and new technology designed to make this "cute ute" even more compelling than the previous model – which was itself no slouch.
The newly designed exterior hearkens more to the current Mercedes-Benz line of sedans, with its relatively boxy and angular look. Don't take that to mean it's a cinder block on wheels, however; the GLK is a handsome vehicle inside and out, with high-quality materials, an infotainment setup that works better than before, and a pretty decent driving experience once you shut off the eco stuff and let your right foot loose.
The 2013 GLK also includes a typically Benz range of state-of-the-art assistance systems (a.k.a. "nannies") and efficiency features such as the ECO stop/start function that turns off the engine while you're sitting idling at a traffic light as well as the ECO settings that angle the vehicle's performance more for Gaia hugging than apex carving. Fortunately, there's also a Sport setting that does the opposite.
The GLK 350 is powered by a 3.5- liter direct-injection V6 gasoline engine generating 302 hp and 273 lb.-ft. of torque from 3,500 to 5,250 rpm. It's fine power, delivered smoothly to all four wheels by a slick, seven speed automatic transmission with a nice manual mode (and paddle shifters!) that stays in manual mode until you put it back into auto by yourself.
The vehicle's driving dynamics are very good once you've unshackled yourself from all that eco stuff (okay it isn't bad in eco mode either, but compared with the Sport setting it's a bit like driving through wet cement). And any driving pleasure you feel doesn't come at the expense of ride comfort (after all, this is first and foremost a luxury vehicle).  
Of course, it doesn't hurt that the 4MATIC permanent all-wheel drive rides to the rescue when the roads are less than bare and dry, delivering excellent grip. That was my experience during a very wintery week with the GLK, anyway. Mercedes-Benz says the GLK's body design is actually designed to help its off road performance, too, via their approach to approach and departure angles and by engineering in decent ground clearance – enough that the company says the GLK-Class is "fully capable of mastering challenging terrain." I didn't take the vehicle off road, but it should perform well under such circumstances, as long as you don't go nuts in the outback and try to climb a mountainside or something
Even if you aren't challenging its mettle, you'll probably appreciate the typically SUV high seating position and very good greenhouse, which combine to give you an excellent view outside – something that'll come in at least as handy in everyday traffic as it will in the boonies.
Standard equipment includes automatic headlamps and LED daytime running lights that are framed in chrome. Bi-Xenon headlights are available in an option package that also includes active curve illumination, active high beam Assist and a headlamp cleaning system.
As you might, the GLK 350 is a nice place to spend time on the road and Mercedes-Benz has even corrected a quibble I had with the last Benzes I drove – though it was one that would probably not take long to get used to anyway if you owned the vehicle: the placement of the turn signal light/windshield wiper stalk.
Yessirree! I whined about how the folks at M-B had mounted the stalk at about eight o'clock on the left side of the steering column, with the cruise control stalk at about 10 o'clock. This led my ham-handed hands to hit the cruise control when I wanted the turn signal (and vice versa), which was not only counterproductive but made me feel like a real oaf. The new layout is more conventional, so you won't have to feel like an oaf while getting up to speed with the layout.
I didn't like how the vehicle defaults to eco modes, though it might be possible to program that out. The problem is that, when you fire up the GLK, you have to press a button on the dashboard to turn off eco mode, and then you have to press another button on the dashboard to switch it to sport mode from yet another default eco mode. When you do that, however, the GLK is actually quite a bit of fun to drive. 
Sport mode tightens up the vehicle's responses nicely, not forgetting that the GLK's focus is as much on luxury as anything else, so it's not going to give you too taut a ride regardless of any sporty pretensions. But it does make the vehicle feel more aggressive and I liked that. And even when you're not in sport mode you're still taking advantage of 302 horses and 273 foot pounds, so even in eco attire you're talking about reasonable oomph.
Standard equipment for the GLK 350 4MATIC also includes a premium leather multifunction steering wheel and a premium 4.5-inch color display in the instrument cluster. New for 2013, the gear shifter is located on the steering column ("three on the tree, plus four more!"), which may seem like a big step backward but which also frees up space on the center console for cup holders.
The optional COMAND package is easier to use than before, with enhanced voice control and hard-drive-based navigation. My tester's Premium package also added satellite radio and an iPod/MP3 media interface.
The nannies include the usual belts, bags and robots – and there are available driving assistance packages that add stuff like PRE-SAFE Brake, Brake Assist Plus, Active Blind Spot Assist & Active Lane Keeping Assist. I personally don't like the robot brain telling me how to drive, but your mileage may vary.
The 2013 GLK 350 4MATIC starts at $44,900. My test car also included Obsidian Black Metallic paint, the Convenience Package, COMAND Navigation Package and Premium Package, a panoramic sunroof, power front passenger seat, rear view camera, seat memory, heated steering wheel, power tailgate and plenty more. All that stuff raised the price to $52,680 Canadian. Fully loaded, the GLK 350 tips the fiscal scale at about $57,000.
For what you get – and considering that this is, indeed, a Mercedes-Benz, that seems like a pretty good price. Competitors – prices approximated – include the Acura RDX ($40,435 base, $48,600 "loaded") and Lexus RX 350 ($44,950 base, $57,900 loaded), so the GLK is right in there pricewise.
Mercedes-Benz has also just launched a GLK 250 BlueTEC 4MATIC diesel version, which starts at $43,500 and, since it's a diesel, probably gets about a zillion miles per gallon
Copyright 2013 Jim Bray
TechnoFile.com