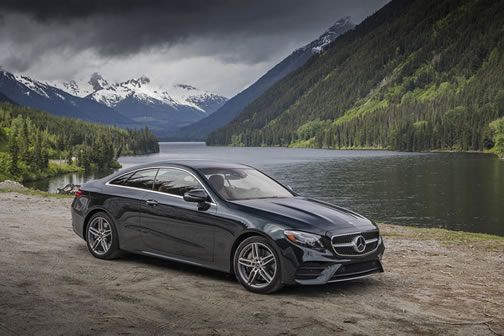 Mercedes-Benz E coupe a real 'Tourer de force'
By Jim Bray
October 10, 2017
Or maybe it's a "coupe de grace!"
However you pun about Mercedes-Benz' 2018 E 400 coupe, it's an exquisite and luxurious two door E Class, and that is nothing at which to sneer. Sure, you won't get much change back from your 90 grand to get one configured as Mercedes-Benz Canada's quite loaded sample was, but that's what a car like this costs these days - and for that amount you're getting an incredible vehicle.
Click on the link to open a slideshow.
Can't afford that? No problem! All the technology and comforts the E Class has today will trickle down to entry level cars sooner than one might expect, judging by how quickly such stuff as lane departure warning, adaptive cruise control, rear view cameras and the like have now started cropping up at the lower end of the market.
But if you want the higher end goodies in a sporty coupe - without getting into the hyper car realm - this isn't a bad place to start.
I'm a sedan kind of guy - actually, I like wagons even more - but the lines of this coupe really stir my automotive drool response. It may be a tad meaty on its haunches but the overall look is modern and high tech and continues Mercedes-Benz' current golden age of interior and exterior design. This is no turgid Teutonic tank, it's a beautiful example of today's state-of-the-art auto design.
Beauty, of course, being in the eye of the keyholder.
Adding to its undeniable appeal is the pillarless design - there are no B pillars behind the doors - and it's surprising how much more open that little design wrinkle helps make the car feel. Add a huge panoramic sunroof (which is standard equipment) and you have about as much of a convertible as a balding old fart could want.
It's definitely a front seat-focused car - it is a coupe, after all - but Mercedes-Benz has done a nice job of helping you get the front seats out of the way if you've been sentenced to some time in steerage (the power operation is slow, but simple), and the back seat is actually pretty good, all things considered. The company says it's bigger than the previous version.
And, in typical Mercedes tradition, there are even little robot arms that extend from the interior behind the door when you get into the front seats, handing you the shoulder belt - now that's a robot nanny I could get used to! As for the sport seats up there, they're very comfortable; I could drive the E all day without issue, and did.
Available in only one main version in Canada, the redesigned 2018 E 400 comes with 4MATIC all-wheel drive and a lust-inducing three litre, twin turbo V6. Mercedes-Benz says the engine puts out 329 hp @ 5,250-6,000 rpm and 354 lb.-ft. from 1,600-4,000 rpm. These are good specs, but it actually felt like there was more! While this is a relatively heavy car - its 1905 kilo curb weight is up over 100 from the old car - mash the gas to the floor and it jumps to attention the way I wish the rest of the world would when I opine about something.
Naturally, the responses are spryest in the sportiest modes, and you can customize the car to your favourite settings; as usual, I preferred Sport and Sport Plus, which makes the E 400 seem to shrink by about 15 per cent, becoming a more aggressive and fun driving machine. Prefer a more serene cruise, or Eco mode? No problem. Set the E that way and it's happy to play. Vive la difference!
Abetting the nice drive of the E 400 is a nine speed 9G-TRONIC automatic transmission, with paddles, that's so smart it seems to sense how you want to drive, and then delivers it to you without fuss or hassle. It's one of the best I've experienced. I think a manual would be a hoot, but shan't hold my breath - and I could live with this automatic easily if I had to.  
The interior is typically classy and luxurious Mercedes-Benz, and it's as customizable as all get out. Nerds will love this car! Not only can you tweak and save your driving settings, but you can change the colour of the ambient light inside the car and, more interesting and important, you can choose from three different instrument panel layouts for the big LCD that replaces traditional gauges. I liked the "progressive" setting best, even though its name caused me to curl up in fetal position for a few minutes, my eyes curled back into my skull; it offers a big central tachometer with a digital speedometer coupled to it, which is my favourite type of display.
Instead of using buttons or rocker switches, Mercedes-Benz is putting little touchpads on the steering wheel as a way to operate the stuff you operate from the steering wheel these days. I found it more than a tad confusing and never did get comfortable with them during my week in the E 400, and it took more of my attention to use them than it should have. I figure it'll become second nature over time, but my short visit wasn't enough for that to  happen.
Mercedes-Benz Canada's sample had the optional Burmester surround audio system and it rocks very well. I have a couple of USB drives I use to ensure apples-to-apples comparisons and came away from my time with the E's audio very impressed. It's available as part of the $4,000 Premium Package, which also gets you stuff like heated armrests up front, an "EASY-PACK" power trunk closer, that great 12.3 inch Instrument Cluster Display, illuminated door sill panels, and more. The package is worth it for the display and the audio alone.
Alas, Mercedes-Benz has chosen to eliminate the disc player from the E-Class, rather than upping the player's ante to include Blu-ray audio, SACD and DVD-Audio, but since these are relatively obscure formats I can understand why the player gone, in this age of USB, streaming and Bluetooth - but I still don't like it.
The sample also had the Intelligent Drive Package ($2,700), which adds steering assist to the cruise control, a handy traffic sign assist and active lane changing assist. The drawback to the traffic sign assist, which displays on the IP and the HUD, is that it flashes at you for a couple of seconds if you pass the speed limit, as if it's admonishing you. Who the hell does it think it is? My wife?
Another thing the E 400 coupe doesn't have, but should, is "oh Bleep!" handles fore and aft. They would have come in handy for passengers during some of our back road adventures in the Benz.
As for safety equipment, this being a Mercedes-Benz means it's stuffed with stuff, from the relatively old fashioned belts and airbags to such usual newer niceties as adaptive cruise control, lane change assistance, parking assistance, etc. etc. etc. One would expect nothing less from Mercedes-Benz.
The E 400 Coupe starts at $72,700 Canadian dollars, according to the company's Canadian website. You can add about twenty-five grand more by checking option boxes; a "loaded" website-built-and-priced E 400 came in at just a tad over $97,000, which is no chicken feed. Ah, but what an E Coupe that would be!
As configured, Mercedes-Benz Canada's sample came in at $85,600 CAD, the base price of $72,700 rising thanks to the aforementioned Intelligent Drive Package, as well as the Premium Package ($4,000), Sport Package ($2,700), Technology Package ($2,600) and the addition of AIRMATIC Air Suspension ($900). And I think if I were configuring an E coupe, that's just how I'd do it.
Would I buy it? Nope. My everyday Mercedes would more likely be a C Class wagon, (watch for my review of that lovely thing very soon). But if you want a bigger, sexier Benz I can certainly see why you'd want to take this baby for a good spin, and then give it a good home. It's a marvelous car.
Copyright 2017 Jim Bray
TechnoFile.com