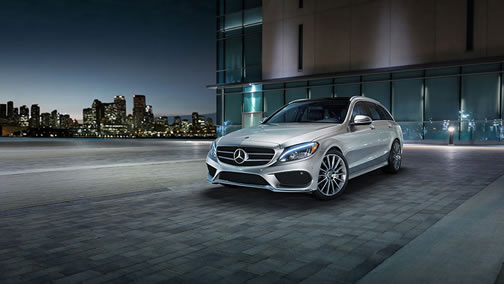 Mercedes' golden age of design continues with 2017 C-Class Wagon
By Jim Bray
November 23, 2017
Mercedes-Benz' C Class wagon is a lovely and wonderful car that combines the best of a sedan with most of the utility of an SUV/Crossover. I call that a winning combination.
Okay, let's get the "I'm a wagon guy" out of the way first. I'm a wagon guy. I love 'em - they're like a sedan except you can haul a big screen TV in them - depending on the size of the screen.
Click on the picture to open a slideshow.
I love them so much I put my money (or my wife's, anyway, since what's mine is hers, apparently) where my word processor is and bought a sport wagon as my current car. That was back around 2012 when I'd had enough of trunks but wasn't ready yet to go the SUV route. And it's easily the best car I've ever owned, kind of a practical blend of my beloved 1983 Toyota Supra (which I drove happily for 20 years) but with more power, all-wheel drive and 22 years of newer technology added.
Apparently I only forestalled the inevitable, because my dear wife has informed me our next vehicle - unlike our current wagon - won't have a  manual transmission and it will be an SUV because she's tired of shifting, and wants to sit higher to see the traffic better, which makes her so much like so many other people in the automotive marketplace these days that I wonder why I ever married her.
Anyway, when I learned that I was going to get a week behind the wheel of Mercedes-Benz' current C-Class wagon - the C 300 4MATIC - I was ecstatic: not only do I love wagons but Mercedes-Benz is currently (in my never humble opinion) in a golden age of automotive design. The company has traditionally made excellent luxury cars but they haven't always made the most attractive ones. Some generations have been a tad dumpy, or too angular, or whatever, with stodgy interiors that may have befitted the legendary marque's historic reputation, but which didn't make my heart go 'zing' like others did.
That, obviously, was then. But today's Benzes - at least their bread and butter C and E classes, are beautiful inside and out. Oh, I still don't think they're as attractive as, say, Audi or Jaguar, but they've come a long way and I definitely wouldn't be embarrassed to have one in my garage. Even better, Mercedes' cars are beautiful underneath the skin, too, thanks to their state-of-the-art design and technology.
As Mercedes says on its media website, the new C-Class (wagon, coupe or sedan) is "a visual treat with its modern, dynamic design that at the same time exudes sensual purity, arouses emotions and, to top it all off, presents high-tech in perfect fashion." Sure, it's marketing gobbledegook, but it's also true. When was the last time you looked upon a Mercedes (other than their sports cars and AMG models) as sexy and emotion-enhancing? Well now you can.
The C 300 4Matic, which according to Mercedes-Benz Canada's website starts at $46,000 CAD, is only available in Canada in the one basic configuration (the turbo four and the all-wheel drive), but it's a nice one. Sure, I wish the Benz brigade would offer a C 400 4MATIC, with the  three litre, twin turbo V6 Mercedes-Benz rates at 329 hp @ 5,250-6,000 rpm and 354 lb.-ft. from 1,600-4,000 rpm - the engine that was in the lovely E-Class Coupe that I reviewed here - but in real life the C 300's turbo four is just fine.
The two litre four in the C 300 cranks out a decent (and sufficient, dammit) 241 hp at 5,500 rpm and 273 lb.-ft. of torque @ 1,300-4,000 rpm. There's little turbo lag and that higher torque than horses figure means the car takes off very nicely, thank you very much.
The car also benefits from a terrific, 9G-TRONIC nine speed automatic transmission. Sure, I'd love a stick, but if you can't have one, this "slushbox" is a darn fine one, shifting just when it should, and via paddles if you choose.
The manufacturer says the C-Class wagon's (it's called an Estate in Europe; dunno why other than they're funny over there) has a body shell that's lighter than its predecessor, which is typical (but not unwelcome) these days. Mercedes says the new C wagon is "up to 65 kilograms less" lighter than the one it replaces. It's also very rigid and the combination of lower weight and stiffer spine means it handles very well. And of course the all-wheel drive doesn't hurt, especially when the roads are less than perfect.

Two suspension options are available. Besides the standard one, you can opt for a $1,700 Sport package that adds a sport suspension, an attractive AMG Styling Package that includes 18 inch AMG five-spoke wheels, and a sport brake system.
Needless to say, the car drives very well - it's no sports wagon, but it's a very nice and compelling wagon. And thanks to plenty of customization options, you can make it more like a wallowing wagon of domestic wagons past - if you so desire - or you can tighten it up very nicely. Very nicely, indeed.
Naturally, the interior is very comfortable. The rear seats are a tad small, but so are most in this segment - but the front seats are wonderful, power-operated and more supportive than some of my former bosses. The layout of things is logical and mostly easy to figure out, though I think the current COMAND interface is a bit - and only a bit - of a step backwards from the last one, or maybe I just need a little more time with it.
The abovementioned customization options include the usual dizzying array of nannies, from adaptive cruise to lane departure, etc. You can shut these off, fortunately, and you can also shut off the annoying trackpad on the centre console that looks like a hand rest until you rest your hand there and find weird things happening on the display. I hate Lexus' trackpad as well, but at least it looks like one!
The wagon's interior is basically like that of the sedan, and that's a very good thing. The materials are top notch, the design attractive and functional and I liked that the little, steering wheel-mounted thumb trackpads from the E-Class haven't yet found their way here; instead, you get straightforward buttons.
The LCD screen perched atop the centre stack looks great, but the way it's perched there makes it look like both an afterthought and something that'll snap off easily. I doubt either is the case - and the three pointed star folks aren't unique with this design thingy - but it's there.
The head's-up display works well, but as with so many others it's difficult to read if you're wearing polarized sunglasses.
The C 300 4MATIC wagon can also be upgraded via several option packages. The Night Package ($2,300) also comes with the sport suspension, AMG exterior package with its 18 inch wheels and black roof rails. The $5,000 Premium Package includes such goodies as the "EASY-PACK" power tailgate,
COMAND online navigation w/MB apps, LED lights, a lovely panoramic sunroof, "KEYLESS-GO" (proximity door locks and push button start/stop) and a DVD drive (so you can watch movies on those boring long, flat and straight stretches of highway?).
The $2,300 Premium Plus package includes an integrated garage door opener, tootsie-activated tailgate release, active parking assist, blinds for the rear side windows, a 360 degree camera, illuminated doorsill panels and ambient lighting. And for $900 you can opt for the LED Lighting package, with adaptive high beam Assist and active LED high performance lighting.
'Twould be nice if you could get some of this stuff a la carte, because there appears to be some duplication among packages, but this appears the way things are done in the Canadian car market these days, and once again Mercedes-Benz isn't alone in this strategy.
Still, even the base C 300 4MATIC wagon comes with a lot of stuff. I might add the Sport and Premium packages to that version, but some of the rest seems awfully like gilding an already golden lily.
And it really is golden. Sure, it's bum may be the weakest link stylistically, but it's still one of the most attractive wagons on the road today - not that there are many wagons these days - and it backs up its good looks with excellent underpinnings and accoutrements.
Sounds like a real winner to this wagon-phile.
Copyright 2017 Jim Bray
TechnoFile.com