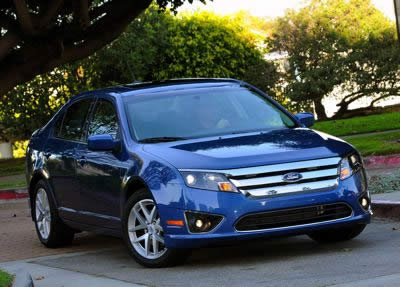 Lincoln MKZ and Ford Fusion – Variations on a Theme
By Jim Bray
August 15, 2009
Whether you want your car luxurious or mainstream, the Ford Fusion and Lincoln MKZ sedans are nice pieces of work.
I spent nearly back-to-back weeks with the four cylinder Fusion and the V6 MKZ, both of which were new 2010 models, and came away more impressed than I had expected to be. What really surprised me was that I actually preferred the lower end Fusion; I thought I'd be struck by lightning….
Both cars share the same basic underpinnings, but they look and act very differently. The Fusion is Ford's mainstream midsize sedan, built to go head to head with the likes of the Honda Accord, Volkswagen Passat, Toyota Camry and the like. And it does a fine job of it.
The MKZ, on the other hand, appears aimed at people who would have bought the Town Car or Mark Whatever in the past and Ford/Lincoln undoubtedly hopes its more modern design will also snag some younger and "upwardly mobile" customers who might also consider the Cadillac CTS, Lexus ES 350, Mercedes C class or Acura TL. And it might.
A Pro-Fusion of Good Qualities…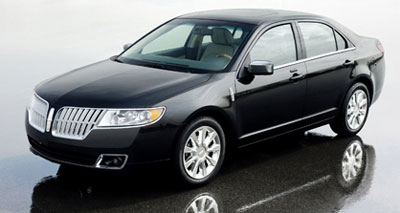 Let's start with the Fusion, since it's more accessible to a mainstream audience. For 2010, its lineup includes a hybrid for the first time, one Ford says offers the best fuel economy in the class, "besting the Toyota Camry hybrid by at least 6 mpg in the city". My test unit was a gas-only version wearing the SEL trim level, however, and that was fine with me.
Ford has sweetened the Fusion's previously bland exterior with new front and rear end treatments and I like what they've done. The new front includes a domed hood, new headlamps and a larger fog-lamp area. And while the grille on last year's Fusion looked like a Fusion razor, this year's is still recognizably from the Ford family, but less bladelike and more attractive.
Ditto for the nice new taillights – and my Fusion also wore an optional rear spoiler. I have no idea if it's anything more than cosmetic, but it's good cosmetics and helps make the Fusion's bum a little less frumpy than the old one's.
My sample Fusion was front wheel drive (you can get AWD) and powered by Ford's 2.5 liter DOHC 4-valve per cylinder four cylinder engine, which I figured wouldn't be much use for someone with a penchant for power. But I was wrong (cue the lightning bolts again). I'd probably opt for the 3.0 liter DOHC V6 and its reasonably competitive 240 horsepower @ 6,550 rpm if it were my money, but the four banger's 175 horses @ 6,000 rpm (with 172 lb.-ft of torque @ 4,500 rpm) was more than adequate. It doesn't get you up to blinding speed as quickly as the six, but it's plenty good enough for most driving. I was pleasantly surprised.
This has been happening quite a bit lately, in that I'm being forced to acknowledge that car makers are doing marvelous jobs at coaxing more power out of less engine, whether it be four bangers that perform like six cylinder engines of old, or sixes that could rival V8's – at the same time upping their gas mileage. The winner is the consumer, and that's great.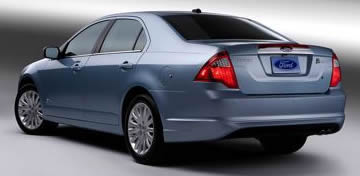 Anyway, my Fusion came with a six speed automatic transmission that shifted very smoothly. It didn't have a manual mode like the MKZ did, however, which was definitely a strike against it. "Pretend manuals" are getting better all the time and also offer more control – and more fun – than a strictly automatic tranny can.
Ford says the Fusion's interior reflects "a more contemporary, technical look" and it is attractive, efficient and comfortable. My test unit's cloth front seats were bolstered nicely for twisty road driving – better, in fact, than those on the Mustang GT I drove a couple of weeks later.
The instrument panel and switches have a very cool-looking ice blue lighting theme I thought would be distracting but which wasn't. On the other hand, there's a little coin box to the left of the tilt/telescoping steering wheel on the dashboard that pulls out nicely but has to nearly be rammed back into place with a rubber mallet. But that's a pretty minor gripe! Heck, I'd probably never even pull it out if I weren't looking for things to pontificate about.
The driver's seat of my test unit was power operated, so it's very easy to get a comfortable driving position. The passenger seat's bottom is power adjustable, but the back uses a handle to move it. They feature nice fabric that doesn't attract animal hair excessively.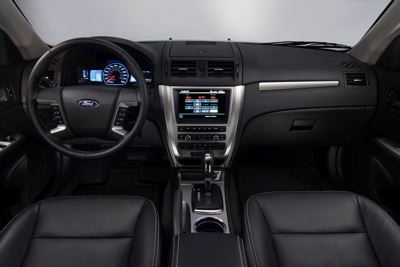 The windshield washers have a nice wide spray, the driver's window features one touch up/down operation (though the others don't), and the Sync system grows on me more each time I experience it, though the voice prompts get to be a bit much.  
The Sony stereo was billed as an audiophile system, but I would argue that. Sony makes a lot of really great things, but this isn't one of them. The amp needed more oomph, but it would've probably fried the merely adequate speakers in that case.
But all in all, I really liked the Ford Fusion – much more than I thought I would. If you're looking for a car in this class, it deserves to be on your list.
The Fusion starts at $19,270 U.S./$21,499 Canadian. The SEL trim level of my test unit starts at $23,975/$25,096 respectively without options and the top line V-6 SPORT -- All Wheel Drive starts at $27,675/$33,551. The hybrid starts at $27,270/$30,664.
Lincoln Log…
The Lincoln MKZ is the Fusion, only more so. It shares the platform, but doesn't feel like a Fusion. It feels heavier and more solid and much more luxurious, which should surprise no one.
The MKZ began life as the Zephyr, which seemed like a pretty bland hephyr – though I never drove one. But this new one is a modern and well-equipped car. I thought my test unit, with its virtually all black interior, a tad forbidding, but you can get different schemes that would be much more attractive.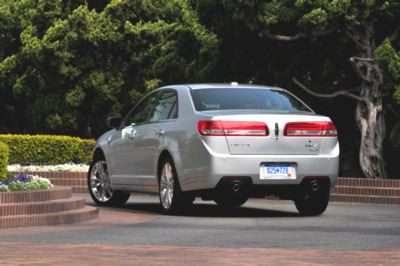 Outside, the MKZ's front end carries the current Lincoln look shared with the larger MKS, with its sculpted hood and ridges that flow into the A pillar. It also wears Lincoln's signature split-wing grille (a big improvement over the old one) with thin, wraparound headlamps. The rear has a new deck lid and wider LED tail lights. It's quite attractive.
Powertrain performance has been increased dramatically for 2010, with the manufacturer claiming that 0 -60 mph times have dropped from 7.7 to 7.1 seconds.  The engine is Ford's 3.5 liter V6 Duratec engine, which produces 263 hp @ 6,250 rpm with peak torque of 249 ft.-lb. @ 4,500 rpm. It's plenty, and it comes attached to a new six speed SelectShift automatic transmission that lets you shift manually – adding a lot more control and enjoyment to the drive, and with no forced upshifts.
I loved the engine's sound, a nice growl almost like V8. It's hard to hear inside the very quiet car, though, but it comes through great when the sunroof is open!
Lincoln has tweaked the MKZ's suspension to balance comfort and handling very well. I drove the car a few weeks after nearly falling in love with the Hyundai Genesis, which is capable of going head to head with this car, but I liked the Lincoln's suspension better: it's tighter and more involving than the soft Hyundai's.
My test unit wore the optional all wheel drive system, which the company says has been retuned for better traction and lower noise, vibration and harshness.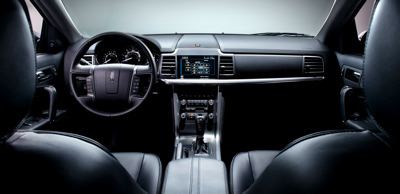 Inside, the MKZ's cabin is upscale, with aluminum and wood and a new instrument panel. Luxury/convenience touches include "welcome lighting" and chimes (the latter of which I could do without), "tuxedo stitching" on the luxury Bridge of Weir leather seats. A new acoustic laminated windshield features sound-absorbent vinyl between two sheets of glass to quiet the interior, as does thicker rear glass, a new headliner and new damping material along the floor. It's a very quiet car.
The seats are power-adjusted and very comfortable, and they hold you in nicely. There's plenty of room in the back seat as well and the car boasts a decent sized glove compartment, lots of storage spaces and cup holders – everything except a wet bar.
My only real complaints about the car include a steering wheel that just didn't feel right in my hands when I put them at the standard nine and three o'clock position. The spokes are too thick and that bugged me.
The mostly white on black analog instrumentation, with a little digital display, is attractive and legible, and the touch screen is mounted very conveniently within reach. The SYNC system, which had Bluetooth, navigation and DVD-Audio capability, worked well.
Lincoln has chosen to offer blind spot sensors on the outside mirrors, which light up when the robotic brain decides someone's in your blind spot, and they work well. 
In all, while I was surprised to find that I preferred the Fusion, I liked the MKZ very much. It's powerful, pleasant to drive, and treats you nicely.
The 2010 Lincoln MKZ, front wheel drive, starts at  $34,115 U.S./$36,947 Canadian. The AWD version starts at $36,005 U.S./$40,329 Canadian.
Copyright 2009 Jim Bray
TechnoFile.com