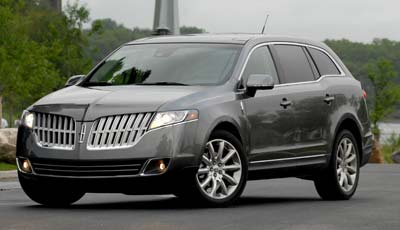 Self-parking Lincoln a Big and Bold Statement
By Jim Bray
February 10, 2010
If the Lincoln MKT is any example, the Ford Motor Company is being quite successful in the return from its near-death experience. It's a technologically advanced vehicle that's also good to drive and will carry an abundance of people and/or stuff.
Okay, the exterior looks a bit like a giant steam clothes iron, with its pointed prow and "split waterfall grille", broad flanks and relatively flat butt (the latter of which I can merely aspire to!), but once you get past that – if you can – you'll discover a very nice vehicle.
The 2010 MKT comes with three rows of seats (two of which are very nice and one of which will cause much grumpiness among adults forced to travel "steerage") and makes available such nifty technological tricks as Active Park Assist, Adaptive Cruise Control, Blind Sport Monitoring, Collision Warning (with Brake Support!), and the Ford Motor Company's new EcoBoost engine I enjoyed so much in the Taurus SHO I drove recently.
That EcoBoost system is a peach, but it's only one of two engine choices in the MKT. The other is "Ford's proven 268 horsepower 3.7 liter V6" which will undoubtedly perform well. Still, though I've never really found turbos to be a turn-on, I'd definitely opt for the 3.5 liter V6 EcoBoost engine that, with an estimated 355 horsepower, gives excellent performance without, as Ford says, "Compromising its V6 fuel economy."
It's a win-win, and making it even better is the fact that there's virtually no turbo lag, so the power is there as soon as you gun it.
Getting that prodigious poop to the pavement is a six speed auto/manual SelectShift automatic transmission.  This is a nice gearbox, and offers you the choice between fully automatic operation and manual control. In a vehicle like this you'll probably opt for automatic operation most of the time, but the manual shifting (with paddle shifters integrated into the steering wheel spokes) gave extra control on the slippery surfaces and twisty bits during a trip we took into the mountains. 
Ford has done the paddles nearly right. They're redundant, with a squeeze on either paddle delivering an upshift and a push forward giving a "matched-rev" downshift. The only quibble I have is that the "downshift" parts of the paddles are mounted a long stretch away for my thumbs; you can also shift by pressing out on the paddles directly, behind the steering wheel, but this makes things rather cramped back there as well as being less intuitive.
Ford says that, unlike some of the competition's auto/manual transmissions, SelectShift's manual control is truly manual, and it won't second guess you by shifting when it decides to, rather than you. I didn't actually spend a lot of time redlining the MKT, but it does appear to work as advertised.
Standard equipment includes all wheel drive, which is as it should be on a higher end, big SUV such as this. It's completely automatic, distributing torque between front and rear wheels as the vehicle's little electronic brain decides.
While a vehicle like this tends to be a tad boat-like, the MKT does a pretty good job of delivering decent driving dynamics. The ride is more luxurious than sporty, which is probably what Lincoln customers want, yet it's comfortable and quite responsive at the same time. On the aforementioned twisty bits, which we tackled with a complement of six adults on board (hence the crack about grumpiness in steerage), the vehicle felt big (duh!) but took the twisties better than I had expected it to.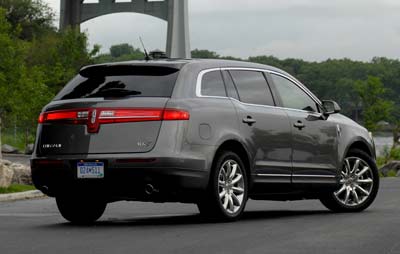 One of the niftiest of the many MKT features is the Active Park Assist, a $600 option that seems very affordable considering the technology involved. It's a feature that not only works very well, it gives consumers yet another reason not to pay attention to honing their driving skills.  Made possible by the advanced Electronic Power Assisted Steering system, Park Assist uses ultrasonic-based sensors (as opposed to cameras) to sniff out a parking space.
It's really cool. I tried it a few times – even dragging people out for a drive with me so I could amaze and delight them – and it amazed and delighted every person on whom I inflicted the experience. Here's how it worked: Stop short of a parking space and press the appropriate button on the center console. The vehicle then prompts you to drive forward and, when it's satisfied there's room for its bulk, it prompts you to stop, take your hands off the steering wheel and use the gas and brake only for the duration.
So you do, and be darned if the Lincoln doesn't guide itself right into the parking spot, with no fuss and, at least in my limited experiences, no scratches or dents. It's quite amazing. It parked in a smaller space than I would have chosen, too.
If you do grab the steering wheel during the process the system disengages the way cruise control does if you touch the brake. This is probably a good thing.
Ford says the system will also work on uphill grades.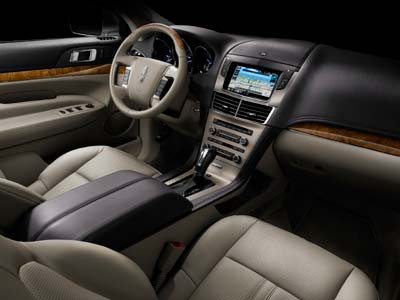 That's an option, of course, but there's a lot of standard equipment included as well, just like you'd expect from a luxury brand. Here's just a partial list:
20 inch Polished Aluminum Wheels
Adaptive HID Headlamps
Fixed Glass Vista Roof (a huge, two section "sunroof" whose front section tilts up to let in fresh air; it can be covered by power-operated blinds as well)
Heated Power Mirrors with memory & Security Approach Lamps
Power Liftgate
leather trimmed heated/cooled front Seats with driver memory and 12 way power
SYNC voice activated system, with AM/FM Single CD/DVD/MP3 player (a "THX-approved" system that played all my DVD-Audio discs perfectly, even my torture testdisc)
Ambient Interior Lighting
Rear View Camera
SIRIUS Satellite Radio  
Touch screen with audio/climate controls
Tri-zone automatic climate control
And that only scratches the surface.
My test unit also had Adaptive Cruise Control, which lets you set the MKT's speed and maintain its distance behind the vehicles in front of you. It works well; set it (and the distance you want – from "serene" to "tailgating") and the MKT will react to the vehicles in front of you, applying the brakes when necessary if you're coming up behind a slowpoke. Pull out to pass and the MKT applies the power again and returns to its preset speed.
Naturally, a vehicle such as this also comes with intelligent access and push button start, so you can leave the key fob in your pocket or purse. Ford/Lincoln's system is tied in with their SecuriCode keypad on the B pillar, which seems kind of like a throwback to years gone by, but it works fine.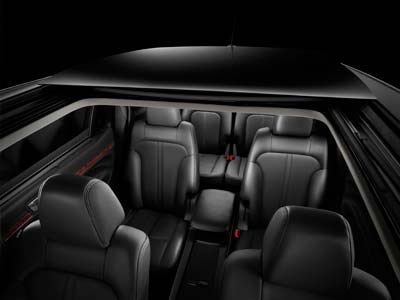 The adaptive HID headlights also have automatic high beams that dim when vehicles are approaching from the other direction. The rain sensing wipers also work well and if you're worried about letting the kids loose in the MKT, it also comes with the MyKey system that lets you restrict some of its features – such as maximum speed and audio  volume – when you hand over "YourKeys".
The Blind Spot Information System (BLIS) lets you drive along blissfully aware of vehicles beside and behind you, illuminating an icon on the outside rear view mirrors, mirrors that also have secondary, convex "Spotter Mirrors" in the top outer corner.
There's even a Cross Traffic Alert, that uses the BLIS sensors to help detect traffic when you're backing out of a parking space.  When the vehicle is in reverse and senses traffic approaching from the sides, mirror warning lights illuminate and audible signals sound. It didn't activate while I had the MKT, but I can see it being a Godsend, especially in a smaller vehicle (like this one isn't!) whose outward visibility could be impaired by vehicles parked to either side.
I enjoyed my week in the big Lincoln; it's certainly bigger than I like, but despite that it's pleasant to drive, performs very well and offers a lot of comfort, amenities and technology for the price.
The 2010 Lincoln MKT starts at $44,200 U.S./$48,214 Canadian. The twin turbo EcoBoost version starts at $49,200 U.S./$53,350 Canadian, and you can option it up from there.
Copyright 2010 Jim Bray
TechnoFile.com