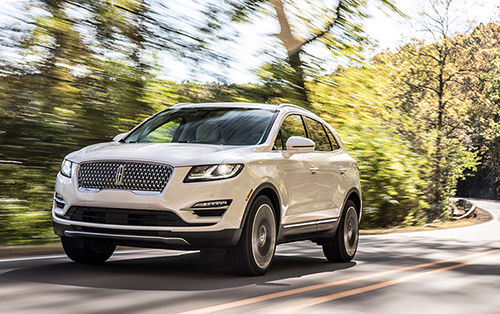 Lincoln MKC is a nice drive – but you'd better act soon
By Jim Bray
May 17, 2019
It may appear to be a last gasp for an automobile that's long in the tooth, but the 2019 Lincoln MKC compact SUV/crossover is still a very compelling vehicle that has a lot going for it.
But since this is the last year of the MKC (it's supposedly being replaced by the new "Corsair"), you might not want to dilly dally – and you might even be able to score a better deal on existing inventory, though a lot of that depends on the dealer's hunger and your negotiating skills.
Click on the image to open a slideshow.
I don't know how different the Corsair is going to be, but the MKC is already a fine vehicle, building on the "more pedestrian" but still very nice Escape whose DNA it shares, while upping the luxury and performance ante.
How bad can that be?
As nice as the Escape is, the MKC gives you a lot to love for the extra cash. For example, while the base engine is shared with the Escape (a two-litre turbo four rated at 245/275 horses/torque), Lincoln Canada's sample came with the bigger, 2.3 litre turbo engine that ups the oomph ante to 285/305 stallions/torquey things. That's a noticeable difference and, while there's some lag (but not a lot) from the turbo, the engine does seem to appreciate being used.
Power gets to all four wheels (front wheel drive is available in the U.S.) via a six-speed automatic that shifts well – and via paddles if you're the type who likes to take as much control as you can.
Even the base model, which starts at just north of $42,000 Canadian, comes with good stuff. For example, you get things like Active Grille Shutters, Electronic Parking Brake, Hill Start Assist, Adaptive Suspension, Electric Power-Assist Steering (EPAS – and it steers fine, thanks), Power four-wheel disc Anti-lock Brake System (ABS), Traction Control, Intelligent All-Wheel Drive (AWD), and AdvanceTrac with Roll Stability Control (RSC).
You also get a power liftgate (which is always nice), heated and auto-fold, power-adjustable outside mirrors with memory (linked to the seat memory), automatic LED headlights, LED taillights, intermittent speed-sensitive windshield wipers, a Lincoln Signature Grille (which I actually think isn't as handsome as the old grille, though it works great on the mighty Continental), and a reverse sensing system.
Inside, there's automatic climate control, a Wollsdorf leather-wrapped steering wheel with cruise and redundant audio controls, a power tilt/telescoping steering column that works with the seat/mirror memory. You also get wood trim on the doors and instrument panel, one-touch-up-down front and rear windows, intelligent access with push-button start, remote start system, Lincoln's kind of neat push-button shift (a row of buttons graces the driver's side of the centre stack, where they're handy but out of the way), and lots more.
The "Reserve" trim level (starting at $47,300) can get you that upgraded engine (though it's optional), a premium audio system (the sample had the optional THX-certified audio system, and it rocks well), comfort seats and more adjustable headrests. There's also Bridge of Weir Deepsoft leather-trimmed seats (yep, your MKC can be just plain "weir-d"), front seatback map pockets, heated and cooled front seats and heated rear seats. And you get a wonderful, panoramic sunroof, auto high beams and windshield wiper de-icer.
You can also add a tech package that'll inflict all those damn nannies on you: adaptive cruise control, lane departure "assist", active park assist, a forward sensing system (for those who don't know which direction they're facing?), automated emergency braking, etc.
I hate most of these, especially the lane departure crap, which can not only warn you if you start travelling out of your lane without signalling (like when you're having fun apexing the odd turn…). You can usually shut these things off these days, but I couldn't get the lane departure off completely, which meant it would rumble the steering wheel under the hands when the MKC's cybernetic brain thinks you're about to die – even if you aren't.
There may be a way to shut it off completely, but it wasn't so obvious that it hit me in the face – and I don't read manuals, operating under the theory that if I have to open the manual to figure out something that should be simple, then the design is fuzzy.
Other than the nannies, the MKC is a fine vehicle to drive. It's very comfortable, moves and handles well, and has a nice sport mode you can tweak via the settings to customize it to your own preferences.
One thing I really like about Fords and, by extension, Lincolns, is the Sync interface for the centre stack's LCD screen. Ford has sweated the system and it's one of the best I've seen, requiring no silly mouse, knob or trackpad, instead working simply as a touch screen that doesn't take a university degree to figure out (let alone a trip through the manual). I'd rate it up there with Volkswagen and the South Korean twins for ease of use.
The MKC also handles Apple CarPlay and Android Auto, though the regular interface is so good I'm happy just streaming most stuff via Bluetooth.
You can get into a base Escape for $26,400 CAD, but to approach the MKC's level of equipment you have to opt for the Titanium trim level, which starts at $37,699 – only about five grand less than the base MKC. I configured a top line Escape with $2500 worth of options that brought it closer to the MKC's specs, and figure if I had the extra couple of grand (well, few grand: I'd want that bigger engine!) I'd bite the bullet and opt for the more attractive and just plain nicer MKC.
Naturally, your mileage (and budget) may vary.
The MKC is nice enough that I wonder how Ford/Lincoln will up the ante for the new Corsair, other than perhaps giving it reverse gullwing doors that imitate the American World War II fighter for which it's supposedly named.  I guess we'll see.
In the meantime, as mentioned up top, if you're looking for a nice, comfortable and luxurious SUV/Crossover from North America, the Lincoln MKC is a great choice.
Roku goes Global…
Okay, that's a bit of an overstatement, but I received a press release from the Roku folks this week announcing a new app that points clearly to a future in which the Internet is humanity's television broadcast medium of choice, something I've been predicting for a couple of decades now (and don't I feel smug!).
It's because Canada's Global TV, owned by the folks behind Shaw Cable, have released an app that lets you watch their current offering via the Roku, so you no longer need cable, satellite or whatever – just Internet.
Global says it's the first Canadian broadcaster to jump online like this (though others have their own apps for smart devices etc.), making their offerings available to Roku streaming sticks and boxes as well as Roku-enabled televisions such as those from RCA, Hisense, Sharp, Sanyo and TCL.
I tried it on one of my Rokus and it works pretty much like other such apps, except you get to choose from Global's current and recent offerings, for better and/or for worse. I couldn't find even one show I really wanted to see, though that's more because I'm mostly immune to network TV than it is related to Global's particular inventory.
So, if you're into such stuff as New Amsterdam, 9-1-1, Saturday Night Live, The Late Show with Stephen Colbert, Survivor, Big Brother Canada, and more, this could be right up your alley.
Alas, it appears that you still have to subscribe to a TV provider – like cable or satellite – to watch the programming "live" as it is broadcast, which kind of defeats the purpose as well as screwing those who get their TV off the air, because you're asked to enter your provider info before you can access the stuff.
Dumb.
Also dumb is the fact that, while you can pause a program and restart it later on a Roku, when I tried firing up an NCIS episode on a different Roku it sent me right back to the beginning. This is something Netflix and YouTube do well, so maybe Globall'll get it together, too.
Still, it's a step in the right direction and I suppose I can understand why a major cable/satellite company would want to keep its influence (and pay for its infrastructure), though if it's really about "bring(ing) our premium programming to Roku's extensive and highly-engaged user base," (according to Drew Robinson, Vice President, Content Distribution, Corus Entertainment) then you'd think they'd bring it all – especially since users undoubtedly still have to sit through commercials, thereby providing the sponsors with yet another opportunity to snag viewers' eyes beyond what they have already.
Heck, if it were me, I'd just stream the telecast itself, commercials included. Much as I hate commercials, they're a legitimate compromise that lets consumers get content free. On the other hand, today's networks are so damn greedy they're now putting commercials right over the programming, which I think is unconscionable and is another reason I avoid network TV. It also could be a factor (I  have no evidence, just intelligence – well, maybe – and experience) in why broadcast networks are losing viewers.
How about giving some real value to customers rather than just treating them like eyes to be abused and wallets to be drained? It isn't as if you guys aren't profitable – and if you aren't profitable, maybe your problem is that you're chasing away too many viewers by treating them like crap.
Or does that make too much sense?
Copyright 2019 Jim Bray
TechnoFile.com
Jim Bray is a member of the Automobile Journalists Association of Canada. His columns are available through the TechnoFile Syndicate.