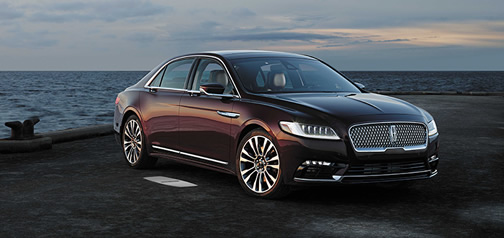 New Continental puts Lincoln firmly back on the map
By Jim Bray
March 31, 2017
It doesn't wallow, nor does it feel like a car my grandfather would drive. In fact, it looks as if Lincoln has thrown down a gauntlet with the 2017 Continental, announcing to the world that the famed marque is not only back, but capable of taking on the competitors head to head.
When was the last time you read that about a Lincoln Continental?
Click here or on the image to open a slideshow.
It's something I had never written before, let alone thought. Oh, I liked the MKZ I drove last fall a lot, but as nice as it was it still felt like a "gussied up" Fusion (which it is, really), whereas after spending a week in the grand new Continental I came away excited for the future of the famed nameplate, which had kind of gone to sleep as a major luxury brand.
Yep, the new Continental is that good! Welcome back!
"The Continental name has long been associated with the best Lincoln has to offer, and this car delivers on that promise," said Kumar Galhotra, president, The Lincoln Motor Company. "With this all-new model, we've focused on creating more human, personally tailored experiences for our clients – providing what we call quiet luxury."
It is quiet, and it is luxurious - but what really turned my crank about the new Continental was its exquisite interior design and its driveability. This, to rip off an old ad campaign from a competitor that no longer exists, is not your father's Lincoln.
And that's great!
I was nervous going into this review. The last time I was in a Continental was in the mid-1980's, and that car was posh but tacky (velour seats, if I remember correctly) and it handled like the stereotypical land barges of the era - it felt as if it were going to flip over onto its side at the first tight mountain curve we navigated in it. Despite my feelings about it, however, its owner loved it and called it "the rocket," and he got quite upset when I argued it should have been called "the brick."
Fortunately, that was a long time ago and a lot has changed since then.
The new flagship Lincoln is still big - though it feels smaller to drive, especially once you've put it into Sport mode. I discovered this fact quickly and programmed the suspension to stay in sport mode permanently, after which the big Lincoln reminded me more of an Audi A6 than the aircraft carrier I had expected.
Any perceived tackiness from the olden-and-not-so-golden days is gone; the new Continental is classy and modern inside and out and its performance is definitely something to write home about.
It's also a handsome sedan that reminds me a bit of the old 1960's slab-sided Continentals, with their suicide doors and boxy but classic design that went head to head with Cadillac, but with (to these eyes) more class and less garishness. The folks at Lincoln have brought the Continental concept completely up to date, from its "Bentley-esque" grille (I don't really think it is, but I've seen it compared that way) and (optional) adaptive LED headlights to the cool way they've integrated the door handles into the trim at the beltline atop the doors.
The rear end is its weakest cosmetically, as is often the case (just look at what follows me around!), but even here the look is elegant - and the trunk is big enough for Mafiosis' hauling needs.
Lincoln has sweated the small stuff, too, even when it comes to the doors. While doors that unlock as you approach the handle are nothing new, these doors actually help you open and close them as well. And inside there are no door handles at all, just big pushbuttons on the inside of the door panel. It seems weird the first couple of times, but it works just fine. There's even a manual backup system you can use to open the door in case the car loses electrical power.
The overall interior is the best I've experienced in a new car in recent years - and that's saying something. It's not only handsome and very luxurious, it's also designed so that you don't have to spend days poring over the owner's manual to figure things out. Lincoln has taken some Ford things that work well - such as the new Sync 3 interface for the LCD touch screen - and revisited some of the other things that didn't work as well, such as the zillion nearly identical and confusing buttons on the steering wheel.
The new steering wheel, which of course tilts and telescopes via power, is clean and simple, yet offers the user access to most or all the features of the ultra-busy one. The centre stack is a marvel of simplicity, too. The touch screen works great, is close at hand for short dudes like me, and the HVAC panel below it is featured fully, yet also easy to figure out and use.
I've complained ad nauseam about carmakers whose functions are so complex that they have to offer a mouse-like interface, or some kind of knob-thing, to navigate all the menus. The Continental eschews all that and is instead simple enough to be used by a chimpanzee.
Well, I'm assuming that's true; I didn't actually have a chimpanzee on hand for my testing session. But I love Lincoln's new design and hope it trickles down to the rest of the Lincoln and Ford lines. Lincoln's folk have definitely paid attention to the details and it pays off in ease of use without sacrificing functionality.
Then there are the seats. They're not only comfortable and luxurious, they also look great and you can get up to 30 way adjustments and a massage feature that came in handy when I took the Continental on a day trip into the Rocky Mountains (I wanted to see if it would threaten to flip over on mountain curves like its predecessor did). Seat controls are mounted on the door now, like Mercedes-Benz and Hyundai, and there's an abundance of them. You can also adjust the seats via the centre LCD, if you prefer.
Lincoln Canada's sample was loaded, so you have to be a tad loaded yourself to afford it, but it's priced competitively with the aforementioned Audi A6, as well as the Mercedes E Class, etc., depending on how you configure each.
That "loaded" status meant the sample not only came with a great panoramic sunroof and the LED adaptive headlights, it also had a folding rear seat centre console with redundant controls for HVAC and audio, as well as a reclining feature, power lumbar support and enough room back there that you could pitch a tent.
Fold the console down and you have a big two plus two; leave it up and you have a big, three person rear bench. It's a neat system, though on our trip to Fernie we discovered that a rear seat passenger can mess around with some of the settings (audio controls, for example) that really should only be handled by the front seat folks, especially if they have precocious kids back there. Lincoln really should bundle a straightjacket with the feature to keep unwanted fingers from screwing things up.
The Continental also has what it takes under the hood. The base engine is a 2.7 litre unit that delivers what's surely a most adequate 335 hp and 380 lb.-ft. of torque. Lincoln's sample, however, had the top line 3.0 litre twin turbocharged V6 that cranks out "up to" 400 horsepower and 400 lb.-ft. of torque. You can order dynamic torque vectoring and all-wheel drive as well (base models are front drivers, alas).
That terrific twin turbo is wonderful to experience and, coupled with the relatively tight handling in Sport mode, helps make the car seem smaller than it is. Step on the gas and it positively leaps forward, making passing a breeze and putting a big smile on my face for the whole week I had the Lincoln.
The suspension on Lincoln's sample featured continuously controlled damping (sensors monitor and adjust the suspension automatically). You won't confuse the Continental for a sports car, but it drives and handles really well and in sport mode there's nary a sign of wallowing. The electric power steering feels light and responsive, the six speed transmission (with paddles!) works very well and the brakes are robust and definitely up to their task of getting rid of speed.
As with other recent Lincolns, the transmission selector is a series of buttons on the centre stack. This feels weird at first but it works fine and it does make room on the console for storage.   
In my never humble opinion, Lincoln has equaled, if not surpassed, the competition (at least the competitors that I've driven…) and I hope those other folks are paying attention. The exquisite new Lincoln Continental shows that the company is back, and hell-bent on cranking out well-crafted and compelling luxury cars.
Copyright 2017 Jim Bray
TechnoFile.com