Lexus RX 350 SPORTDESIGN ups its features and driving experience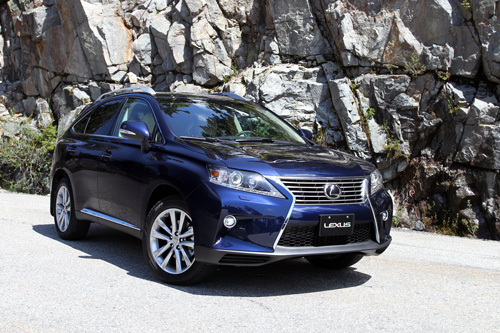 By Jim Bray
June 19, 2014
Lexus' top-selling vehicle in Canada gets a new trim level name for 2015, one that should help make it an even more compelling vehicle than it is already. And it was a pretty compelling SUV/Crossover to begin with, comfortable and luxurious and with great resale value.
(click here or on the image to open a slideshow in a new tab or window)
And yet the new SPORTDESIGN version is the base model! It's one of three RX's, the base and hybrid SPORTDESIGN (the latter of which is now called the RX 450h SPORTDESIGN) and the RX 350 F Sport, which is supposed to be the one that's the most fun to drive. I haven't driven that one yet, but if it's like the rest of the F Sport models it likely won't be that much more fun than the base model. And that's a shame because, while Lexi are great cars, they aren't the greatest to drive if you're an enthusiast, even when they're wearing their  sportiest clothes.
That's okay for a lot of people, judging by Lexus sales. And even though it may not quicken your pulse like a Porsche, the RX 350 is still a darn nice vehicle to drive. And though I never would have described its performance as sporty, this new one does feel a tad more spry - or at least more spry than I expected. I could be wrong, but it seems as if Lexus has stiffened the suspension at least a bit, making the SUV a tad more interesting to drive than I remember from my last experience in a base RX. Nice!
The 2015 model year brings several tweaks beyond adding the SPORTDESIGN designation, including new 19 inch aluminum alloy wheels, power-retractable folding and heated exterior mirrors with integrated signal lamps and "puddle lamps," auto-leveling HID headlights, LED fog and daytime running lights, a new bumper design that features Lexus' signature "spindle" grille (and it doesn't suck as much on the RX as it does on some other Lexi), and more.
New for the 2015 RX' interior are perforated leather seat surfaces (you don't have to worry about sitting with a knife in your pocket - the seats are punctured already!), heated and ventilated front seats with driver's seat memory, a power moon roof and more.
Of course that's just new standard equipment on a vehicle that was pretty loaded right out of the box before. I'll rhyme off more of the stuff they've crammed into the RX a little farther down in this review.
I have a bit of history with the RX dating back to about 10 years ago when I drove the local Lexus dealer's customer shuttle one day a week as a way to get me out of the home office a bit and interacting with real, live people. That one was the RX 330 (named so because it had a different engine) and I spent quite a bit of seat time in that critter, ferrying folk around the Calgary area when their Lexi were in for maintenance. I really liked that RX, which also offered a pretend manual mode for its transmission, something the other iterations at the time didn't.
It does now! The current RX, which is powered by Lexus/Toyota's terrifically torquey and ultimately ubiquitous 3.5 liter V6, is mated to a six speed "super ECT" automatic transmission (thank goodness they didn't inflict the hybrid's CVT on it!) and it's a nice one. You don't get paddles so you can shift while both your hands are on the steering wheel - and that's a shame - but it shifts smoothly and the manual mode is pretty good.
The RX is rated at "up to" 270 horsepower and 248 lb.-ft. of torque, which are more than adequate. You can accelerate confidently when entering a freeway, etc. Likewise, the  brakes - discs all around with ABS and the other aids one expects these days, work well and the pedal feel is just fine. Again, it's no sports SUV, but it's a very nice vehicle to drive anyway.
Other standard features include a 12 speaker Lexus Display Audio System with USB input, auto sound leveller, Bluetooth connectivity (for phone and tunes), steering wheel-mounted controls, and more. This isn't the more up-market Mark Levinson system, but it sounds fine anyway and saves you several grand if you're trying to fit your RX into a budget.
You also get dual-zone automatic climate control, keyless entry with push button start/stop, a powered tailgate with "jam protection," and of course typical Lexus touches such as power windows with auto up/down function on all panes, power adjustable driver and front passenger seats, 40/20/40 split second-row seat (with recline and slide features), real wood interior trim (as opposed to plastic wood) and lots more.
Lexus Canada's sample RX 350 tipped the base price scale at $50,600, which seems pretty reasonable considering what you get. And of course you can option it up via two available packages. Lexus' sample came with the Touring Package ($5,150, for a total of $55,750), which gives you stuff like a heated wood and leather steering wheel, in-dash DVD player, Blind Spot Monitor (that you can turn off!), Parking Assist, Voice-Activated hard-disc navigation system, electrochromic rear view mirror and more.
You also get the Lexus Remote Touch haptic controller, which is a mouse-like thing that I thought when I first saw it would be a terrific way of navigating the vehicle's LCD screen - but which in practice is too finicky and complex and requires you to take your eyes off the road too much. It was a great idea, and to be fair, I don't know how it could be executed better. Perhaps it should merely be executed…
The Technology Package adds Lexus' Vehicle Dynamics Integrated Management system, the abovementioned 15 speaker Mark Levinson Surround Sound Audio system that, last time I checked, still won't play my DVD-A disc of The Who's Tommy (it's my "torture test" disc because it seems to bring out the worse in such systems). The package also includes premium leather seat surfaces (not that the standard ones are crap by any means), a 120v/400w power outlet, heads-up display, unique wood grain trim, front illuminated doorsill trim and more really important stuff. That package brings the tab up to an even 60 grand.
Naturally, you also get state-of-the-art safety stuff on the RX 350, including 10 airbags, stability and traction control, ABS (etc.), a backup camera - and even a first aid kit.
Okay, so the RX isn't the sexiest SUV/Crossover in this niche - that would have to be the new Porsche Macan which, if it drives as well as it looks, is probably a home run. But Lexus has never pretended to be Porsche and judging by the number of RXs it sells every year, a lot of people seem to be perfectly content with that. And having driven the vehicle both as a reviewer and "in anger," I can see why.
Copyright 2014 Jim Bray
TechnoFile.com