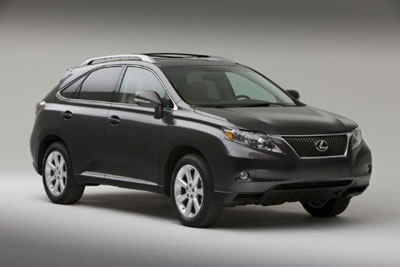 Popular Lexus Ute Gets a Brand New Suit
By Jim Bray
July 16, 2009
Lexus' most popular model has undergone its first major restyling and reengineering, a process designed to keep it current and competitive.
And it has. While recognizable as an RX, the new RX 350 looks and feels quite a bit different than its predecessor. It's still a fine vehicle, though, and should continue to be a top seller for Toyota's luxury division.
The new RX looks like a bulked up old RX – not as if it's been shooting up banned substances, of course, just as if it's been working out.  This gives it a more chiseled and muscular appearance and it works just fine.
Powering the RX 350 is, not surprisingly, a 3.5 liter V6 that's fine and torquey and rated at 275 hp at 6,200 rpm (vs. 270 for last year's) and 257 ft.-lb. of torque @ 4,700 rpm. It's mated to an all-new six speed automatic transmission that shifts extremely smoothly and which offers a pretend manual sport shift mode that's very welcome.
Lexus says the new RX is not only more powerful, but also more fuel efficient than the previous generation, which is pretty well standard for most vehicles these days (and which, of course, is a good thing).
My test unit was a pretty low end version of this fairly high end vehicle, and so it didn't have options such as the Mark Levinson audio system and the apparently nifty new Remote Touch Navigator – a mouse-like pointing device that's supposed to do a better job than those darn iDrive cursor control thingies I hate so much. I'm disappointed I didn't get a chance to try it 'cause I won't believe it's better until I control my cursor with it.
A head's up display, which projects information in front of the driver's face, is available as well. My test unit didn't have it, either, so I can't comment on it.
I can comment on where Lexus has mounted its rear view camera display this time out: it's on the driver's side of the rear view mirror, which may sound weird but which actually works really, really well. It's a smaller display than most of the LCD's on vehicles these days, but it's big enough – you don't need fine detail anyway, just enough of a view so as not to run into something – and mounted as it is on the mirror it's where your eyes fall naturally when you're backing up (assuming you use your rear view mirror in the first place!).
Unfortunately, the rear view camera itself is mounted where it's prone to dirt, slush, and even water sprayed up from the road, making it less than useful more often than I'd like in this year of what appears to be eternal winter (thanks, Algore!). It's easy enough to wipe clean, but if you don't have a cloth with you it'll get your fingers icky. I had to go lie down after cleaning the camera once.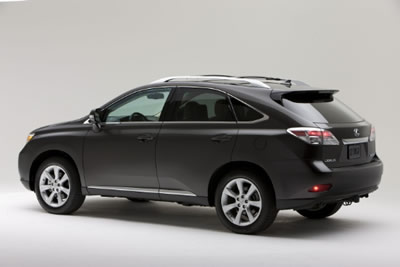 RX 350's come with either front or all-wheel drive in the U.S., though the Canadian market is limited to AWD versions. The AWD system features all-new electronically controlled Active Torque Control technology that uses an electronically controlled coupling ahead of the rear differential to vary torque distribution anywhere from 100:0 (basically front wheel drive) to 50:50 front to rear depending on driving dynamics and road conditions. Lexus says the new system is 35 lbs. lighter than the previous system.
Other weight saving measures include such subtleties as scooping a tiny sliver of steel from all the RX's bolts, which the company says saves about 20 pounds. Can you imagine how boring the job of bolt scooping must be? Hopefully, it's done by a robot….
Lexus claims that its all-new, uniquely designed double-wishbone rear suspension enhances handling over the old strut-based configuration, while also allowing for greater cargo area. The old, independent front suspension was upgraded as well, and features a new, thicker stabilizer bar. The result of all this tweaking is a little more floaty than I like, emphasizing clearly that this is a luxury vehicle, not a Sport ute, but it handles well. I wish there were a sport setting that would tighten things up a bit, though.
The new power steering system is electrical instead of hydraulic, which Lexus says "provides an environmental benefit and reduces maintenance". Steering feel is fine and the system works in response to your speed, giving more help at lower speeds and backing off as you get faster.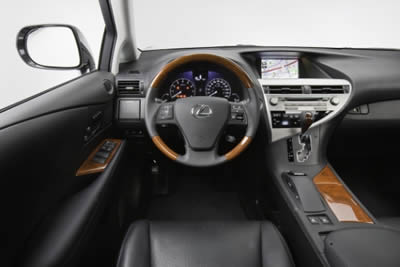 The disc brakes feature a new two-piston front caliper and larger rotors front and rear. Brake feel is very good, not too mushy and not feeling like you're trying to crush a brick under your foot. Stopping power is first rate.
Standard equipment also includes attractive new 18 inch aluminum alloy wheels; optional 19 inch aluminum alloy wheels are available.
Inside is a terrific cabin that feels larger than the old one, yet imparts a sense of intimacy I liked a lot. The center console between the front seats is bigger, which contributes to a feeling of being cradled snugly inside the vehicle, and has a big storage bin in it as well as the usual cup holders.
The gear selector is mounted high, kind of at the confluence of the center stack and console and initially I thought putting it so far away was a really dumb move. In practice, however, it just happens to fall at hand perfectly and is placed about as well as it could be.
I loved the straightforward simplicity of the dash and center stack layout, which is very user friendly and doesn't send you digging in the glove compartment for the owner's manual. The multi-information display is an Organic Light Emitting Diode (OLED) type, which is very state of the art, and its white characters on a high-contrast black background provides excellent readability.
The steering wheel feels great and includes ancillary controls including a "multi-information switch" that lets you access a variety of function settings without taking your hands off the steering wheel. It's quite similar to what's in the new Mazda3, and it works well in both vehicles. I hope this is a trend.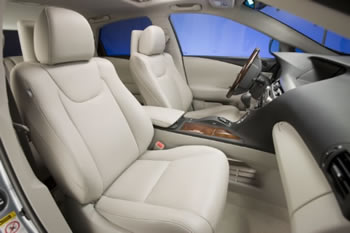 Both front seats are power adjustable, heated and cooled, and very comfortable. Rear passengers are also coddled nicely, with sliding and reclining seats.
My test unit also came with Lexus' SmartAccess keyless entry system with push-button start (so you can leave the key fob in your pocket/purse) and it's the best version of this I've tried in a Lexus. "My" RX also had Bluetooth capability and voice recognition (not the best examples of the species but Toyota/Lexus is getting better at it) a power tilt and telescopic steering column, seat/column memory, auto up/down for all four windows.
The audio system is merely okay for a vehicle such as this. It doesn't rock like the upgraded system will, and it's outclassed by the systems in some lesser competitors (most of which in my experience are German). But it'll do the job.
Flaws, though minor in nature, include outside rearview mirrors that can also be used as "pedestrian slappers" thanks to the blind spots they create ahead of them. The driver's side windshield wiper leaves quite a bit of unwiped space on the left as well – and the rear wiper now sweeps from the top and I don't think it clears as much of the window as it should. But it's adequate.
There's also a little a coin box thingy on the left of the dashboard that's good for holding a cellphone or something like that, but if you actually put a coin in it it'll fall down into a little slot at the bottom and be very difficult to get out again when the tollbooth looms.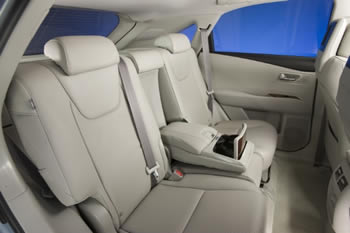 On the "upside" (and "downside"!), it's hard not to love an SUV/crossover that offers a power tailgate – a wonderful feature when you're heading toward it with your arms full of booty.
In all, the RX 350 is a very nice upgrade from the previous model, an even more compelling vehicle for people looking in this class. It's modern, efficient, comfortable and luxurious, and will probably run forever. And it's tough to argue against that.
The Lexus RX 350 starts at $36,800 U.S. (FWD, $38,200 for AWD)/$46,900 Canadian.
Copyright 2009 Jim Bray
TechnoFile.com