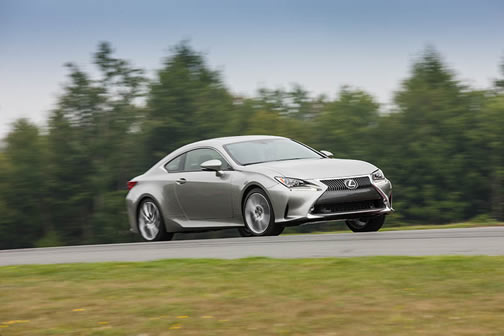 Lexus RC 350 'F-spires' to sportiness
By Jim Bray
February 27, 2015
Lexus appears to be going after the BMW 4 series coupe with its new two door model, the RC. But has it  hit the target? (Click here or on the image to open a slideshow)
In some ways, yes – easily. In others, however, meh. It excels in the livability department, but it falls down where it really shouldn't if it's to be taken seriously: as a driving machine, it's nowhere near the "ultimate" mantle that BMW claims. And that's a darn shame because this is otherwise a very nice set of wheels.
Inside and out, the RC 350 is a beautiful car that hearkens back to previous sporty Toyotas. It reminds me quite a bit of my old 1983 Supra, a car I loved so much and which served me so well that I kept it for 20 years before finally putting it out to pasture. It's probably still running somewhere, classic 1980's Japanese car rust notwithstanding. The Supra as a model is long dead now, unfortunately (though there are rumors it's coming back), and neither Toyota nor its up market brand Lexus has offered a spiritual successor since. The closest they came was the IS coupe, which the RC replaces. Oh, there was the SC 400, but that was more a two door version of the flagship LS sedan and the word "sporty" shouldn't really be mentioned in the same sentence.
The RC 350 is essentially still an IS coupe and, since the IS is Lexus' sportiest offering, that's not a bad thing. And its fundamentals are all top notch, from state-of-the-art electronics and controls to its aggressive look and manner. Even its drive train and other performance-related items, including Lexus' use of the Toyota empire's excellent 3.5 liter V6 engine are fine.
As it sits in the RC 350, that ubiquitous V6 puts out "up to" 307 horsepower, which is competitive. The power gets to the asphalt through an eight speed automatic transmission if you opt for the rear wheel drive model, but Lexus' sample was all wheel drive, so it had a six speed auto with a decent manual mode (in the sport modes, anyway) and paddle shifters. The combination should be a relative tire smoker, but I thought the gearing was such that the RC seemed more reluctant than rarin' to go, which is the opposite of what a real sports coupe should be. Oh, it isn't as if the car's a slug, but I wanted, and expected, more.
What happened? Well, it seems they only went part way, leaving the performance aficionados with the only option of going up to the RC F, which ups the RC 350's ante by cramming a V8 engine under the hood. The RC F is basically a two door IS F – a car supposedly designed to go after the BMW M3 at the time. It was also an excellent car, but once again not as great a driver as the BMW.
But the RC is definitely a sexy beast, and that appears to have been what Lexus was after. According to Cyril Dimitris, Director of Lexus Canada, "there's an intangible appeal to the coupe – a purity of design that promises a fun driving experience." He's right that it's fun, but is it fun?
I would argue that, at least as configured by Lexus Canada in the test sample I drove for a week, it isn't. Oh it's hardly a slouch, but I came into it about a week after sampling BMW's 4 series Gran Coupe, which isn't exactly apples to apples (that BMW is a four door hatchback, though its two door version, which I've driven as well, is clearly Lexus' target), and if I had to decide which car to buy I'd have to tear my hair out. The BMW is fantastic to drive but, thanks to their weird interior and interface designs, I could never live with one. The Lexus beats the pants off the BMW once you're inside, but as a driving machine it isn't even close.
It sure looks great, though, other than the "spindle" grille that, fortunately, is unique to Lexus.
Enough whining! There's still plenty to love here. The beautiful RC (which isn't really radio controlled) looks like something out of Gran Turismo, with swoopy and sporty styling that includes a wide stance and fender flares that say "I mean business!" even if it doesn't. Its front end is dominated by that darn spindle, but on either side of it are multi-LED headlights that look really cool (and work well). The LED's continue to show up elsewhere, as daytime running lights and tail lamps, and the car positively glistens in the sunlight thanks in part to what Lexus says is a "unique five-layer paint process used for the first time on a production vehicle."
The RC 350 AWD features an independent suspension front and rear and rides on 19 inch aluminum alloy wheels. The brakes, power-assisted discs all around with ABS and the other usual assistants, offer good pedal feel and performance.
Inside, the cabin has Lexus' distinctive look and feel. It's a handsome and comfortable interior (well, except for those relegated to the rear seat – and don't try putting three of them back there) that's designed and laid out well. The driver's seat is comfortable and heated/cooled, with memory, and the steering wheel is heated and offers tilt and telescoping functions. The climate control is automatic, dual zone with dust and pollen filters. The start/stop button's a bit of a long reach away, but it isn't a big deal. At least you won't hit it by accident!
Lexus' base audio system is generally pretty good, but the sample had the up market, 17 speaker Mark Levinson premium audio system and it positively rocks, offering exquisite sound. Alas, this audiophile system refused to play my audiophile discs. It refused DVD-Audio discs completely and only played SACD's as regular CD's. I doubt many people will notice or care, but it strikes me as a serious audio oversight when you're spending an extra $6500 for the option - though to be fair, the package – called F Sport Series 2 – also offers stuff like a pre-collision system, lane change assist, adaptive cruise control  and parking assist.
The driving position is very good, though there's a weird protrusion into the driver's foot area from the center console. It doesn't really get in the way, fortunately. Navigating the LCD screen is accomplished by Lexus' Remote Touch feature, which used to use a mouse to move the cursor around the screen but which now uses a track pad. I've complained about this system in the past, because it requires you to take your eyes off the road too much, and the replacing of the mouse with the track pad does nothing to correct this. There's also voice recognition, but the Toyota/Lexus system leaves quite a bit to be desired (to be fair, most of them do).
The RC's dashboard is one of those Lexus gee whiz gewgaws that lets you slide the central gauge over to the right, at which time the other displays congregate to its left as opposed to splitting them on both sides of the centrally-mounted gauge. It's nifty and cool, but I preferred leaving the gauge in the middle because when it's off center it spoils the lovely symmetry of the display area. It isn't a big deal, just a personal preference and your mileage may vary.
Lexus says there are six different versions of the RC350. It starts at $54,000 Canadian. Lexus Canada's sample had most of the boxes checked, including $650 worth of lovely "Ultrasonic Blue Mica 2.0" paint, and it came in at a healthy but not unreasonable $61,150, not including the usual kilos of extra flesh via taxes and fees.
It's hard not to like the RC 350. It offers a lot of comfort and technology, and it'll probably be discovered by alien archaeologists in about a thousand years, still running. But if you're looking for something to use for curve carving, it isn't your best choice. But it sure is nice!
Copyright 2015 Jim Bray
TechnoFile.com