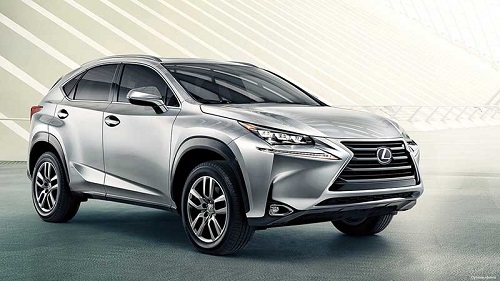 Lexus NX a terrific entry level luxury ute
By Jim Bray
February 5, 2015
Boring, it definitely isn't. (Click here or on the image to open a slideshow)
Lexus' newest SUV, the NX 200, is sized like the RAV4 but since it's a Lexus it ups the luxury ante substantially over the popular Toyota ute. But that hedonistic turn hasn't turned the NX into a softie; rather, it has even introduced Lexus' first turbocharger to the mix and the result is a really nice vehicle that will probably sell really well.
The NX is available in two models, the turbo gas engine and a gas/electric hybrid that's probably very nice but probably not particularly compelling to drive. Fortunately, Lexus Canada sent the turbo model, in its up market F Sport livery, and I loved it. I didn't expect to, but I did. So I had the NX 200t (the hybrid's the NX 300h), which starts at $40,950, and it very quickly wriggled its way into my heart, becoming my favorite of the current Lexus models I've driven.
All new for 2015 – Lexus' sample was apparently one of the first to hit the Calgary region – the little SUV features good handling and, a handy feature for this time of year (dead of winter) all-wheel-drive. It's also comfortable and has a suspension that toes the line between sport and comfort very well (in sport mode, anyway) – better than some other Lexi I can think of.
Outside, the NX has yet another "bold interpretation" (that's how Lexus refers to it) of that awful "LOOK AT MEEEEEE!" spindle grille, though the rest of the unit looks pretty darn fine. Lexus says the exterior design is supposed to evoke the appearance that the thing has been cast from a single piece of metal, though fortunately it wasn't built that way or it might be a tad difficult to get in and out of it.
The two liter Atkinson cycle engine features a twin-scroll turbo and it delivers "up to" 235 horses and 258 lb.-ft. of torque. It's plenty; oh, you aren't going to win many drag races, but this isn't that type of vehicle. You will find it has more than enough power to get it up to freeway speeds competently, and you shouldn't have any issues with on ramps or even passing if you need to do so. And the turbo lag isn't bad at all.
Power gets to the four wheels through a decent, six-speed automatic Super ECT transmission with lock-up torque converter. Lexus' sample F Sport version also had paddle shifters and the manual mode was pretty good in sport mode.
Naturally, the brakes are discs all around, with ABS and the other aids that are common these days; brake feel and performance are just fine. There's also an electric parking brake.
Standard equipment on the NX 200t includes dual zone automatic climate control, eight-way power adjustable front seats, a backup camera, power windows (with one touch up/down function on all windows) and an eight speaker Lexus Display Audio system (with Bluetooth connectivity, USB audio input and steering wheel-mounted controls). There's a multi-information display on the instrument panel as well as an LCD on the center stack. Other standard equipment includes cruise control, a Smart Key System with Push Button Start/Stop, an onboard first aid kit, tire pressure monitoring system, 17 inch aluminum alloy wheels with locks, a roof-mounted spoiler, variable intermittent wipers and nifty LED lighting.
The workmanship looks first rate, as you'd expect with a Lexus, and the interior is comfortable and reasonably roomy. We had occasion to have three people in the back seat, however, and they weren't very happy about it. The rear seat is also mounted higher than the front, which is nice for outward viewing for the folks in steerage, but blocks the driver's view to the rear if a third head is in attendance. My test unit also had no rear seat heaters, which I heard about from steerage passengers who'd been spoiled by other vehicles during our particularly chilly test session.
The NX is quite interesting to drive if you put it into Sport mode, at which time the shift paddles also seem to come more alive under your hands; normal and eco mode aren't nearly as interesting, though even there the paddles came in really handy on snowy winter roads.
One thing I really hated about the NX – and this appears to be a new feature for Lexus because it isn't unique to the NX – is the replacement of the "Remote Touch" cursor control system's mouse with a track pad. I've complained about the Remote Touch system since I first tried it because, as with a computer mouse, you have to keep your eyes on the screen to see where your cursor is going (feedback notwithstanding). Alas, while they've gotten rid of the mouse, they haven't changed the interface as far as I can tell, so the difference now is that I realize it isn't just the trackpad or mouse I can't stand, but the overall interface itself, which is great on paper but not great in real life driving. And of course if you're trying to use the trackpad with gloves on you're in for a frustrating experience.
Also, for some reason, the NX didn't like my cell phone; I had the dickens of a time pairing it initially, though it worked fine after that.
On a more positive note, I noticed that the seat heaters fire up at whatever setting you had them when you shut the vehicle off last, which was a nice touch. Not a big deal, but handy.
When driving at night, both I and my son noticed a weird amber flash of light in the windshield periodically. We couldn't put our finger on it, nor could we tell what the source was; but it was just strange and we haven't noticed it with other vehicles. Perhaps our sample was haunted.
The NX is pretty well equipped right out of the box, but if you really want to go for it Lexus offers five optional packages, ranging from the Premium Package (MSRP starting at $44,400) and the Luxury Package (starting at $49,950), which give you stuff like larger (18 inch) wheels, ventilated front seats with memory, a panoramic sunroof, 10 speaker audio system, rain sensing wipers, auto levelling headlights and nannies such as blind spot  and cross traffic monitors.
The Executive Package adds stuff like a wireless charging tray for your toys, head's up display and more nannies (lane keeping assist, pre-collision system, adaptive cruise control, automatic high beams and more.
If you're looking for a bit more spirited ride, there are two F Sport packages (series 1 - $50,350 and 2 - $53,050) that can up the entertainment ante via a sport-tuned suspension, paddle shifters, sport pedals and cosmetic upgrades. The highest end F Sport package includes stuff like a variable suspension system and some of the nanny stuff from the Executive package.
I was surprised, pleasantly, with how Lexus did the NX' power train. It's great – and now that they've embraced turbo performance, I hope they offer it on the little CT 200 wagon, which to date has been available only as a hybrid – much to the detriment of its performance (other than at the gas pump). If they'd put this system into it, they'd have a really nice little wagon because I always liked the CT otherwise; it just needs more interesting oomph.
Immediate completion includes the Audi Q3, BMW X1, Mercedes-Benz GLA and maybe even the Infiniti QX50.
Copyright 2015 Jim Bray
TechnoFile.com