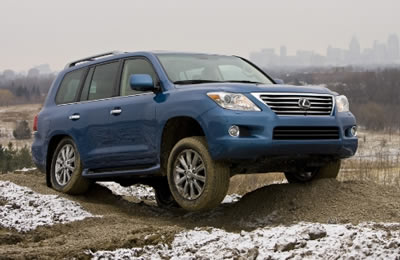 Big Lexus SUV Ups Its Own Ante for 2009
By Jim Bray
February 18, 2009
The Lexus LX 570 is the latest iteration of a vehicle that really began life decades ago as the Toyota Land Cruiser wagon – a fine vehicle then and today. The current version features a bigger and more powerful engine, more interior volume, more technology and more luxury appointments than you can shake a stick at.
It's also a huge vehicle that cuts a swath through traffic. This is definitely a "full size" SUV! And there's a lot to like about it.
Though still a new model, North American customers are now offered new options to sweeten the deal. U.S. customers can choose either a Luxury package that includes nicer interior trims, a cool box up front, smartkey access (I hope it works better than the one on my tester, which drove me nuts) and upgraded 20 inch wheels. There's also a series of individual options that lets you equip the LX a la carte.
Canadians can now partake of the Premium Package, with which my test unit was equipped, which includes stuff like Intuitive Parking Assist, a wide-view front and side monitoring system, a power rear door with jam protection (a really handy feature, especially if you like augmenting your peanut butter sandwiches!), air conditioned front seats and upgraded interior finishes.
The Ultra Premium Package adds stuff like premium leather seat surfaces (not that the base ones are slouches!), the Lexus Pre-Collision System, Dynamic Radar Cruise Control, special style features, a rear seat DVD entertainment system and 450-watt, 19-speaker, 7.1-channel Mark Levinson Reference Surround Sound audio system that will probably still strip the lead vocals from my "Tommy" DVD-Audio disc for some weird reason.
The Lexus' size is matched by its 5.7 liter V8 which, cranking out 383 horses and 403 lb-ft  of torque, that provides you with more than enough motivation – a good thing in a nearly 6,000 pound vehicle! Power gets to the road via a very smooth six speed automatic transmission with a "sport" mode.
The Lexus focuses more on luxury and off-road capabilities than sport, and that's fine. For off-roaders, it features full time four wheel drive, with "crawl control" technology, which Lexus says lets you drive at "a constant, super-slow speed to safely navigate gravel, mogul-covered roads, or other unstable surfaces"
It handles lousy roads beautifully. When I first reviewed the LX I found myself cruising along on a very crummy dirt road – one I drive gingerly. I was cruising along happily and serenely when I happened to look down at the speedometer I discovered that I was tooling along at about twice the speed I had thought, with no problems whatsoever. That's how stable this vehicle is.
That's all the "off-roading" I've done, but I wouldn't be surprised if you could drive the LX up a perpendicular wall.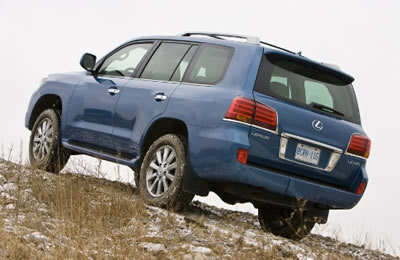 The big SUV's high tech suspension just about does the samba for you. It features independent double wishbones up front, with a multi-link bum, and comes with "4-Wheel Active Height Control and Adaptive Variable Suspension technologies," so you can raise or lower the vehicle for loading or off roading. There are also modes ranging from comfort to sport ("sport" being relative). I generally left it in "comfort" and it felt great.
And don't forget the full complement of electronic nannies, including Vehicle Stability Control and Active Traction Control, which help make the vehicle drive and handle as well as a small bus possibly can, while offering wonderful smoothness and comfort.
I was glad to find running boards on my test unit; otherwise, getting into and out of the big vehicle would have been, well, interesting. It would have been especially challenging during my week of dirty road driving, since it would have been difficult keeping cuffs clean without the handy step-up.
Speaking of luxury and comfort, the Lexus throws such things at you – in what the company has referred to as " the unique Lexus Spirit of Hospitality". This means you'll be stroked nicely, thank you, with such amenities as four-zone independent automatic climate control system (with a full set of controls for the middle row), electroluminescent gauges with a multi-information display, seating for up to eight passengers, a wood and leather-trimmed steering wheel and shift knob, walnut wood interior trim, leather door trim, power tilting/sliding moon roof, illuminated running boards, front and middle row heated seats, a hard drive-based navigation system and plenty more.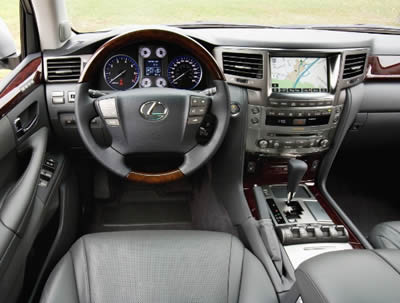 My test unit also had Bluetooth capability and voice recognition, which worked pretty well. The hands-free phoning aspect was a wonderful feature, and you can save your most-often-called numbers into the vehicle's speed dial phone book.
It also had satellite radio activated and auxiliary audio and power jacks on the console, where they're easy to reach and use.
The touch screen interface that controls the audio, HVAC and the like is a nice one, very easy to use and understand.
Alas, I found the window controls on the driver's door armrest hard to reach, since they're on the lower section of a double decker armrest and you have to reach around the upper level. A nice touch is that all windows feature auto up/down capability.
The front seats are wonderfully comfortable and the second row is pretty good as well, though my passengers and I found there wasn't enough foot room under the front seat backs. There's plenty of leg room, but if you have the second row moved forward so people in the third row aren't beating you about the head and shoulders clamoring for more room, it's a tight fit for the tootsies.
That third row isn't bad. The seat's relatively comfortable, but leg room is at a premium. I sat back there for about an hour and a half and was wishing within about fifteen minutes that I were an Ewok.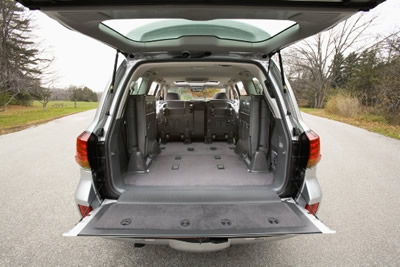 The third row is of the "jump seat" variety which means they fold up sideways, cutting into hauling space instead of folding flat into the floor.
The Lexus includes parking aids such as a camera whose view can be adjusted to cover the rear, front or passenger side, which could come in handy when you're parallel parking the big beast. And of course the safety equipment includes a bevy of bags, belts and the like.
The LX 570 seems a logical choice for people looking for extreme comfort and luxury and who also want state-of-the-art off roading capabilities.
The 2009 Lexus LX 570 starts at $75,705 U.S./$79,800 Canadian. That's a healthy hunk of change no matter how you slice it – and that's before options – but for that money you get an incredibly classy and capable vehicle that'll take you anywhere except perhaps the surface of the moon, and do it in supreme comfort.
Copyright 2008 Jim Bray
TechnoFile.com