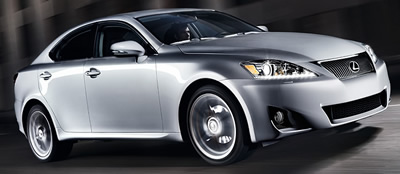 IS 350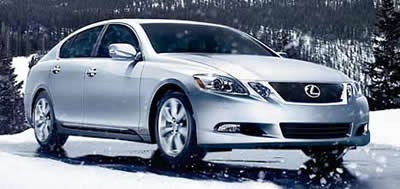 GS 350
Lexus IS and GS 350's – Sweet Rides Sweetened for '11
By Jim Bray
February 17, 2011
Lexus has been an incredible success story for Toyota since its introduction more than 20 years ago, when the outstanding LS400 luxury sedan not only dared to challenge the European luxury models, it kicked sand in their grilles in the process. 
Since then there has been a succession of great and somewhat great vehicles from Lexus as the brand expanded to fill new luxury niches. That evolution added the IS and GS rear drive sedans to the mix (so far), the SC coupe, a series of SUV's – and the front drive ES and HS hybrid.
They're all wonderful vehicles to varying degrees, comfortable and full of technology. The most common complaint I hear is that, except for the IS F and the new LFA supercar, there isn't a really sporting choice among them – unlike, say, the garden variety BMW.
This is a legitimate criticism, but remember that Lexus is first and foremost a luxury brand. And sportiness can be in the eye of the beholder. I've driven the IS F and it's a lovely, snarly ride, but having recently spent some time in the new IS 350 All Wheel Drive, I think if push were to come to shove, I'd put my dollars on it instead.
This surprised me, because not only do I like a hot car, I thought I liked the GS better than the IS because it's a little bit bigger and therefore a little roomier inside.  But I got to drive the IS and the GS 350 (both in their new AWD configuration) back to back and the IS has won me over. Its interior is a bit more attractive and the wonderfully torquey 3.5 liter V6 engine the two cars share gives a little better performance in the IS.
Plus, my test IS 350 had paddle shifters. Game, set and ping pong match (I had to get a "paddle" pun in somewhere!).  
Neither the IS nor the GS are all-new generations for 2011, but they've been tweaked a bit to help keep them competitive.  And they are.   
Lexus has squeezed a little more power from the engine this year, raising the IS' pony ante (does that make it a "pony ante" operation?) to 306 horsepower with a peak torque of 277 lb.-ft.. The GS 350 has to make get by with a mere 303 hp/ 274 lb.-ft., which was still V8 territory only a few years ago. And if that isn't enough for you, the offer a V8 version as well: the GS 460, which claims 342 hp @ 6,200 and 339 lb-ft @ 3,600 rpm.
Other upgrades for the 2011 IS 350, include an IS F-type steering wheel with paddles, 18 inch wheels, a sport-tuned suspension,  rear spoiler, power tilt/telescoping steering wheel, and rain sensing wipers.  
Perhaps the biggest technical tweak besides the extra oomph is the addition of the AWD option, which came in very handy during my wintry sojourn with both Lexi.
My pretty loaded sample IS 350 also had a power moon roof, hard drive-based voice-activated navigation system with integrated back-up camera, 14-speaker Mark Levinson Audio system, and heated and ventilated front seats.
I've always had a quibble with Lexus for the LCD screen systems, which have traditionally defaulted to the map after a few seconds (if you have the navigation system), even if you'd rather it displayed the audio or whatever. Most people don't need a map in every day driving, so why not let the screen stay wherever the driver wants it?
I noticed this time, however, that there's a setup option now that keeps the screen on what you want. It isn't new for 2011, but it's certainly welcome.  It's also a very small thing, I admit.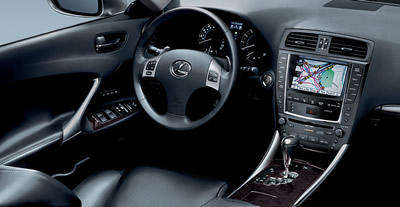 IS 350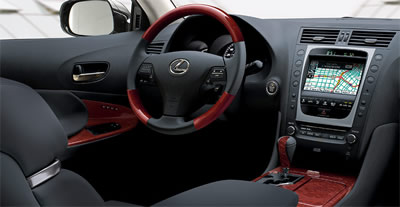 GS 350
On the other hand, I've also complained repeatedly about their up market Mark Levinson audio system. It has DVD-Audio capability and it sounds very good indeed, but it has never played my DVD-Audio disc of The Who's "Tommy" correctly; it strips out the lead vocals to make it sound like a "classic rock karaoke" thing.
They appear to have addressed this as well – but not in a good way. Now, instead of playing the disc with an audio hole in it, it played the first few seconds of a track, then stopped and repeated the process until I ejected the disc.
Obviously, this is not an audio system for Who fans.
On the other, other hand, I could stream audio from my phone via Bluetooth, and that's a wonderful feature.
If only my phone played DVD-Audio discs….
Minor quibbles aside, the IS 350 AWD is an extremely nice car. It won't peel the flesh from your face like the IS F will, but it's fast enough, the electric power steering feels is nice enough, the paddles (though they don't shift the best of all paddles I've used) are a great bonus and the suspension treads the line between luxury and sport beautifully – a little more agile than the GS's, but not jarringly so – just as it should.
Thought it wasn't as loaded as my test IS 350 was, the GS 350 AWD also came well equipped, with such amenities as leather seats and trim, bird's eye maple wood trim accents, dual-zone automatic climate control, 10 speaker audio system with six-disc CD changer and USB input, 10 way power adjustable heated front seats with three setting memory, power tilt and telescoping steering wheel, illuminated entry system, power moon roof, and more.
The AWD sedan also featured electric power steering, auto leveling HID headlamps (with adaptive front lighting system), headlamp washers and fog lamps, and lots more.
And of course you can option it up if you want. You can get that Mark Levinson audio system, for example.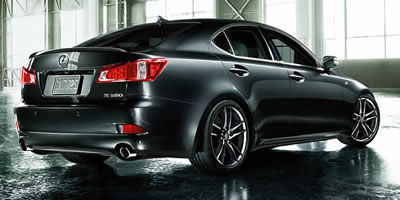 IS 350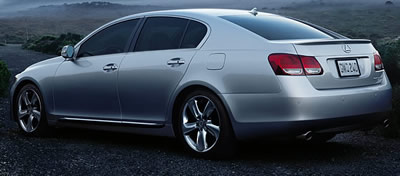 GS 350
My test GS had the base audio system, which is darn good in its own right and didn't break my heart.
Both Lexis' 3.5 liter V6 are mated to a nice and smooth six speed automatic transmission with sequential shift control - though I with the GS had offered paddles.  Both cars also come with stuff like Traction Control and Hill Start Assist Control, ventilated disc brakes with ABS (etc.) all around,  and enough air bags, belts and the like to choke a horse.
It was great getting a chance to drive these vehicles close together because it gave me a bit of insight into where they're aimed. Both cars feature a lot of the same stuff, but it's clear that the GS (at least until the GS F comes out) is aimed more for luxury buyers while the IS concentrates a bit more on sportiness – though not at the expense of coddling its customers.
Each is a fine car and you can't really go wrong with either. I'm not sure I'd spend the extra money on all wheel drive even though I live in a snow belt, but if you want the extra confidence you can get from having all four corners of the car involved in the process, either of these cars will do the job well.
The Lexus IS 350 AWD starts at $41,530 U.S./$44,950 Canadian. The GS 350 AWD starts at $48,050 U.S./$54,650 Canadian.
Copyright 2011 Jim Bray
TechnoFile.com