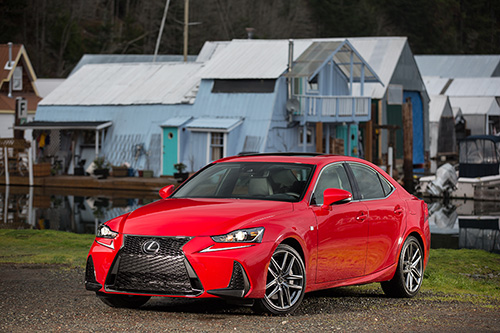 Whether in rear or all-wheel drive, Lexus' IS sedans are luxurious and fun
By Jim Bray
March 24, 2017
The Lexus IS has always been a nice and sporty sedan - with various levels of sportiness - and for 2017 Lexus has upgraded its interior and exterior styling, while adding more stuff and upgrading its technology.

I guess you could say it's the "IS-ing on Lexus cake…"
Click on the image to open a slideshow.
The IS has been my favourite Lexus sedan for quite a few years and - full disclosure - there's an original generation IS in my family, where it serves loyally and enjoyably. I'm still more than a tad ambivalent about the current exterior styling, especially the cowcatcher-like "spindle grille" and the pinched taillights, but overall it's an eye catching and modern-looking vehicle. And inside it's even nicer.
For 2017, the IS "sports" a redesigned front fascia with bigger air intakes in the bumper and revised headlamps that now feature LED's on all IS's (I guess that's the way it "IS"!). The taillights have been restyled as well, with a more pronounced (but not more attractive) L-shape, and cool new rectangular chrome exhaust tips that hint at the vehicle's purportedly sporty nature. Non F SPORT models get new wheel designs as well.
There are several enhancements inside, too, including tweaks to the audio and HVAC control panels, a new dashboard-mounted analogue clock, new stitching on top of the instrument panel's hood and new cup-holders.
The IS also gets the Lexus Safety System + this year, as well as rain sensing wipers.
Perhaps the biggest news is the new, rear wheel drive IS 200t (starting MSRP of $40,150), which features the same turbo four as in the terrific NX 200t. It's rated at 241 peak horsepower and up to 258 lb.-ft. of torque. You can also get it in F Sport livery ($44,950 to start), which ups the content ante from the base model. Alas, even if you want such mainstream things as a rear view camera or sunroof, you'll have to upgrade from the base to the F Sport package. You'd think a luxury car from the company that redefined the luxury car nearly 30 years ago would have stuff like that standard.
I drove the IS 200t nearly back to back with an IS 300 AWD and the comparison was very interesting. Sure, the 300's V6 offers more oomph (255 peak horsepower) but the lighter turbo four sure didn't give up much, if anything in performance. Alas, it was the dead of winter and very cold when I drove both, so I couldn't exploit their capabilities as much as I would have liked.
It was interesting to compare the 200t's rear wheel drive setup with the 300's all-wheel propulsion - especially on our snowy roads. Sure, they both have a "snow" setting that basically makes it feel as if you've thrown out an anchor or emasculated the engine, but on one particularly icy hill the power going to all four wheels could have proved more secure and safe than the "butt-end-only-driven" one I had on that inclined hockey rink of a hill (though the rear wheel drive was more fun in snowy parking lots!).
On the other hand, that particular hill was so slick that even AWD might have proved inadequate; I had to crawl the Lexus up behind a sanding truck or I might still be there.  
Lexus Canada's sample IS 200t came with one of the three F Sport packages and, besides adding $4,800.00 to the base price, it also upped the content ante with Active Sound Control, a three spoke F SPORT Steering Wheel, P255/35R18 rear and P225/40R18 paws, an F SPORT Center Wheel Ornament (now THERE'S a performance enhancement…), Blind Spot Monitor, Rear Cross Traffic Alert, Heated and Ventilated Front F SPORT Seats, the backup camera, "LFA Style" LCD Instrument Cluster, the power moon roof, F SPORT grille and aero package, electrochromic rear view mirrors, F SPORT shift knob and Scuff Plates.
You'll note that most of this stuff is cosmetic or comfort-and/or-safety-related rather than "sport," but that's the Lexus way. And it isn't as if the IS isn't sporty; it's arguably (argued by GS owners, I'd warrant) the sportiest of Lexus' sedans, especially since you can't get the V8-powered IS F any more. You can still get the GS F and (though I haven't driven it) it's probably a peach - but it's also a larger car, analogous to the Audi A6 vs. A4, or BMW 5 series vs. 3 series.
So if you're looking for a compact Lexus sports sedan, you'll have to be content with a V6 or the turbo four (both of which growl very nicely when you tromp on the fun pedal).
Not that you'll be suffering…
Upping the Oomph Ante…
The IS 300 AWD (starting at $42,950) comes with a 3.5 litre V6 that cranks out 255 peak horsepower and is connected to a six speed automatic transmission with paddles, and all-wheel drive. The transmission is an interesting choice, since the 200r gets an eight speed automatic.
The base model comes standard with a 10 speaker Lexus Premium Audio system that's pretty good, 17 inch alloy wheels with locks, dual heated exterior mirrors with integrated signal lamps, and more.
Lexus Canada's sample was pretty well base, except for the optional $6,700 "Luxury Package," which adds stuff like a heated steering wheel, power tilt and telescopic steering wheel, 18 inch aluminum alloy wheels and quite a bit more.
Alas, it didn't have some of the options that could make it even more compelling to drive - there was no "sport +" mode, for example, and I missed it, but that hardly means you're sitting on a wooden bench inside a wet cardboard box. It is a Lexus, after all, and that means something.
And if the most Spartan version isn't enough for you, you can option it up with the Premium, Luxury, or F Sport (Series 1 or 2) packages. If you add in everything the top F Sport 2 package gives you (which includes stuff like an in-dash DVD system, navigation, Blind Spot Monitor with Rear Cross Traffic Alert systems, electro-chromatic side view mirrors and more), it'll set you back $49,100.
There's also an IS 350 model with all-wheel drive, and its 3.5 litre V6 puts out 306 peak horses. It starts at $53,350 and if you add all the packaged stuff available (which is the F Sport Series 3 package) you'll have to write a cheque for $54,650, which seems like a surprisingly good deal considering how much some of the packages cost.
As far as the 200t and 300 IS's are concerned, however, I'd have a really tough time deciding between them - and the more powerful IS 350, with its even more powerful V6, makes that even tougher. My head says the turbo four is more than adequate, but my heart says "buy the one with the most power!" The IS 300 may be the best compromise between power and weight and driveability, and I'd love to try all three back to back to find out.
If nothing else, Lexus deserves kudos for putting that lovely turbo four into the sedan. I've been saying ever since the NX 200t came out that they should also drop it into the little CT 200h; that little hybrid wagon is a lovely car until you start to drive it, at which time it becomes a plush Prius - and an old Prius at that, since the new one drives much better.
If Lexus would drop in the turbo four and give it a real transmission other than a CVT, however, I wouldn't be surprised if they had a car that could go head to head with the likes of the Audi A3.
Copyright 2017 Jim Bray
TechnoFile.com