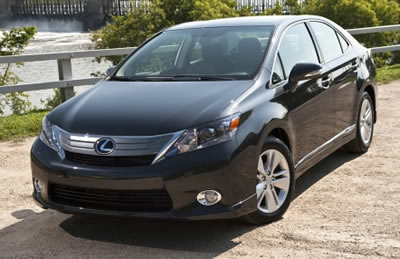 Lexus HS 250h – an Easy to Like Hybrid
By Jim Bray
June 24, 2010
Call it an uber-Prius, if you like.
It's the Lexus HS 250h, the luxury car maker's first four cylinder model, and at heart it's a luxury hybrid. It's also a very nice car that would undoubtedly be easy to live with.
And it's so green, regardless of which color you order it in, that it could drive you nuts. Not only is it supposed to sip gas (Lexus claims a mileage rating of 41.3 mpg or 5.7L/100 km, though I never got that), but it's also supposedly equipped with an interior that's nearly one third populated by "sustainable ecological plastics" whatever the heck that's supposed to mean.
I don't buy into all that Gore-bull warming stuff, and I'm not convinced hybrids are a panacea for Gaia, either, especially when today's clean diesels are included in the mix. But there's nothing wrong with efficiency.
Having said that, no matter how you slice it or dice it, the HS is a nice little sedan in its own right and the more I drove it the more I liked it. Its styling is a tad "vanilla", but if you want to blend in with the crowd while still enjoying the comforts of a Lexus, this might be the vehicle for you.
And while it may not quicken the heartbeat the way a performance sedan like a BMW 3 series can, it'll undoubtedly prove to be solid and reliable over the long term and there's nothing wrong with that.
The heart of the HS 250 is an Atkinson-cycle engine, which supposedly sacrifices some oomph in order up the engine's efficiency quotient. It's is a twin-cam power plant with four valves per cylinder and Variable Valve Timing with Intelligence (VVT-i) on the intake side. Peak output is rated at 147 horsepower, which is nothing to write home about these days, but when combined with the hybrid drive motor, that figure is bumped up to 187 horsepower in total.
Lexus also says the HS meets Tier 2 Bin 3 exhaust emission standards, "emitting 70 per cent fewer smog-forming emissions than the average new car."  
Needless to say, even 187 horsepower aren't going to pull your face backward with the blinding speed of its acceleration. If you want that in a hybrid, you're better off looking at something like Lexus' GS 450h, which can rocket along merrily. Here, you're basically faced with an economy car that's been dressed up in a tuxedo.
You can improve or lessen the driving thrill via four driving modes: Normal, Power, Eco and EV, the car changing its demeanor accordingly for those who have green blood or lead feet. I wasn't surprised in the least to discover that I preferred the "Power" mode.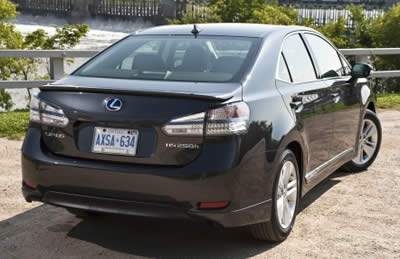 Eco mode adjusts the air conditioning settings and reduces the throttle response to emphasize fuel economy.  If you're really serious about being green, the EV mode uses the electrical side of the power equation exclusively, though it's only good for short distances. It's also only good if you don't mind having your doors blown off by pedestrians. It may make you feel smug, but it's practically useless in the real world.
The HS 250 has decent handling, thanks to a MacPherson strut front suspension with stabilizer bar and a double-wishbone buttock. All four wheels have disc brakes with ABS, of course, and the pedal feel is good. And since it's a hybrid, it features regenerative braking, which sends energy back into the battery pack to recharge it when you're slowing down.
Inside, the cabin is Lexus-like, which should surprise no one. It's appointed very well, and is very comfortable. The electro-luminescent instruments are clear and readable, and Lexus says they offer "fresh methods of keeping track of the various systems in the car" – while helping the driver to conserve fuel by making him or her feel shame when the display shows he or she isn't driving as efficiently as he or she could. Lexus says its internal testing showed the added driver awareness this digital nagging inflicts "has been shown to improve fuel economy several percentage points."
I can see that. The display showed clearly the car's displeasure with my lead footedness and I was so ashamed that I cried myself to sleep.
HS's come with leather seats, the front ones of which feature eight way power adjustment. They're very comfortable. The rear is fine for two, tight for three.
One thing that was pretty cool about the interior of my test HS was the Remote Touch feature, which comes with the optional navigation system. It's a mouse-like cursor control thingy mounted on the center console, nicely at hand. It features a kind of force-feedback "detent" that lets you know by feel when you've moved the cursor over something clickable, which can help you keep your eyes on the road.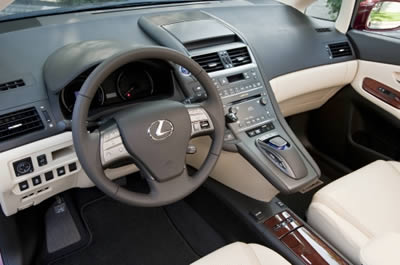 This Remote Touch is a lovely alternative to those knob-like cursor control thingies that are rearing their ugly heads in more and more cars these days and I hope it catches on. It may take up more real estate on the console than a knobby thing, and they need to work on the clunky on-screen interface, but I like it anyway.
The standard audio system includes voice recognition, Bluetooth, satellite radio, USB/iPod connectivity and steering wheel-mounted controls. It's a pretty good system, too. I'm glad to see USB/iPod connectivity getting increasingly popular, because it lets you operate your tune player via the car's audio system instead of having to poke around at the device itself. You could really consider it a safety feature, much like Bluetooth and automatic headlights (the latter of which the HS offers too, of course).
You also get dual-zone automatic climate control, "smart" keyless entry and push-button start, and a powered sunroof.
Safety-related stuff includes a "class-leading" 10 airbags, active front headrests with whiplash protection, LED brake lamps, Vehicle Stability Control (VSC), Traction Control (TRAC), Hill-start Assist Control (HAC), and more.
All in all, the HS 250 is a very nice "entry level luxury" car. It's comfortable and luxurious, drives well, and even offers a reasonably decent driving experience if you let it.
And if you want to feel holier-than-thou for driving a hybrid, it'll let you do that, too.
The Lexus HS 250h can be yours for a starting price of  $34,650 U.S./$39,900 Canadian.
Copyright 2010 Jim Bray
TechnoFile.com