Two great Toyota, Lexus sedans soldier on with few changes for 2014
By Jim Bray
February 18, 2014
It appears that both Toyota's flagship Avalon and Lexus' mid-line GS sedans have entered 2014 mostly the same as when they were introduced barely a year ago. Fortunately, it isn't as if they needed a lot of updating, anyway, because they're both very good vehicles. (Click here or on the photo to open a slideshow)
Lexus Canada sent the GS 350 AWD with more sporty F Sport package this time, a version of the car that promises an upgraded smile component for driving enthusiasts. It features the same 3.5 liter V6 engine (rated at 306 horsepower and 277 lb.-ft. of torque) and the drive mode selector on the center console changes the throttle and transmission characteristics depending on how you want to drive: eco, normal, and sport settings.
The sport-plus mode supposedly tweaks the F Sport version's adaptive suspension, steering system, and stability-control thresholds for a more interesting driving experience. I didn't get to drive an F Sport version back to back with its more "pedestrian" brother, but it didn't really seem to add a lot of extra joy to how I remember the "basic" model drove.
Not that the stock GS is a slug; far from it! This is a very nice car, indeed. But, according to the Monronie Lexus Canada sent with the sample GS, the F Sport package seems more like just an option package rather than a performance package. According to that document, other than the Sport plus mode's adaptive suspension, the $5050 package only adds stuff like a three spoke F Sport steering wheel, 19 inch aluminum alloy F Sport wheels, 16 way power adjustment for the driver's seat, 10 way power for the passenger seat (both of which also "sport" F Sport leather), an easy close trunk , special F Sport grille  and rear spoiler, metallic accents, aluminum sport pedals with rubber inserts, an F Sport shift knob, and F Sport scuff plates. Oh, a red glow appears on the instrument panel, too. That's sure important!
Lexus does say the F Sport benefits from Dynamic Handling (LDH) with Dynamic Rear Steering (DRS) which they claim "continuously calculates the optimum angle for all four wheels, and improves turn-in-response and body control." The suspension has also been firmed up and there are larger front brakes with high friction pads. That's nice stuff, though it hardly transforms the GS into an M5.
Still, the GS is good to drive. Its horsepower is competitive (and the V6 emits a lovely noise when pressed) and it's reasonably playful, thanks also in part to a nicely shifting six speed automatic transmission with paddle shifters.
I'd love to drive an F Sport GS back to back with a BMW M5 or an Audi S6; I have a feeling those other sedans will be more spirited drives but  - at least in the case of BMW (which seems determined to make their interior interfaces as obtuse as possible) - the Lexus could be the nicest one to live with over the long haul.
Like its rear wheel drive sibling, the all wheel drive GS' suspension features an independent, double-wishbone setup fore and an independent multi-link rear suspension aft. There are stabilizer bars at both ends as well.
Not surprisingly, the car also comes with four wheel power-assisted discs brakes with ABS and all the other usual electronic aides. Pedal feel and brake performance are very good. The electrically assisted rack and pinion steering is surprisingly good; you won't mistake this for a Panamera, but that's not this car's mandate. Lexus' sample also featured a heated steering wheel, which is a wonderful feature on cold days.
Inside, the GS features very comfortable and supportive seats and a huge, two-part 12.3 inch LCD display with Lexus' Remote Touch interface – a mouse-like thingy that sounds great on paper, but which forces you to take your eyes off the road to use it, making it more than a tad counterproductive. I love the idea, but longed for a more mainstream knob or touchscreen.
And of course being a Lexus means it comes with stuff like dual-zone automatic climate control, a power tilt-and-telescopic steering column, seat/outside mirrors/steering wheel memory, a power moonroof, power sunshade for the rear window, headlight washers and rain-sensing windshield wipers.
The audio system is typically good. Lexus' sample had the 12 Speaker Lexus Premium Audio system, which also (of course) includes Bluetooth capability for phone and tunes, integrated satellite radio (subscription required), auxiliary and USB inputs, and SIRI Eyes-Free (you can't be SIRI-ous!).
There's also a back up camera and voice recognition, the latter of which works better than many.
The front seat heaters (which are also ventilated) have a nifty, automatic setting so you can set it and forget it, even if you shut off the car, and the winter drive is enhanced by a terrific snow mode that came in really handy during my week with the GS.
The rear seat is pretty good. There isn't a lot of foot room under the front seats, but the legroom's okay. On the other hand, while the trunk is big, it has a smallish opening.
This current GS is the most attractive of the car's generations, with a more aggressive look than the older ones. It also looks a bit reminiscent of the big LS sedan, a nice family resemblance that's also carried "down model" to the front drive ES 350.  I still have issues with Lexus' awful "spindle" grille, but it isn't as audacious on the GS as it is on the IS series. 
The 2014 Lexus GS 350 AWD starts at $54,900 Canadian. The only option on this particular sample was the F Sport package, so the entire bill came to $59,950.00, sans taxes and various fees.
As I said when I first drove this new generation of GS, Lexus has done a really nice job with this car. It offers a lot of nice features, and a good driving experience, for a not unreasonable price considering what else is out there. The BMW 5 series, for example, starts at just under $55,000 Canadian, while the Audi A6 starts at just under $54,000. Both of those competitors offer turbocharged four cylinder engines in that price range, however, as compared with the Lexus V6.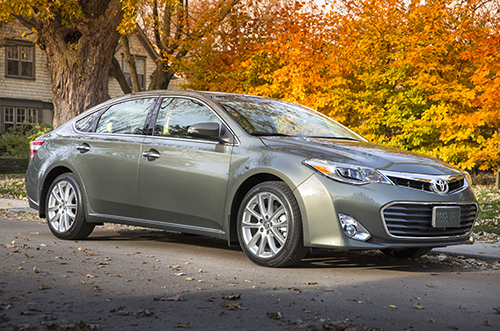 More flagship than ship….
Toyota's Avalon, meanwhile, continues to amaze me. The company's biggest sedan was also redesigned about a year ago and is now less like "your father's Oldsmobile" and more like simply a splendid large family sedan. And it's very nice. (Click here or on the photo to open a slideshow)
Avalons are available in either XLE or Limited trim levels; Toyota Canada's sample was of the Limited variety (limited, undoubtedly, to however many they can sell!) and came in at a surprisingly reasonable $40,804.45. And you know, I'd have a tough time deciding between this car and the GS if I were shopping. That's how nice this Avalon is!
The sample had no options, just all the stuff that comes with the Limited package, but I can't really think of anything important that it lacked. Even though it tends to wallow a tad if you leave it in normal mode, the sport mode tightens the car's performance up quite nicely and contributes to a vehicle that's more entertaining to drive than you'd expect from such a large and relatively staid vehicle.
On the other hand, there's an eco mode for those who insist on being green. It should help achieve better gas mileage, but you'd better bring along some strong coffee because otherwise it might lull you to sleep as you drive. That said, there are far less interesting vehicles to drive in "eco" mode than the Avalon.
Those who appreciate the art of driving will find plenty to love, though. And even though Toyota's 3.5 liter V6 engine oozes out less oomph than the GS 350 (268 horsepower @ 6,200 rpm and 248 lb.-ft. of torque @ 4,700 rpm) it still has plenty of poop for when you want to get the car up to speed. Power gets to the front wheels through a six speed Super Electronically Controlled (Super ECT) automatic transmission with paddle shifters. Paddle shifters on an Avalon! And they work! 
The suspension features MacPherson struts up front and a multi-link bum. As mentioned, though it's relatively soft (but not excessively), if you put the car into the sport driving mode you may forget you're driving an Oldsmobile, er, Avalon.  
Brakes are power-assisted discs all around, with the usual nannies, and they work fine, as does the power-assisted rack and pinion steering.
Inside, the Avalon is modern, comfortable and very usable, with easy to fathom redundant controls on the steering wheel and center stack controls that tread the line between buttons and touch surfaces very nicely.
The audio system is typically Toyota, in that it offers all the features you'd want, including navigation and Bluetooth capability with audio streaming, but isn't quite an audiophile's dream. You also get SMS-to-speech and Email-to speech capability, and more trendy stuff like that.  
Standard equipment also includes a nice power moonroof.
The seats are very comfortable, and the rear seat is so huge you could rent it out to a homeless family. The front seats feature power adjustment and, of course, heating. The standard climate control system features dual zones and automatic operation.  
The trunk is huge – you could probably put another family back there.
Safety equipment includes a blind spot monitor and rear cross traffic alert.
This was my second kick at the Avalon cat, er, can, and I came away just as surprised and pleased as I did last year. This is a terrific car and if you're looking for something in this size and price range, you really owe it to yourself to check it out.
Copyright 2014 Jim Bray
TechnoFile.com