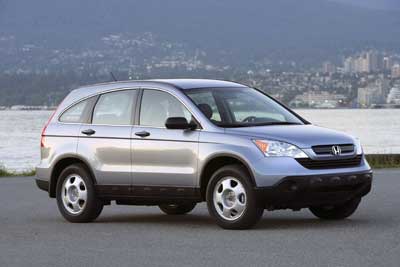 CR-V, GS 450h: Not New, but Still Relevant in '09
By Jim Bray
May 19, 2009
One's a great example of the "cute ute" genre, and the other's a luxurious and eco-friendly road rocket.
And while neither the Honda CR-V and Lexus GS 450h features major upgrades for 2009, both of them continue to be excellent vehicles in decidedly different niches. I got to some quality time in each vehicle recently, which reaffirmed that both are my favorites of the vehicles I've driven in their respective "cute ute" and "hybrid" markets.  
I drove the 2009 CR-V first and, undoubtedly because it was the upmarket EX-L trim level I had this time – a higher end trim than I'd had before, adorned with leather seats and such things – I liked it even better this time.
The CR-V comes with a 2.4-litre, 16-valve, DOHC, i-VTEC four cylinder engine that puts out 166 hp @ 5800 rpm and161 lb.-ft. of torque @ 4200 rpm. This is more than adequate, but I'd love to see them drop a six into it anyway because the extra oomph would come in handy at times.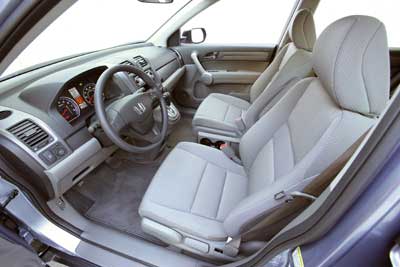 It might also have helped prevent a bit of hunting and pecking between the gears of the 5-speed automatic transmission when I sallied forth into the foothills of the Rocky mountains with the CR-V, though it wasn't severe.
The CR-V handles fine; I've always found it a pleasure to drive. It boasts independent suspension with front and rear stabilizer bars, variable power assist rack-and-pinion steering and Honda's RealTime 4WD system (standard on my test unit's trim level), which sends torque automatically from the basically front-wheel drive CR-V to the rear wheels when needed. The CR-V's ride is comfortable and tight enough to provide good handling without being jarring.
Inside, the CR-V clings to Honda's former mantra of "we make it simple" (and that is a good thing), with an instrument cluster and center stack that are models of clean, quiet efficiency. No cursor control knobs or sweeping vistas of buttons like you find on, well, some other Honda products – just straightforward switches and buttons that make sense and are child's play to figure out.
This is how it should be.
The EX-L trim level adds some nice creature comforts, stuff like very comfortable, heated leather seats that I liked a lot. The driver's seat is power-operated and the tilt/telescope steering wheel is wrapped in leather and features redundant audio controls.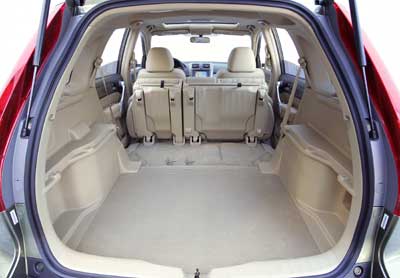 This trim level also offers as standard equipment a 270-watt AM/FM/ 6-disc Premium audio system with 7 speakers and MP3/WMA compatibility. It's pretty good, better than I had expected. You also get an auxiliary input jack and dual zone automatic air conditioning.
There's plenty of storage space around the inside, including a pair of stacked glove compartments and various cup holders and bins. Rear seat passengers sit quite high and get a pretty good view of the outside world. My tester also had a nicely sized sunroof that features automatic, one touch opening and closing.
The base 2wd CR-V in LX trim starts at $21,245 U.S./$27,790 Canadian, while the 4WD EX-L starts at $27,245 U.S./$35,190 Canadian.
If you're interested in my earlier, full review of the current CR-V, you can find it here.
Hot Hybrid
Meanwhile, the Lexus GS 450h hybrid sedan is basically unchanged for 2009, which just goes to show that there wasn't a lot that needed improving. In fact, the GS 450h I drove is only differentiated from the 2008 model by the addition of  a wallet-sized Smart Key.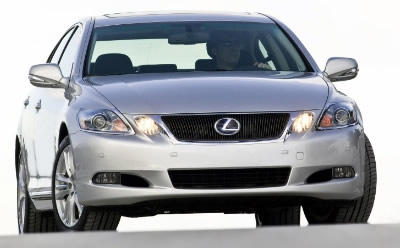 The car is an excellent performer. Total horsepower from the V-6 engine and the high torque electric motor is rated at 339, with torque of 267, which are fine figures for a car with a modern six cylinder engine. The additional electrical oomph feels kind of like adding a turbocharger, without the turbocharger. This is a fast car rather than being merely a "green" one.
Most people probably don't look at a hybrid because they want blinding speed, and that's okay; the GS should please them, too, with its good gas mileage (for a fast V6) and low emissions.
Power gets to the wheels via a continuously variable transmission, with a pretend shift mode.
The 450h looks pretty much like any GS, except for the hybrid logos on the sides and the bluish 450h model indicator on its bum. Inside, there are hybrid readouts and gauges on the instrument panel and center stack, including a multi-information display featuring a kilowatt power meter and voltmeter.
My test unit came with the upgraded satellite radio-ready (but not installed) Mark Levinson Audio system that features AM/FM stereo/cassette/CD/DVD autochanger, 14 speakers, steering wheel-mounted audio controls, etc.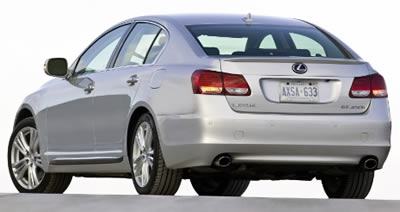 I discovered a flaw in Lexus' Mark Levinson audio systems a couple of years back and, despite my best efforts to sound the alarm to Lexus engineers, it still isn't fixed. This leads the system, which otherwise sounds great, to apparently strip the center channel out of the 5.1 audio mix; I don't notice the omission on some discs, but on The Who's Tommy DVD-A it leads to a karaoke-like experience where you get the instruments and backup vocals, but no lead. Very weird.
On the upside, that infernal lawyers' screen warning you to use the navigation system wisely or burn in hell, now goes away by itself – instead of forcing you to click through it. This is very nice. The screen still defaults to the nav system, and even if you want it to display something else, such as the audio or HVAC settings, it switches back to the map after a few seconds. I wish it wouldn't.
The voice recognition leaves something to be desired, too. I use it mostly in conjunction with Bluetooth (which the GS has) to make my cell phone hands free. The phone part of the equation works great, but the GS kept adding an extra digit to phone numbers I'd dictate, making it quicker to pull over to the side of the road and dial by hand. It was quite frustrating.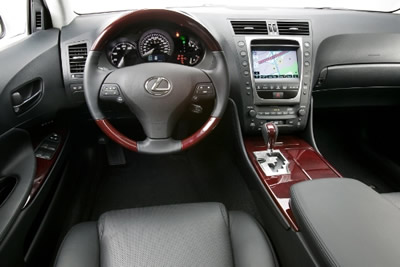 And a premium vehicle such as this should have satellite radio installed and activated – especially when you consider that the little Chevy Aveo I drove just before the Lexus had its satellite radio installed and activated.
I guess the argument could be made that Lexus doesn't appear to need such extras to clinch the sale as much as GM does, but considering how well-equipped the GS is out of the box, the lack of satellite radio seems like an oversight in 2009.
Driving the GS 450h is very rewarding. If you want to bail out Gaia, you can drive it sedately and revel in the smug emissions, while if you want to blow someone's doors off the GS will do that very nicely; it even offers "sport" and "power" settings that tighten the vehicle up appreciably and give it a more interesting feel. The GS hybrid is still first and foremost a luxury sedan, but if you choose to go for its inherent gusto anyway, the only apologies you'll have to consider are to the people holding the radar guns.
The hybrid can operate in gasoline mode, electric mode, or a combination.  
I like the GS 450h a lot, and it would still be on my short list of vehicles in this market segment. But the competition is stiff, and Lexus doesn't dare rest on its laurels. Incidentally, my earlier, full review of the GS 450h can be read here.
The Lexus GS 450h starts at $56,550 U.S./$62,500 Canadian.
Copyright 2009 Jim Bray
TechnoFile.com