Lexus GS adds some sport to its luxury quotient
By Jim Bray
September 27, 2012
It began life as an Italian-designed Japanese luxury sedan and has evolved into an even better, and more interesting – albeit no longer Italian-designed - Japanese luxury sedan.
The Lexus brand, with a few exceptions,  has never been as much about the driver as competitors such as BMW and Audi are, but its overall excellence and quality can't be faulted. And this new Lexus GS 350 appears to be part of the company's attempt to add a bit of "soul" to a lineup that has been criticized as a tad sterile for optimal driver involvement.
The midsize GS has always been positioned as a bit sportier than the big LS sedan (now the LS 460) and, at least in its last incarnation (the only one I've driven) it was. It was still no 5 series BMW, of course, but I liked the car a lot anyway. I even thought its hybrid version, the GS 450h, was an interesting ride, more so than most hybrids – including Lexus' own HS 250 and CT 200, the latter of which would be a really nice little wagon if only they'd offer a more conventional and compelling, gas-powered version.
I think this new GS succeeds in making an already good car even more compelling. Heck, it even has a "sport plus" mode and paddle shifters! I'd argue that its ride still tips the scale heavily on the luxury side of the lux/sport equation, but that sport plus mode makes it a lot more interesting. And if that isn't enough, there's an F-Sport model that promises to up the boy racer wannabe's smile ante even more. I look forward to trying it!
The new GS looks more aggressive than the older one, which is quite a trick considering that I also think it looks quite reminiscent of the big LS sedan – a handsome vehicle in its own right, but by no means a sports sedan. From its "spindle" grille (that looks more like puckered lips) to its attractive, LED-lit posterior, this is a very good-looking vehicle – easily the best GS yet.
The car features a 3.5 liter V6 Lexus rates at 306 horsepower and 277 lb.-ft. of torque (up slightly from last year) and that's more than adequate. The V8 option is gone for this version of the GS, though the hybrid lives on.
A drive mode selector knob on the center console (which is part of the optional Luxury package Lexus Canada's test sample wore) changes the throttle and transmission settings. It offers eco, normal, and sport settings. Crank the knob once to the right to get sport, twice for sport plus, which also tightens up the suspension and steering.
Sport Plus is the best by far if you like driving; the others are all at least a tad too soft – and the eco setting, while it will probably save you some premium fuel, makes the car feel reluctant.
But if you eschew eco, this GS is quite a bit nicer to drive than before. The V6 is a willing engine that sounds fantastic, and it's mated nicely to a fine six speed automatic transmission that rev matches on downshifts. The paddles make this even more enjoyable, though you shouldn't confuse the transmission with a dual clutch automatic.
The exterior looks lower than the outgoing model, with a more aggressive stance. It's also equipped with 18 inch alloy wheels, LED daytime running lights, moon roof, and HID headlights.
My sample GS was the all wheel drive version (you can also get rear wheel drive). Like its sibling, its suspension features an independent, double-wishbone arrangement up front, with coil springs, gas-pressurized shock absorbers and a stabilizer bar, and an independent multi-link rear suspension with coil springs, gas-pressurized shock absorbers and a stabilizer bar.
The Luxury package (and the hybrid) also get an Adaptive Variable Suspension (AVS) with electronically modulated damping.
The car also comes, not surprisingly, with four-wheel power-assisted discs brakes with four-sensor, four-channel Anti-lock (ABS), Electronic Brake-force Distribution (EBD) and Brake Assist (BA). Pedal feel and brake performance are very good.
Steering is surprisingly spry for a luxury sedan, with good feel.
Inside, the GS features a nice analog clock (something Infiniti has been known for), and very comfortable and supportive seats with so many power adjustments it can make your head spin. There's also an outrageously large, two-part 12.3 inch navigation display Lexus says is the world's first, and the second generation of Lexus' Remote Touch interface – a mouse-like thingy that's a great idea but whose prancing pointer requires you to take your eyes off the road to use, kind of eliminating any advantages it might have.
You can expect such niceties as dual-zone automatic climate control with interior air filter, smog sensor and automatic recirculation mode, a power tilt-and-telescopic steering column with automatic tilt-away (to make getting in and out of the car easier), seat/outside mirrors/steering wheel memory, a power tilt-and-slide moonroof with one-touch open/close, a power, sliding sunshade for the rear window, power windows with one-touch auto open/close feature for all, headlight washers and rain-sensing intermittent windshield wipers with deicer.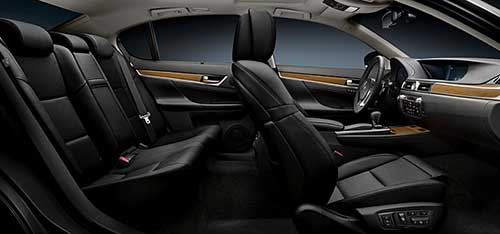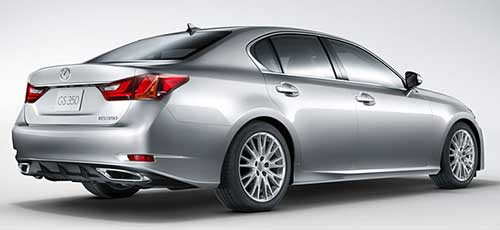 I've been known to complain, probably ad nauseam, about Toyota audio systems, but Lexus has traditionally offered better ones, as long as you don't expect to play DVD-Audio discs (which most people don't). This one, the "basic" 12 speaker Lexus Premium Audio system, includes Bluetooth capability for phone and tunes, auxiliary inputs, and pretty good sound, though you have to crank it before it really starts singing. Once it sings, however, it sings well.
There's also a back up camera and voice recognition, the latter of which works pretty well.
I really had to look hard to find something to complain about with the new GS, lest I be accused of just parroting the party line about the car. That's how good the new model is. But if I must be pinned down I could do without the mouse thingy in favor of a touch screen (though it wouldn't work in this car because the LCD is mounted high on the dashboard, out of reach) and I wish the car would default to whatever mode (Sport plus, for me), you left it in.
But those are obviously quibbles in what is really a fine car, the best GS I've driven to date.
The 2013 Lexus GS 350 AWD starts at $54,900 Canadian, and my "Luxury package-equipped" sample added nearly six grand to that total. I think I'd want that package because it's how you get that sport plus mode.
The package also includes a heated, wood and leather-trimmed steering wheel and shift knob, a "semi-aniline" leather trimmed interior, those 18 way power front seats (with power-adjustable four-way lumbar, side bolsters, thigh support, articulating backrest, extendable lower cushions and adjustable calf support for the passenger seat); butterfly headrests (for when you lend your car to your pet butterfly), and memory for the front passenger seat.
As if that isn't enough, the $5850 Lexus charges for the luxury package gets you heated rear seats, three-zone automatic climate control, the Adaptive Variable Suspension (AVS) with electronically controlled shock absorbers, manual sunshades for the rear door windows, Adaptive Front Lighting System (AFS), and a Tire Pressure Monitor System with tire inflation pressure display function.
Whew!
Lexus has done a really nice job with the new GS 350. Add this compelling new vehicle to the IS-F, LF-A, Toyota's new Camry SE and Scion's fantastic FR-S and it looks as if the carmaker may be serious about adding a better "fun to drive quotient" to its inventory.
That's great news!
Copyright 2012 Jim Bray
TechnoFile.com