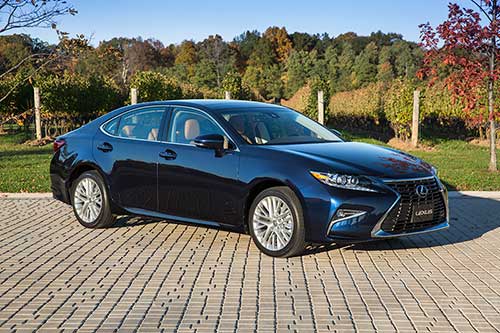 Lexus ES 350 gets freshened for 2016
By Jim Bray
January 8, 2016
Lexus' best selling sedan gets an upgrade for the 2016 model year that makes it an even nicer vehicle than before. And it was a darn fine vehicle already, especially after its last tweaking.
So what has Toyota's luxury division done to this Camry-inspired sedan to improve it? Lots, actually, though much of it won't be visible because it's under the skin. But even that skin has seen some reworking for 2016, resulting in a sedan that's also more handsome than it was before.
Click here or on the picture to open a slideshow.
Outside, the company's designers have made their signature spindle grille a little less "alien Predator-like" without compromising its overall family-themed appearance. I'm glad of this; I've complained about the spindle grille before, and probably will again (watch for my upcoming IS 300 review!), but the 2016 ES's grille features "accentuated brilliant satin chrome" that looks more luxurious and welcoming and less bizarre. To each side of the grille are new LED projector headlights with L-shaped "arrowhead" daytime running lights. Newly designed fog lights are now on the outer lower corners of the front fascia, which help give the vehicle a wider-appearing stance. It's a very classy front end.
So's the car's bum, thanks to L-themed taillights, a restyled license plate garnish (Lexus' sample was garnished with a lovely sprig of parsley - okay, I'm kidding) that Lexus says "flows visually into the clear elements of the lamps to communicate the vehicle's on-road stability." They've even added the relatively sporty touch (not that this car will ever be mistaken as a sports sedan - they have other models for that) in the "newly sculpted" rectangular, chrome-tipped exhaust ports.
ES's come standard with handsome, 17 inch wheels - non-hybrid models such as Lexus' sample unit get beautiful, dark gray metallic, multi-plane machined 20 spoke models, while hybrids only get 10 spokes, proving once again that with a hybrid you pay more and get less. Hey, I'm a spokesman for spokes!
Lexus has added three new exterior colours for 2016: Deep Blue, Graphite Black, and Sonic Quartz, each of which sports (oops, there's that word again) what the company describes as "a cutting-edge paint technology that allows the paint's clear coat to heal itself even from light damage." I wish I'd known this before I took the car back or I would've tried keying it, just for the sake of scientific experimentation, but 'twas not to be. Still, it's beautiful paint.
ES 350's come with Toyota/Lexus' ubiquitous 3.5 litre V6 engine, a lovely power plant that in this in-car-nation is rated at 268 horses, which is more than adequate. Lexus also says you can expect 11.4/7.6/9.7 litres per 100 kilometres, undoubtedly if you drive the car as if it's parked in perpetuity.
Power goes to the front wheels only, but through a nicely shifting six speed automatic transmission. There's a sport mode accessible by a knob on the centre console, too, and it helps make driving the ES a tad more interesting. You won't confuse the ES with a GS - or a GT car - but it's a nice sport setting considering this car's mandate pretty well eschews sportiness. I like sports sedans, but if push came to shove I could live easily with the ES; it's that nice a car.
Inner beauty…
While the ES is classy and handsome on the outside, with a definite family resemblance and connection to the big LS sedan that, like the original ES 250, was one of Lexus' first offerings, the inside is equally lovely - and more so than in previous years.
For 2016, the ES offers some new interior colour combinations, including four options for the seats (Topaz Brown, Ivory, Moonstone and Black) and three seat materials (leather, premium leather and something called NuLuxe). There's real wood trim, quilting on the seats, colour-matching throughout the interior and a new leather boot-enclosed gear selector. There are no paddle shifters, which is a shame, but you can shift manually via the lever.
There's a new steering wheel as well, and a larger colour LCD between the tachometer and speedometer. The mouse-like Remote Touch Interface (RTI) now has "Enter" buttons on either side of the interface knob and it beats the pants off Lexus versions that have trackpad pointing devices. This still isn't my favourite interface controller, but it's getting better.
Standard equipment includes 10 way adjustable power front seats, automatic climate control, a power tilt-and-slide moonroof, power-adjustable outside mirrors with turn signals and defoggers, and plenty more. It's a pretty compelling package considering it starts at an Entry Luxury niche-friendly price of $41,000.
The standard audio system is a good one - save the money the upgraded Mark Levinson version costs unless you're really a diehard audiophile. The standard system features an in-dash CD player, USB/iPod connectivity, Bluetooth audio streaming, HD Radio with iTunes tagging, and an integrated SiriusXM Satellite Radio receiver for those who can justify the 15 bucks a month or so that the service will require once the preview period is over.
If you do want to upgrade the ES, there are some option packages you can choose. The Touring Package adds a heated, woodgrain and leather-wrapped power adjustable steering wheel, leather seats with driver's seat memory, a power rear window sunshade, navigation system with that Remote Touch interface - and a backup camera. It also includes rain sensing wipers, auto-leveling LED high beam headlights and Blind Spot Monitoring with Rear Cross Traffic Alert. This is how Lexus' sample was configured and it was a lovely vehicle.
If that isn't enough stuff for you, the Executive Package adds the 15 speaker Mark Levinson Audio System, premium leather seats (with passenger seat memory), rear door window sunshades, a power trunk lid, LED ambient lightning and the "Lexus Safety System +" suite (see below). The Executive Package also gets you lovely 18 alloy wheels and a panoramic glass roof.
Lexus says ES is the first production model to introduce the Lexus Safety System +, which combines four safety technologies into a single, networked package. Among the nannies are a Pre-Collision System (PCS) which hollers at you if the car thinks you're about to rear end another vehicle or mow down a pedestrian. There's also a Lane Departure Alert and adaptive cruise control. Thank goodness the sample didn't have any of this stuff!
The system also includes an Automatic High Beam feature. You probably won't use it much in the city, but it could come in handy on the highway. 
I think Lexus - which isn't alone in this oversight - is missing an important safety feature by not offering a rear view camera as standard equipment. This is one of the few "nannies" I use all the time when I'm in a car that has it (though it should only be one more place to look rather than lulling you into thinking you don't need to use your mirrors anymore) and I'd rather see it standard on cars rather than the lane departure and pre-collision stuff, which in my experience to date is more annoying than helpful.  
The ES is full of nice touches that make it easier to live with. This includes being able to unlock or lock all four doors from any of them: you merely have to approach the car with the key fob in your possession and as your hand approaches any door handle, the doors unlock (if you've programmed the car that way in its setting menu). You lock them by touching a finger to a special area on the outer door handle - again, from any door, which is very handy and something I haven't noticed before. I hope it catches on.  
This is a wonderful change from some push-button start cars - which don't come with proximity-sensing door locks, forcing you to take the key fob out of your pocket to unlock the vehicle, then return it to your pocket because you don't need it to start the car. That seems kind of half-butted design.
I also found the ES to be one of the easiest cars with which to pair a cell phone via Bluetooth. The ES was simple and straightforward, and I also found its voice recognition interface to be a big improvement over some others I've used, including ones from Toyota/Lexus. While I had the ES, I had to attend a meeting at a Starbucks I didn't know existed and, after driving by it a couple of times and not noticing it, I simply asked the car to find me a Starbucks nearby and Bob was my uncle! It worked great, except it meant I had to go to a Starbucks…
The Lexus ES 350 is a terrific entry luxury sedan. If you're looking for a sports sedan to take on some curvy roads, this probably isn't your car - though in sport mode it's not bad at all - but if you're looking for a fine and relatively affordable luxury sedan that's comfortable, nice to drive and to be in, and will probably outlive you, this isn't a bad place to look.
Copyright 2016 Jim Bray
TechnoFile.com