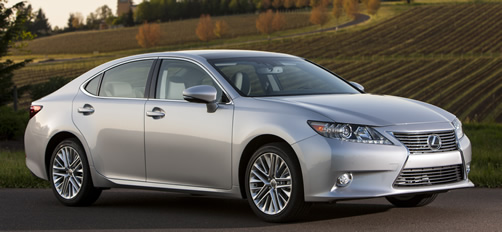 New Lexus ES 350 the best version yet
By Jim Bray
February 14, 2013
It began life as a Camry-based entry level alternative to Lexus' flagship LS 400 sedan, and it has maintained that mien as the line has evolved and expanded over the past couple of decades.
And now, for 2013, the front wheel drive Lexus has been updated and upgraded to be the nicest version of what's traditionally been a very nice (if not particularly exciting) car anyway. And judging from this new model, and the car's sales success over the more than 20 years since it was introduced, this new version should continue to be a sales winner for Toyota's luxury arm.
The ES 350 can still trace its DNA to the Camry but, let's face it, how can that be a bad thing? The Camry may be quite ordinary and, in many iterations, bland, but it's a fine car that serves its owners extremely well. Up the ante to add the comforts and even better quality for which Lexus is known and it's tough to figure how you could go wrong.
Okay, it isn't as much fun as the IS or GS, but its target audience isn't the wannabe racer looking for a luxury thoroughbred. It's aimed more at those who want a quiet, dignified vehicle that's smaller, less expensive and therefore more attainable than the flagship LS, a car that has also gone considerably up market since its debut in the U.S. as a 1990 model.
The 2013 ES 350, like most cars that get redesigns these days, has grown a bit from the previous generation; it's about an inch longer and higher – though the width hasn't really changed – and it's a bit more slippery through the wind, too, which could enhance its gas mileage a tad as well as making the car a bit more stable at speed.
Not that the cars have a history of rolling, but I suppose the engineers had to find some ways of making the new version better (and with more features and benefits) than the outgoing one.
It's definitely the sleekest and best looking of the ES's, though it also has what Lexus calls its new "spindle" grille that looks more like puckered lips to me, or perhaps the alien from "Predator" when it opened up its mouth near the movie's climax. It's too bad; in my never humble opinion, this styling cue is a mistake – though it also makes it darn difficult not to peg such cars as Lexi as they approach you on the road, which is undoubtedly what the company had in mind.
Inside, it's a bit more roomy than before, though you might not notice because the measurements are very close. It's also just as (or even more) comfortable and welcoming than before. The biggest gains come in the back seat – traditionally the place where people are packed in more tightly in today's cars – which offers more headroom and lots more legroom.
I've never had a problem with leg room (my legs barely reach the ground), and found the back seat in the new ES positively cavernous. Your "inchage" may vary, of course.
The 10 way power-adjustable front seats are very comfortable and the new dashboard/instrument panel is open and quite flat, eschewing the enveloping look and feel of many cars these days. I think it works. Instrumentation is typically Lexus – straightforward and easy to fathom, though with a neat "gee whiz" factor.
Powering the ES 350 is Toyota/Lexus' nearly ubiquitous 3.5 liter V6 engine, and it's a fine one. In this application, it puts out a decent 268 horsepower and 248 lb.-ft. of torque, which is the same as the outgoing model's. The car didn't need more horsepower (I may get struck by lightning for suggesting that), so having the new model's oomph unchanged from the old one's is no big deal.
The power gets to the front through a smooth, six speed automatic transmission. You can select "eco," "normal," and "sport" modes for your driving pleasure. Obviously, the sport setting will impart more driving pleasure than the others, but if you want to save some gas the eco setting will undoubtedly serve you well. That setting also changes the air conditioner's performance, to make it more efficient. Or you could just open the window…
Acceleration is fine, with little torque steer; the suspension – MacPherson struts up front with dual link MacPherson struts rearward (with front and back stabilizer bars) – is soft but not annoyingly so, and it all contributes to an all around pleasant car to drive.
New exterior touches include LED daytime running lights up front. I wish car companies would make it so their daytime running lights were front and back so people who refuse to pay attention don't end up driving with no autobuttock illuminated, but what can you do? Fortunately, automatic headlights (which of course the ES 350 has), can ride to the rescue here.
The instrument panel, automatic HVAC, audio system and the like are all well thought out and work as they should. The base audio system consists of eight speakers, the usual AM/FM/CD changer, as well as the iPod MP3/WMA player, auxiliary audio input, and Bluetooth that every car should have these days.  It sounds good, too.
I had better luck with the voice recognition of this ES than I have had sometimes with other Toyota products. I don't know whether they're upgraded the system or whether I just finally took the marbles out of my mouth, but this was a very positive development. The wide LCD screen of my test car from Lexus Canada was operated via the remote touch interface "cursor control thingy" that works well and is kind of cool, but I'd still rather have a touch screen. It wouldn't work here, though, because it's mounted too far away from the occupants – hence the need for the "mouse."
Perhaps surprising considering how big Toyota/Lexus is on hybrids is the fact that there's never been a hybrid version of the ES until now. But it's here at last for those who want such a thing. I haven't driven it, but I imagine it'll be as pleasant and tranquil and eco friendly as its owners will want.
The ES 350 starts at $35,900, which seems pretty cheap for such a car. On the other hand, I'm willing to bet that, for that price – and for a Lexus – you'll want to tick off a few more of the options when you configure one for yourself. Lexus gives you four packages from which to choose, going right up to the "Technology Package" at $51,750.00.
Not that the previous generations of the ES 350 were slouches, but the 2013 model is the best version of this classy front wheel drive sedan yet. It's modern and equipped well in any of its trim levels and versions. And while it isn't the most fun sedan to drive, it undoubtedly hits the market at which it's aimed right between the eyes.
Copyright 2013 Jim Bray
TechnoFile.com