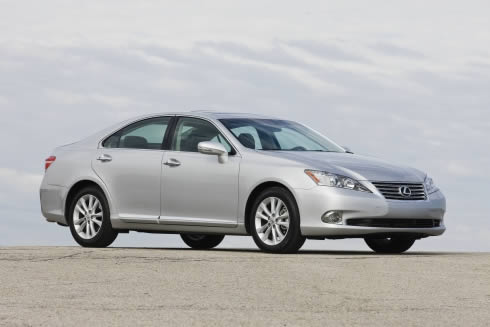 ES 350 a cushy, comfortable cruiser
By Jim Bray
April 26, 2012
If you had to sum up the 2012 Lexus ES 350 in one word, "soft" would be a good choice.
If you were to expand that to four words, try "soft, but very nice." That's because this longtime Lexus model – the first of the Camry-based ES sedans came out with Lexus' debut in North America more than 20 years ago – focuses on luxury and comfort, and it accomplishes that mission very well.
The ES has grown over the years and this version is the biggest and most powerful yet. It's also just about dead, since Lexus has recently taken the wraps off a brand new ES 350 that will debut as a 2013 model. That one looks quite interesting, too, and if it's as big a leap as the new Camry is over its older versions, it might be a pretty compelling car.
That doesn't necessarily mean the current ES is obsolete, of course. If nothing else, it's still no slouch in this market segment. It's also a no brainer when it comes to configuring one: there's only one model (front wheel drive and loaded with stuff), one engine, one transmission, etc. You can option up the base ES via a couple of packages such as the "Ultra Premium Package with Navigation" that was on the test ES 350 Lexus of Canada supplied. That package added $10,050 to the car's $42,150 Canadian ($36,725 U.S.) base price.
So it ain't cheap. But it is nice, if you're looking for an unassuming but comfortable and efficient vehicle to carry you around.
The ES 350 gets its power from a 3.5 liter V6 engine with Dual VVT-i (variable valve timing with intelligence) that cranks out 268 horsepower – a more than adequate number of hosses for a vehicle most people probably won't want to race anyway. The engine is extremely smooth and quiet and moves the car along very nicely.
That engine puts its power to the front wheels via a six speed Super Electronically Controlled Transmission (Super ECT) automatic transmission with a Sequential Multi-Mode Shifter. Manually shifting this car doesn't add a lot of joy to the experience, which isn't what this car is all about anyway, but it does give you extra control and that's never anything to sneeze at. Shifts are also ultra smooth.
ES's suspension features Macpherson gas struts, coil springs and a stabilizer bar front and rear, which makes this large sedan handle well, if not excitingly. 
And while driving the ES is about as exciting as eating pudding, it still has what it takes to drive well – thanks to progressive power-assist rack and pinion steering (though it feels a tad numb) and power-assisted disc brakes front and rear, with ABS, Brake Assist (BA) and Electronic Brake Force Distribution (EBD). Pedal feel and stopping power are all you could ask for.
Inside the ES is a very comfortable and luxurious place to be. The three spoke steering wheel (which was partly wood in the test car, thanks to that Ultra Premium package) tilts and telescopes via power, and the comfy heated and cooled premium leather seats are also power operated. The automatic dual zone climate control features an automatic air recirculation control system and a dust and pollen, deodorizing air filter. The flatulent may love this feature – or those who drive with them may, anyway.
The Ultra Premium Package also adds handsome premium alloy wheels, Lexus' up market Mark Levinson audio system (more about that in a bit), seat memory, clearance and back up sensors, a backup camera, power rear window sun shade, panoramic sunroof (more about that in a bit, too) and adaptive HID (high intensity discharge) headlights.
There really isn't a lot to dislike about the ES 350 and the fact that it won't stir the blood of the wannabe racer is really irrelevant, since this car has no such pretensions. As such, it's a fine vehicle that will undoubtedly serve its owners very well.
Ah, but nothing is perfect and there are a couple of quibbles worth mentioning.
The first involves the sunroof and was really frustrating. Sure, it's power operated, and it opens with one touch, but closing it requires you to hold the button while it closes halfway, then release the button and press it again before it'll finish closing. What's with that? Not only is it annoying, but depending on the finger you have on the button, other drivers could think you're flipping them off and that could lead to some misunderstandings.
As for the highfalutin' audio, Lexus (or Mark Levinson) has had a problem with its performance on some DVD-Audio discs for years and this continues. Now, not many people have these discs and so this issue may be mostly moot, but even though they've made some type of change to the system, it still has problems with a least one disc: The Who's "Tommy." This is a 5.1 channel, high resolution audio remix of the classic 1969 rock opera and I use it as my torture test disc in cars that can handle DVD-A.
Time was that the Mark Levinson system would strip out the lead vocals in "Tommy," as if there were no center channel, and the result would be a kind of "Tommy Karaoke" where you got everything except the primary singing voices. That was kind of fun, but not really what The Who had in mind. This has changed now, apparently, though when I slipped Tommy into the changer of test ES 350, it would play the first few seconds of a track, then stop and repeat those few seconds over and over again ad infinitum. That's just plain weird. At least the vocals appeared to be intact this time.
The system played other DVD-A discs, though, so maybe someone at Mark Levinson just has a hate on for The Who.
As mentioned, though, this is a very small market niche (unfortunately, because these discs can sound really good) and so it's probably not a big deal.
And if you don't care about Tommy or DVD-A, you can drive the ES 350 for years and have nothing more to show for it than a really nice car, that moves you around in supreme comfort. That's nothing to sneeze at.
It should be interesting seeing what Lexus has up its sleeve for the soon-to-be-unleashed 2013 model.
Copyright 2012 Jim Bray
TechnoFile.com