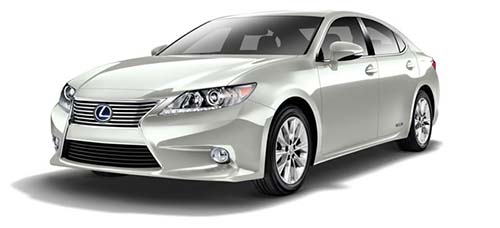 Lexus ES hybrid a pleasant and luxurious sedan
By Jim Bray
May 15, 2014
If you're looking for a four door car that gives you the reliability of Toyota's Camry, but ups the luxury quotient substantially, you really should take a look at the Lexus ES. (Click here or on the image to open a slideshow in a new window)
Available as the enviro-raping ES 350 (reviewed here) or as the enviro-saving ES 300h, the ES a very nice place to conduct the business of both driving and "passenging" and this current generation is the nicest in a line of ES sedans that stretches back to Lexus' genesis (no Hyundai joke intended). The other original model, by the way, is the big LS.
Lexus says on its Canadian website that ES stands for "elegant sport"  and that it's designed "to excite the senses of the most discerning individuals. Love the bold and progressive styling, thrill to the dynamic and responsive handling, and relax in the beautifully refined and spacious interior with seating for five." That's a pretty apt description, though I'm not sure how much the car really excites the senses. But it's very handsome, very nice, and it's full of luxury and technology. In other words, it's a Lexus.
Lexus Canada's sample ES 300h came in Matador Red Mica - and it looked really great! - with a parchment interior. Well, the color is called parchment; fortunately, you'll find plenty of leather and few paper products other than in the owner's manual and other documentation.
Being the hybrid version, Lexus ups the ES 300h's features ante over the base ES 350 (which is no slouch) by making standard some of the stuff for which you pay extra on the gas model. For example, a power tilt/telescoping steering wheel is standard on the hybrid, as is the seven inch display audio system and its accompanying applications, driver's seat memory and heated/ventilated front seats. It also comes with a back up camera, "eco drive monitor," woodgrain trim and (spoiler alert!) a cute rear deck lid spoiler that caps off the ES' bum nicely.  
Not that you can't option up the hybrid. Lexus' sample had the $9250 Technology Package, which adds heating to the steering wheel, the mostly excellent Mark Levinson audio system, nannies such as a lane departure alert, blind spot monitor and rear cross traffic monitor as well as adaptive cruise control, parking sensors, a power rear window sunshade and manual rear door sunshades. You also get rain sensing wipers, automatic high beam for the auto-leveling HID lights and the seats feature upgraded leather (from a better class of cows, I suppose - and doesn't that seem a tad bovinist?).
That's a lot of stuff and it all combines to create a really nice, comfortable cabin; about the only thing I missed were paddles for the as-noisy-as-usual CVT and a way to access the navigation, audio, climate settings and other stuff that isn't the interesting but ultimately annoying mouse-like "remote touch" interface. The rodent was a good idea but in practice it took my eyes off the road and forced me to pay more attention to using it than I have to with a more common knob-like controllers, where you only have to scroll instead of actually pointing and clicking.
All those options raise the ES 300h's base price from $44,100 to $53,350, but that doesn't seem overpriced even though its arguably closest competitor - the Infiniti Q50 hybrid - only costs $48,995. That isn't entirely an apples to apples comparison thanks to different packaging, but I'd pay the extra for the ES anyway because it's nicer and its abundant electronic nannies aren't nearly as in your face.
Lexus says the combined output from the 2.5 liter four cylinder gas engine and electric stuff is a net of 200 HP, which doesn't sound like a lot for a largish car such as this, especially since the V6 gas-only version cranks out a healthy and competitive 268 horses. It's enough, though; few who buy this car will want to do peel outs, not that they really could anyway, and in my week with the car I never found it underpowered whether on the highway or on freeway on ramps.
You can choose from four distinct drive modes: Eco, Normal, Sport and EV, though if you opt for EV you should be prepared to nearly ignore the accelerator pedal. I tried EV mode a few times, but we just don't connect and I found it to be more "gee, isn't this nice and green?" than a really practical way to drive. EV could also inspire road rage from the people stuck behind you as you ooze away from traffic lights. Maybe that's why there's a power sunshade: no one can see the back of your head, so it's hard to get a bead on you.
Sport mode is obviously the best choice for people who refuse to go gaga over Gaia and it's pretty rewarding. There's a manual mode for the CVT, but paddles would make it much more engaging.
The instrument cluster changes color to reflect the car's opinion of your driving. If you put it in ECO and EV modes, it lights up blue, which seems strange for a supposedly "green" car. Naturally, if you dial in sport mode it sees red.
The ES can be surprisingly cat-like if you use sport mode, which tightens up the MacPherson struts that are found on all four corners. Lexus claims to have redesigned the suspension architecture completely, using opposite-wound front coil springs to enhance straight line stability (great for drag racing!), and a rear-suspension geometry they say "elevates agility and overall control." The car is definitely not boat-like.
Brakes are disc all around, with the usual aids/nannies, and the hybrid's system is controlled electronically.
The car is roomy enough that you could stick someone in the middle of the rear seat without having to anticipate fisticuffs breaking out, and the rear seat is very comfortable.
Other standard equipment includes SmartAccess with push button start/stop, a power moon roof, and an auto-dimming inside rear view mirror. You also get a compass and a nice analog clock.
There's no all wheel drive version of the ES, but the front wheel drive sedan drives just fine. It may not excite you too much if you're an enthusiast, but it will reward other folk with a car that's enjoyable, comfortable, luxurious, and undoubtedly bulletproof - from a design and construction point of view, not as a road rage prevention strategy.
Sure, at heart the ES is a gussied up Camry, but that isn't a bad place to start, and even though you can option up a Camry to be a really nice car that gives you a lot of luxury and technology in its own right, the ES feels more like a Lexus, which is another level up market altogether. It's a remarkable memamorphosis.
The ES has always been one of Lexus most popular models, and this current generation is definitely the best of the ES series to date. Hard to go wrong choosing it if you're looking for a vehicle in this market niche.
Copyright 2014 Jim Bray
TechnoFile.com