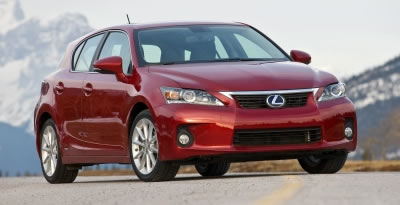 Lexus CT 200h – the Greener Side of Sport?
By Jim Bray
May 20, 2011
Is Lexus' new "Premium Compact Sportback" a luxury car, a sports car, or just a reasonably luxurious hybrid with sporting pretensions?
Well, if you've seen the commercials for the new Lexus CT 200h, you've undoubtedly noticed they refer to this cute little wagon as "the darker side of green," hinting that it's more than just an economical hybrid – that it has some driving soul as well. And why not? A hybrid does not necessarily mean "no fun". The Honda CR-Z is a relative blast to drive, and the Lexus GS 450h is plenty fast and pretty fun to drive, so why can't the new Lexus wagon offer the same experience?
Obviously, there's no reason. The only problem is that Lexus seems to have forgotten that – in fact, after having spent a week in the driver's seat of the CT 200h, I'm tempted to accuse Lexus of false advertising. This is no "darker side of green," it's just a nice – albeit quite bland – little hybrid wagon.
Not that there's anything necessarily wrong with that, but given the promotions, I expected something a little more interesting, with a little more "zing."
Anyway, other than having zero fun to drive quotient this "World's First Luxury Hybrid Sportback" is a nice little car. It looks kind of like an upscale Toyota Matrix onto which someone dropped something heavy – since it appears lower than the Matrix – and my sample unit was equipped very nicely.
The front wheel drive Lexus CT 200h is the entry level Lexus, starting at right around thirty grand U.S. or Canadian. It does feature a decent suspension that feels downright nimble (independent McPherson up front and double wishbone the rear), which is definitely a plus, but that sporty suspension is given the thankless task of having to work with an anemic 1.8 liter Atkinson cycle four cylinder engine/high-output, permanent-magnet, electric-drive motor combination that, taken together, is rated at an unsporty 134 horses.
In other words, it won't keep up with a base Mazda3, Hyundai Elantra, Nissan Altima, or Honda Civic, though I imagine its gas mileage will be better if you drive it like a little old lady. The good news is that it will blow the doors off a Honda Civic hybrid and the base Volkswagen Jetta (the latter of which puts out an embarrassing 115 horses, though every other Jetta – including the diesel – offers more than the CT).
How's that "darker side of green" working out so far?
Driving modes include "Normal," "Eco" and  the zero emission "EV", which lets you drive solely on electrical power as long as you don't mind having your doors blown off by snails. Lexus says these drive modes emphasize "ride comfort and smooth acceleration," if by "smooth" you mean "grudging."
There is a sport mode, and it's definitely the least intolerable to anyone who values the driving experience, but to call it sporty is to redefine the term to mean "not sporty."
Adding insult to injury, there's an ECO driving indicator that lights up when you're operating the vehicle in an "Environmentally sensitive manner." In what was perhaps a display of extreme immaturity, I felt shame whenever it came on and immediately pressed the "accelerator" farther until the light went out. Putting duct tape over the light may help here, too, but it wasn't my car.
Still, it's hard to hate the CT 200h if you aren't in a hurry to get anywhere. Besides being cute as a bug's ear, it's about as comfortable inside as you'd expect from a Lexus, though it's obviously the entry level model.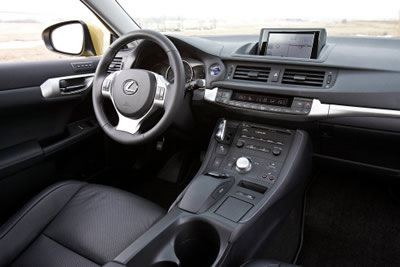 So while the seats are comfortable, only the driver's offers power adjustment. All four windows do offer one touch up and down operation, though, and there's a nice little iPod/cell phone dock (though it isn't wired into the vehicle) on the console that fit my Galaxy phone perfectly. The driving position is just fine and the instruments and center stack are laid out nicely.
A cool feature is that, when you activate Sport mode, the gauge on the left side of the panel changes from indicating "power," "charge," and the like to a real analog tachometer, while the panel's lighting changes color.
The audio system is okay. Lexus says its speaker diaphragms are constructed with sustainable bamboo and you can get an amplifier that uses 50 per cent less power (than good amps, presumably). In other words, the focus is on "the green side of audio" and not necessarily the audio. And the sound quality in my sample was good, but nothing to get excited about. It does stream via Bluetooth and has a USB input, however, but I'd expect nothing less from a Lexus.
A particularly annoying feature is the same kind of silly beeping inside when you back up that the Prius is inflicted with – but it only beeps inside the car, so it's useless as a warning to pedestrians unless you have your windows open and it seems redundant anyway since there's a rear view camera as well. And, of course, you can tell you're in reverse because objects in front of you keep getting farther away.
Included with the optional navigation system is Lexus' Remote Touch device, a mouse-like thingy that's an intuitive and ergonomic way to control stuff on the LCD screen, a screen that's mounted atop of the dashboard – out of reach for a touch screen, but in good line of sight. You can use it to adjust the audio, climate, navigation and other settings easily. This is the second time I've tried this system and I'm starting to like it quite a bit.
Brakes are power-assisted discs all around, with the usual aids, and pedal feel is fine; the steering feel is also good. I had to drive it on a major highway that had been blessed by a snap, late spring snowfall that had traffic in panic mode and it did a nice job – stable and confident. In that case, its lack of acceleration was a plus.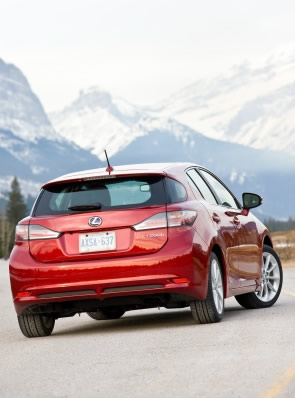 My test CT 200h featured the Smart Key system, with push-button Start/Stop and maddeningly insensitive touch sensors on the outside front door handles for locking, a leather-wrapped steering wheel with audio controls, heated front seats and dual zone automatic climate control.
It also had a power moonroof, the navigation package, rain-sensing windshield wipers, automatic headlights, and stuff like that. In all, it's a comfortable and luxurious package.
And since it's a wagon, there's plenty of storage space as long as you don't want to carry anything really tall.
Naturally, the CT 200h also incorporates an abundance of safety systems, including traction control and eight airbags.
As much as I wanted to hate the CT 200h, thanks to the lackluster hybrid power train, I couldn't. It's just too nice a car.
But don't be fooled by the advertising!
I really wish Lexus offered a non-hybrid version – like they do with other models in their line. Heck, if they'd drop a hot little four banger under the hood and offer either a six speed manual tranny or a good automatic with paddles, the CT would be the real deal and a heckuva nice little package.
As it sits now, though, this supposedly sporty hybrid is merely pretentious. But comfortable.
At least it gets 42 mpg combined and, in a quite un-Lexus-like move, burns regular unleaded gas.
Copyright 2011 Jim Bray
TechnoFile.com