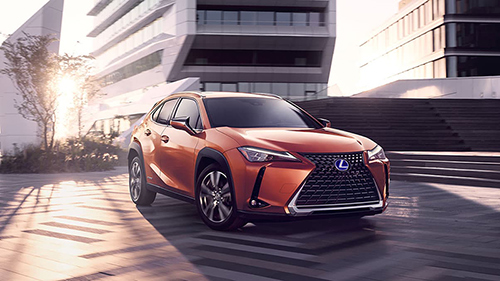 Lexus UX: a small luxury SUV that makes a big statement
By Jim Bray
October 9, 2019
Lexus has a new entry level model, and it's a huge leap from some of the company's earlier attempts at "entry level" luxury.
It's the UX, in this case the UX 250h AWD, a "cute ute" that follows on the heels of the bland and uninteresting HS 250h sedan and the nice but boring CT 200h wagon. I didn't think much of the HS, but thought that if Lexus had released a non-hybrid version of the CT – perhaps one that uses the lovely little turbo four available on the NX. I have no idea if it would be practical to engineer such a vehicle, but if they could, I figured they'd have had a nice little wagon that could go head to head with the Audi A3, though the A3 is no longer available here as a wagon.
Click on the image to open a slideshow.
But Nooooooo! That boring little, but very cute, CT is now history, undoubtedly due to slow sales. Fortunately, Lexus had a few other tricks up its corporate sleeve and blended the basic underpinnings of the creasy Toyota CH-R with Lexus luxury trimmings to create a vehicle that's not only quite handsome, but which is surprisingly nice to drive.
The UX 250h, with the h denoting that it's a hybrid (there's also a UX 200 FWD available), is still covered by creases on the outside, but it isn't nearly as busy-looking as the CH-R (or some other current Japanese vehicles); even that silly "spindle grille" that looks more like a jet intake or a vacuum cleaner's input, isn't as bizarre on the UX as on some other Lexi – though it's still bizarre.
Lexus stuck a normally aspirated two litre four into the UX, and in the 250h it's rated at a combined (gas and hybrid stuff together) 181 horsepower. This will hardly set the world on fire, but it beats the output of the UX 200 (169 horses) – and to be perfectly honest I didn't find the UX 250h to be lacking in oomph.
Oh, sure, I wanted more – but this is not a sports car or even really a "sport ute." Instead, it's a very nice, very comfortable (unless you're in the rather tight back seat) entry luxury vehicle in the vein of the Audi Q3, BMW X1, Mercedes-Benz GLA etc., though I daresay those German vehicles (all of which turbocharge the four-cylinder engines in those SUV's) would be more exciting to drive.
Yet I loved the UX, which Lexus calls an "Urban Explorer"! Even with a damn CVT transmission! What gives?
Well, I guess it's a matter of that old cliché of the whole being greater that the sum of its parts. It also appears that you get more stuff on the base model Lexus than on its German competitors, and who can complain about that?
Besides its compelling suit of clothes inside and out, the UX 250h "self charging hybrid" also includes the newest version of Lexus' all wheel drive technology (they call it eAWD). And all this stability and efficiency goodness can be had for a mere $2,600 extra above the base, front drive model's price. In fact, the UX 250h starts at a pretty reasonable $39,700, though Lexus Canada's sample was a tad more upmarket and tipped the fiscal scales at $48,500, thanks to the $8,800 F Sport 2 package.
That extra nearly nine grand gets you a heated, three spoke F Sport steering wheel, 18-inch alloy wheels, Enform 2.0 premium audio, destination assist (1-year subscription). You also get a built in navigation system with traffic and weather info (three year subscription included), and eight speaker, 10.3 inch LCD screen, parking assist with auto braking, heated and ventilated front seats with driver's memory, garage door opener, hands free tailgate, wireless charging, Triple LED headlights, head's up display, and more.  
That's a lot of stuff and I have to admit that were I configuring a UX this is how I'd spec it.
I've dumped on hybrids a lot in the past, mostly because they were gutless, noisy and boring, but a lot has changed in the hybrid market over the past few years. Heck, even the CVT Lexus has stuck on the UX doesn't annoy me as much as many. It still feels mostly like a CVT, but at least it doesn't fill the inside with the whining banshee roar you get from many CVT's. Perhaps this is due to the UX having more sound deadening than other vehicles, but whatever the reason is, I like it. I'd rather have a stick, or a "real" automatic, but I seem to be a voice barking in the wilderness.
The cozy interior offers a nice blend of materials, from luxurious-looking plastics and realistic fake leather. Alas, it's still saddled with Lexus awful touch pad interface on the centre console, though even here I have to give Lexus some kudos because they've added tuning and volume controls to the console as well – shades of how Mazda does it – and once you get used to it it's pretty cool.
I think I'd still like real knobs on the centre stack, but this is a step forward. And I do believe the voice recognition is getting better because I could control the UX more easily that way than I remember from other Lexi – and this is a nice way to help you avoid that damn track pad.
Lexus also put a nifty, two-hinged lid on the console's storage bin, so you can open it from either side instead of it pulling upward from the front. Not a big deal, I suppose, but convenient for either front seat passenger as well as being very cool. Who thinks these things up?
The UX, being a small vehicle, has limited storage ability and the hatch opening is a tad small (depending upon what you're transporting, of course). I also found the lift-over a tad tall, but I'm a short guy so this might not bother most folks.  

Driving the UX is more fun than it should be given its rather ordinary specs. The independent suspension feels nearly right (it's a bit softer than I like, but this is, after all, a luxury vehicle), with the Sport mode adding some fun to the equation. The steering feels fine as well, as do the brakes, and the front seats are comfortable and bolstered enough that you won't have to worry about your head being pounded into the side window when you corner.
Lexus says the hybrid should turn in fuel economy of six litres per 100 kilometres and I did even better than that, while still driving the UX as if I'd stolen it.
Naturally, there's plenty of safety stuff on hand, from the usual ABS and stability/traction control stuff to automatic high beams, full-speed range dynamic radar cruise control, a pre-collision system with pedestrian and bicycle detection (so you can mow down those damn bicyclists with abandon, I imagine), and lane tracing assist (LTA). I could do without most of this, but it's there – and you can choose to ignore them if you so choose.
Also included in the price are a blind spot monitor, dual stage driver and passenger airbags, front seat-mounted side airbags, front and rear side curtain airbags, driver and passenger knee airbags, LED brake lights, and more.
Sure, it's nearly 50 grand by the time you get all this done (and it'll cross that mark by the time you pay freight and other mandated kilograms of flesh), but that doesn't seem out of line considering where this vehicle sits in the marketplace. As mentioned above, you can get it cheaper, and it'll still be a very nice vehicle, but if your budget allows you may enjoy the higher trim levels better.
Copyright 2019 Jim Bray
TechnoFile.com
Jim Bray is a member of the Automobile Journalists Association of Canada. His columns are available through the TechnoFile Syndicate.