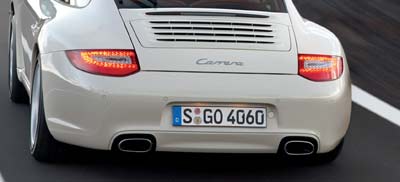 New Technology Proves Illuminating for Drivers
By Jim Bray
March 11, 2010
Driving or working at night can be tough enough without having to worry about what's lurking in the dark. Fortunately, today's modern lighting fixtures are doing a better job than ever of not only banishing the darkness, but of ensuring that you can be seen by those around you as well.
Some of today's brightest ideas are advancing the state of the art in LED's, or Light Emitting Diodes. Solid-state LED's are not only super bright, they're also getting quite intelligent, allowing their owners to do more things with fewer fixtures.
LED's have been around for decades – for example, many early digital watches and calculators had LED displays – and TV sets are now going LED, at least as far as their backlighting is concerned. LED's for safety lighting have been available to the trucking industry for years and they're becoming more popular in the consumer transportation field, as witnessed by the proliferation of LED tail lights and daytime running lights that are cropping up on an increasing variety of cars.
Besides their brightness, LEDs' advantages include long life, energy efficiency, and flexibility. The downside is that LED's are generally more expensive than their old tech, incandescent counterparts. This is typical of newer technology, however, and in the years since LED's first appeared their prices have come down substantially.
According to Mark Assenmacher, Director of Marketing for Peterson Manufacturing, LEDs' advantages outshine incandescent regardless of price, making them a compelling choice for companies looking to enhance their bottom lines.
"At one time LED's were 10 times the cost of incandescents," Assenmacher says. "But even then some fleets jumped on board because they could see the long term benefit, especially for places like up on the high rails – they didn't want their people climbing up there on ladders replacing light bulbs."
Assenmacher says LED's last six to 10 times as long as incandescent lights, are imperious to road shock and have no bulbs to break. He also says they're cheaper and easier to use in the long run which, figured on a cost per mile basis explains why a lot of trucking fleets are going LED.
Peterson and other manufacturers currently offer a wide variety of LED products for the transporation industry, mostly safety lighting such as marker lights, turn signals and taillights. "It's pretty much commonplace to go to LED's now," says Assenmacher, "Though some guys still stick with incandescent – it depends on the segment of the market." He points to the container chassis market as one place where incandescent lights are still popular, because "They have pilferage problems and don't want to spend the extra (for LED's)." For the most part, however, "Fleets are looking to companies like ours to give them a complete system: wiring harness, premium LED's, a lot of the time with hard shell connectors to keep corrosion out and help them keep the trailer on the road and avoid down time and repair costs."
Assenmacher says "value" LED's can cost two or three times an incandescent version but, since some LED's have a rated life of 100,000 hours, they're a good investment. "And if you want to step up to one that's got all the bells and whistles and hard shell connectors and all that, for longevity," he says, "You're going to pay more, maybe three to four times more, but you'll get all the benefits."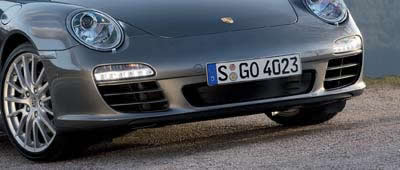 Peterson "Smart Lamps" combine strobing LED with a turn signal override, so the functions of a class 2 warning lamp and a turn signal can be performed with a single unit.
Peterson's first Smart Lamp was a 36 diode, four inch round model introduced mainly to the refuse (garbage truck) market. When the driver activates the turn signal with the new lamp, the alternating triple flash strobe automatically shuts off on that side, resuming when the signal light is cancelled. The unit is self contained, with no requirement for a separate controller.
"That's kind of the wave," Assenmacher says, "Asking your LED's to have more functions, to offer solutions." He says the new smart lamp is an integrated, hassle-free solution for refuse, maintenance and service vehicles and is more compatible and easier to install than other strobe systems.
Grote Industries is carving its own LED path. At last year's Mid-America Trucking Show the company unveiled LightForm technology that, as vice president of sales and marketing Dominic Grote claimed at the time, will alter dramatically the way the industry uses lighting.
The LightForm thin-film, solid-state lighting device is only a millimeter thick and can be bent, flexed and twisted – so you can even install it around corners. Grote claimed such a lamp can be "peel-and-stick" mounted and can achieve the same photometric requirements as a traditional LED lamp, but with just two percent of the material. He also says it should virtually eliminate installation hassles and costs.
Around the same time Grote was introducing Lightform technology, Truck-lite was taking the wraps off a seven inch round LED headlamp they say brings "A new level of performance for seven inch round forward lighting 12 volt applications, offering the extended life and energy efficiency of light emitting diode technology."
Truck-lite says its new LED headlamp (the follow-up to a 24 volt version being used by the U.S. military), meet or exceed all applicable DOT requirements for headlights and offers "a perfect blend of thermal management and light output to produce an aesthetically pleasing beam pattern." The company says the new headlamp is designed to replace any standard seven inch round headlight in 12 volt applications and can be aimed using standard mechanical equipment.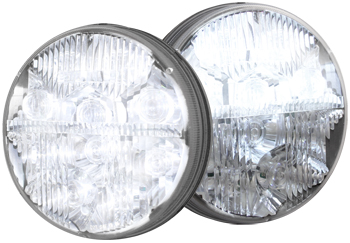 Each lamp uses 10 high output LED's and Truck-lite says they should last up to 50 times as long as a typical headlamp, while offering improved visibility.
The bad news is a high price compared with traditional headlights. The company says, however, that the improved durability, extended life and safety benefits (they're also said to offer 30 times the impact strength of glass), ensure their value even.
Higher prices can often turn people toward cheaper "knockoff" versions, and such is the case with LED fixtures. "There are imitators out there," Assenmacher admits. "They bring lights in and you can buy them cheaper in a truck stop, but you're not getting the complete solution." Assenmacher says such lights are "Just a quick fix and you're probably going to have some corrosion problems down the road."
Assenmacher warns that some product may also not be compliant with motor vehicle safety standards, even if they're labeled as compliant. "That's something buyers should be cognizant of," he says, adding that "Fortunately, most OEMs and fleets are looking for a quality manufacturer that stands behind the product."
It seems, then, that LED's are an increasingly bright idea for those seeking true enlightenment.
Copyright 2010 Jim Bray
TechnoFile.com