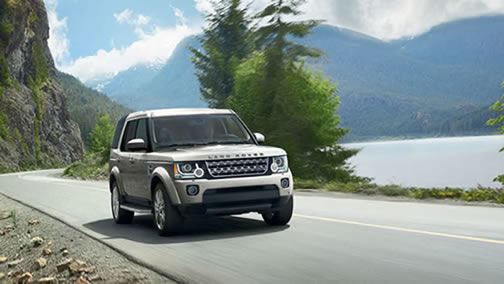 Land Rover LR4 offers great views; sound; utility
By Jim Bray
January 15, 2015
The Land Rover seems to be the go to vehicles for those out in the wilds of places like Africa, and you can see the vehicles on display in many documentaries filmed in such far off locales. Serious off roaders, indeed, these vehicles have also gone upmarket in recent years, at least as far as the creature comforts are concerned.
click here or on the image to open a slideshow
So it is that the Land Rover LR4 enters the 2015 model year with some cosmetic changes on the outside - and you can order stuff like adaptive cruise control, a bunch of smartphone apps and even a wood-and-leather steering wheel. That's mostly form, and that's okay because, as mentioned, the Land Rover's substance has been the stuff of legend for years.
I'd never reviewed a Land Rover before, though I'd driven a couple briefly over the years when they've competed at AJAC's Canadian Car of the year TestFest and they've always intrigued me. And one of the first things I noticed once my buttocks were ensconced in the cabin was its great greenhouse. There's so much glass on this thing that it's almost as if you're sitting up top in one of those domed railroad passenger cars! That really helps with the outward visibility. Yep, you'll be able to see those charging elephants from kilometres away!
This is also a tall vehicle and if you're altitudinally challenged it can be interesting climbing aboard. Once you're in, however, you'll be treated to a modern, comfortable and reasonably easy to fathom interior.
Oh, of course it isn't perfect, but I could only find quibbles such as the location of the window controls, up on top of the doors, just under the windows, where they're more difficult to get at. On the other hand, perhaps Land Rover figured this would leave less chance of you lowering a window by mistake when you're being attacked by wild animals on the veldt – though I doubt most LR4 owners would be taking their personal units anywhere near there.
The interface operated from the LCD touch screen is a little slow, but it works well and looks very much like the one I tried in the last Jaguar I drove which, since they're the same company, should surprise no one. It's kind of like a Crestron automation interface, with everything laid out well and operating logically.
The vehicle came to me from Jaguar Land Rover Canada at the perfect time to test it in Canada: cold and snow and ice were everywhere, but the LR4 was very confidence-inspiring, taking on the slick winter roads almost as if it were still summer.
The Land Rover is powered by a fine, three liter V6 that features supercharging. It's basically the same engine I experienced in the fantastic Jaguar F-Type coupe S I drove last summer, and it's a peach. Alas, Land Rover has for some reason decided to have it default to "eco" mode every time you fire it up and this limits the engine's performance right off the bat. It made me wonder what the point is behind putting a great V6 into the vehicle, then seemingly tying two of its cylinders behind its back as a default position.
You can defeat this simply by pressing a button on the dash, but you have to do this every darn time. Ditto for the blind spot sensors. Perhaps you can get the dealer to adjust these things to your own parameters, however.
The engine is rated at 336 horsepower and 332 lb.-ft. of torque, and this is more than adequate. Once you've taken it out of "eco" mode, the power plant moves the LR4 along smartly and confidently. You won't forget that this is a heavy vehicle when you're driving it, but that supercharged six does its best, and as it turns out that's enough.
The V6 is mated to an eight speed automatic that's also a real peach, with intuitive and smooth shifts. Shifting the transmission is accomplished via  little knob on the center console, which certainly feels weird at first but which becomes second nature quickly. It also means you can't drive along resting your right hand on the shift lever, but that isn't necessarily a bad thing. It's also very cool to see the knob rise up from the console when you fire up the vehicle, like a phoenix rising from the ashes of conventional shifters.
The adjustable, independent air suspension imparts a nice feel – you aren't likely to forget you're in a big SUV, but despite that it feels comfortable yet sporty without being jarring. And its four-wheel-drive system can be had with an optional low-range transfer case and locking rear differential, for those more interested in the "Rover" aspect of the vehicle than the "Land" part – and to facilitate that there's an abundance of drive modes offered. 
The interior is about as comfortable and luxurious as you could want, which makes me wonder why you'd need to step up to the higher end Range Rover, but to each his own (I'll let you know once I've had a week in a Range Rover!). Seats are supremely comfortable, the materials are first rate and everything is pretty well where it should be and works as it should. In all, this is a very pleasant place to tackle the daily commute – or the weekly trip from the countryside to the grocery store, thanks to the LR4's prodigious off road capabilities.
Jaguar Land Rover Canada's sample wore the HSE trim level, the middle of the three. It's available in either two or three row configurations and also gives you stuff like heated power seats up front, with leather of course, and automatic climate control. My sample also had a heated steering wheel that came in very handy during those cold wintry days. The audio system is from Meridian and it rocks, indeed. Naturally, you'll find Bluetooth capability and the like, and the overall sound quality is very, very good.
This is indeed a fine vehicle, though it'll probably never win a beauty contest for its rather boxy exterior - and it seems priced to compete. The base LR4 starts at $59,990 Canadian, while the HSE kicks off its sticker at $64,990. The highest end HSE LUX starts at $72,990.
Copyright 2015 Jim Bray
TechnoFile.com